Now do you believe me that focusing on the "easy" part of the rally in junior miners was the way to go?

Bullion.Directory precious metals analysis 07 March, 2023
By Przemysław K. Radomski
Founder of GoldPriceForecast.com
In yesterday's analysis (after GDXJ closed at $31.12 – mere $0.10 above the entry of our short positions), I wrote the following below this chart: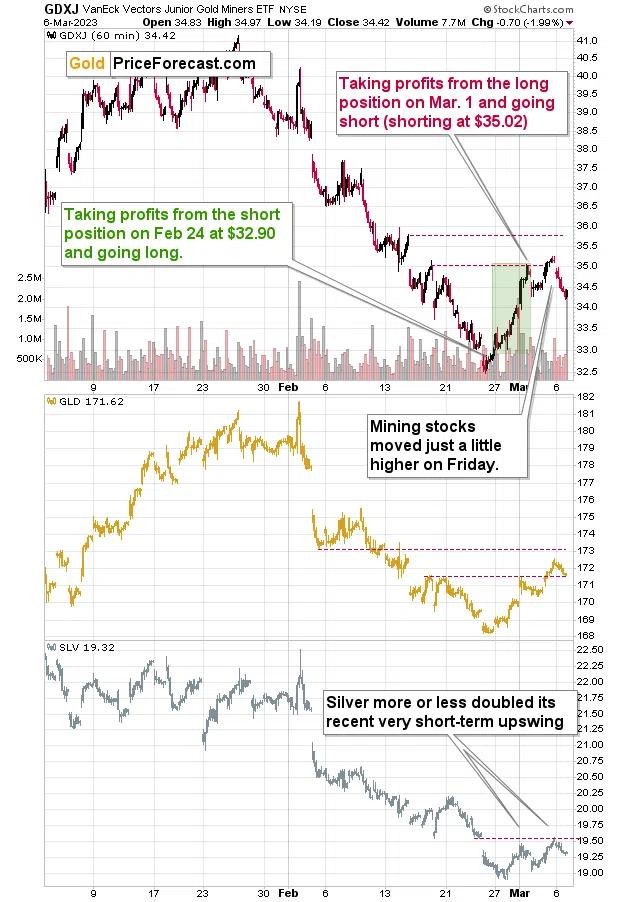 Namely, while the GDXJ (upper part of the chart) moved only a little above its recent high, silver has pretty much doubled its previous short-term upswing.
To be clear, neither of those moves higher was substantial. However, it is the relative performance that matters from an analytical point of view.
As I have emphasized many times before, miners tend to underperform gold close to tops, while silver tends to catch up. That's something that we saw on Friday.
While it doesn't guarantee that the top is already in, it does indicate two important things:
It's likely that the top is just around the corner (or it's already in);
The easy part of the rally was indeed most likely over on March 1, when we took profits from the recent long position.
In terms of resistance levels, the SLV ETF (a proxy for silver) hit the upper border of its recent price gap, while gold and silver haven't moved to their next important resistance levels. They did move above the previous resistance levels and made a one daily close above them. This means that the small (very small, in the case of the GDXJ ETF) breakout is not confirmed at this moment.
Instead of being confirmed, the very small breakout in junior miners was invalidated.
Actually, to say that junior miners were weak yesterday is like saying that the Fed printed "some money" in the last decade. It isn't a lie, but it doesn't convey the full truth either.
Yesterday's relative performance of junior mining stocks was a disaster and a crystal clear bearish confirmation. This is the main reason why I once again increased the size of the short position in this sector.
The GDXJ ETF not only invalidated the breakout – it closed at a new monthly low!
This, plus the fact that it happened without as much weakness in gold and silver, makes it particularly bearish, as it's something that we see before bigger declines.
All right, PR, but what about the stock market? Maybe stocks were particularly weak yesterday, and that caused miners to be so weak?
The thing is that stocks didn't decline yesterday, so the above-mentioned explanation doesn't apply.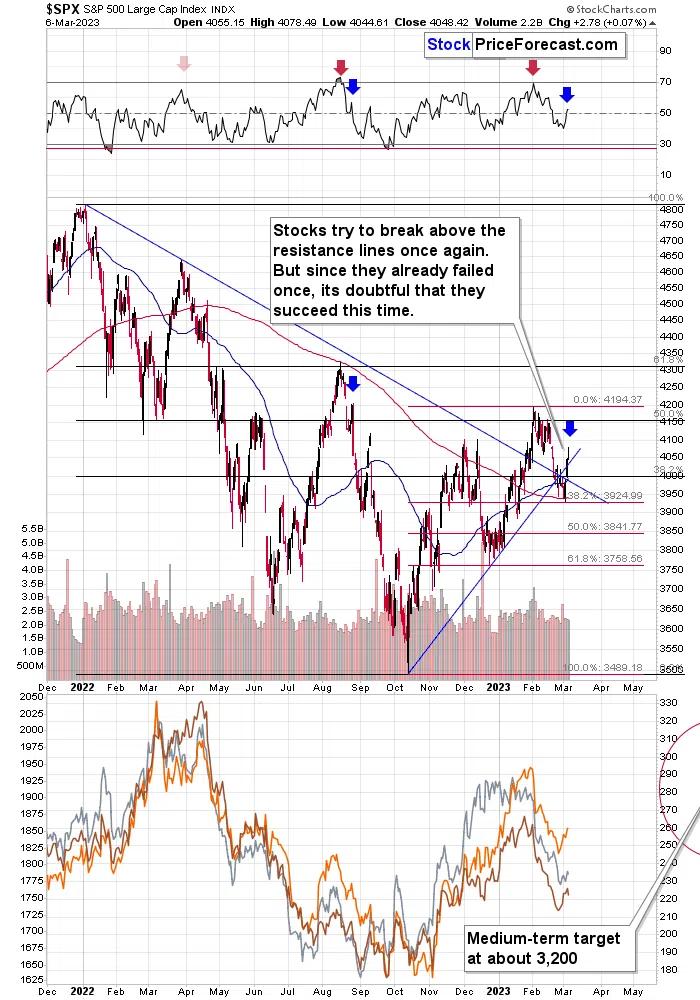 Despite the tiny rally in terms of daily closing prices, we actually saw a clear reversal. Based on the analogy to the previous case, when the RSI had previously been trading at about 70, it seems that this is just a counter-trend bounce before the bigger part of the slide – we saw something similar in August 2022, and stocks declined profoundly shortly thereafter.
This, plus the fact that stocks reversed close to their previous (Sep., Dec. 2022) highs, makes the short-term outlook for stocks bearish.
So, while the miners declined without a bearish push yesterday, they are likely to get one soon and… decline even more!
Gold and silver are down in today's pre-market trading, so it's quite likely that the GDXJ will continue its slide today.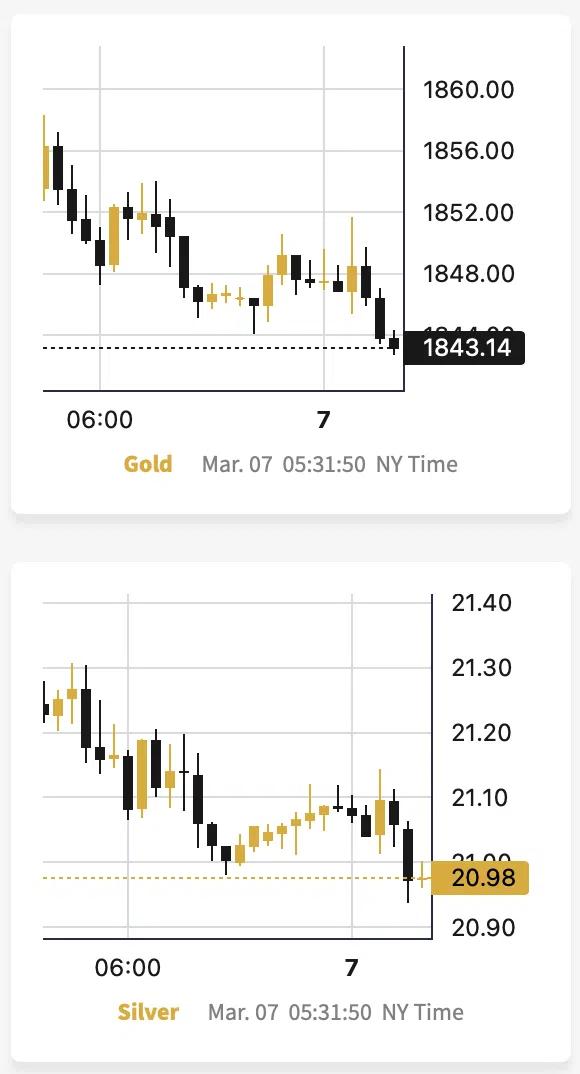 On the other hand, even if the GDXJ pauses here, it won't change much – a pause after such a dramatic underperformance would not be surprising.
Surely, the USD Index soared yesterday to trigger such a big decline in junior miners, right?
Nope.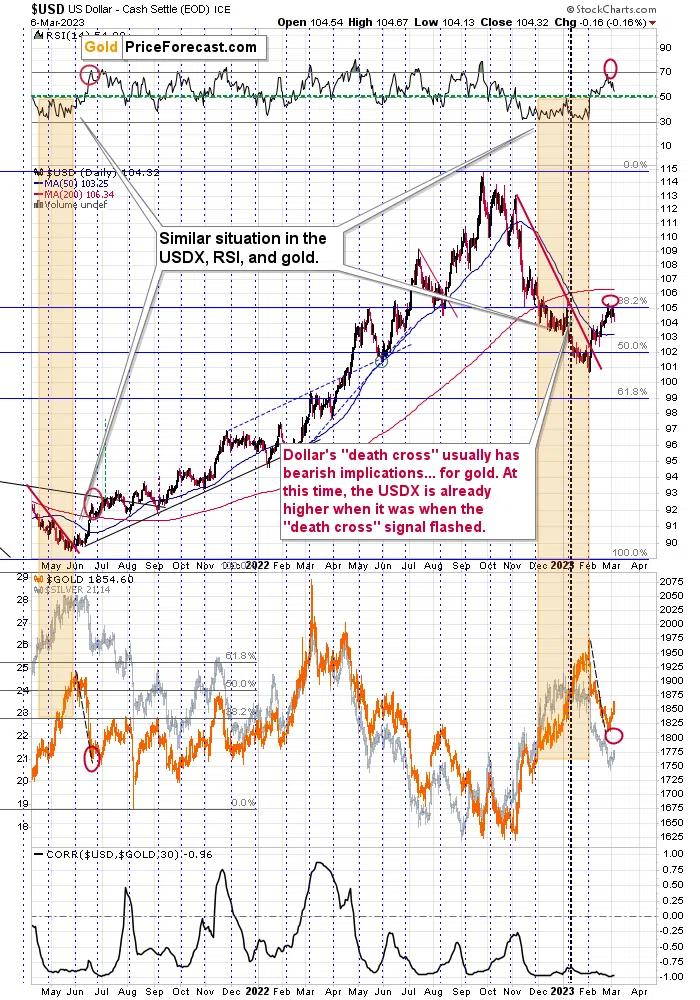 The USD Index moved slightly lower yesterday.
This means that junior miners didn't really have a good reason to decline yesterday. And yet they did.
Please remember this day whenever you want to ask a question like "what needs to happen for miners to decline/rally." The answer always is that nothing needs to happen – they can decline or rally on their own, based on just technical reasons. Simply because their correction is already over and they can continue their previous trend.
If something happens, the consolidation might end sooner or later, but nothing needs to happen for the markets to move.
So, what does this all mean?
It means:
Buckle up! The profits increased, but they are most likely nothing compared to what's ahead!
Przemyslaw Radomski
Przemyslaw K. Radomski, CFA, has over twenty years of expertise in precious metals. Treating self-growth and conscious capitalism as core principles, he is the founder of GoldPriceForecast.com
As a CFA charterholder, he shares the highest standards for professional excellence and ethics for the ultimate benefit of society and believes that the greatest potential is currently in the precious metals sector. For that reason it is his main point of interest to help you make the most of that potential.
This article was originally published here