Canada Gold Dealer Category – Market Background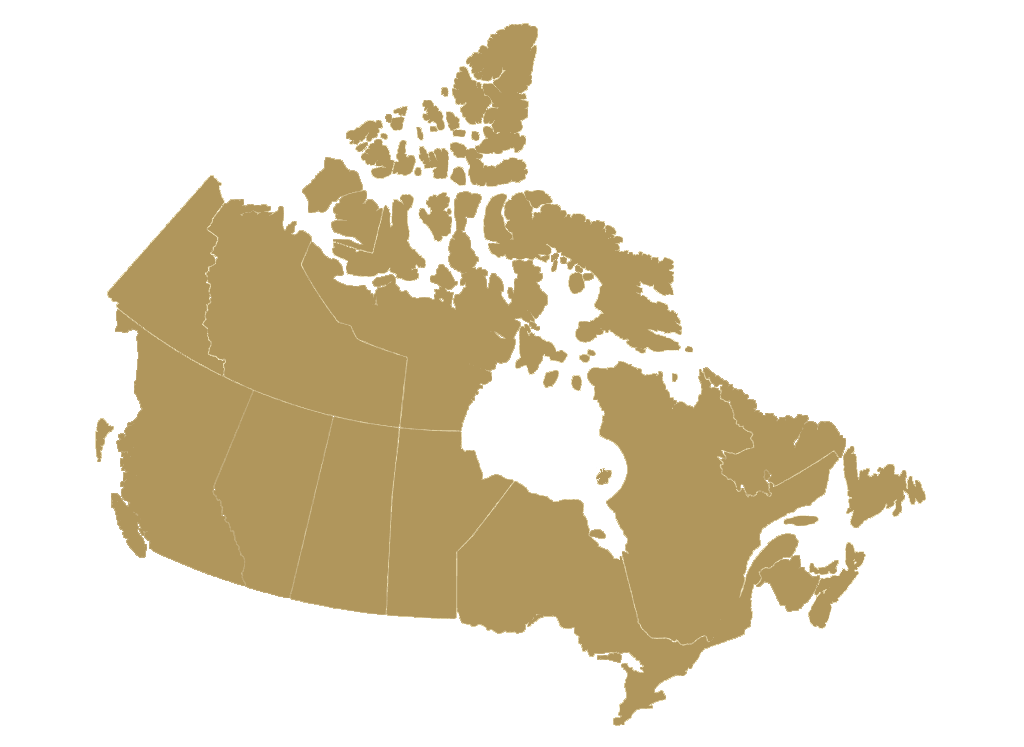 Canadian bullion dealers are our 3rd most highly searched bullion dealer category after the USA and UK, listing 109 Canadian precious metals and coin dealers (as of April 2018) with Ontario offering the greatest number of gold dealers (37) out of all Canadian provinces.
The majority of Canada's national bullion dealers and international bullion dealers are also based in Toronto, Ontario – which is hardy surprising considering Toronto's status as a global trade and banking hub, but other provinces, notably Alberta and British Coumbia are home to a significant portion of Canada's bullion dealers.

Buying Bullion in Canada
Buying gold bullion as an investment is growing in popularity across Canada given worries about another housing bubble – particularly in Toronto. Other concerns driving Canadians to use gold's excellent hedging properties include a further stock market and financial crash, sometime anti-Canadian rhetoric from Trump's America, and what looks to be growing instability in the Middle East, Russia and China.
Canada's long history with gold is ingrained in many Canadian minds as "real" money and anxious to protect retirement accounts against a further predicted global financial crisis (in a tax-friendly environment), the Gold RRSP is also seeing a sudden influx in new account opening.
Most national and local bullion dealers in Canada have a web presence with the larger dealers operating e-commerce platforms carrying a good stock of popular investment gold. Canada is also home to a generous number of numismatic / coin dealers and private mints – as well as of course gold and silver mining operations.
High levels of bullion sales in Canada do not reflect the Canadian state's actual ownership of gold. Canada's once sizeable holdings of gold bullion were down to 38.7 tonnes in 2000, 3.4 tonnes in 2003 before being sold of entirely in 2016 – a move running very contrarily to Russia, China and a number of other countries who have been buying heavily since 2000.

Selling Bullion in Canada
Nearly all Canadian bullion dealers buy bullion bars and coins, with many also trading in numismatics and scrap gold.
Prices paid can vary significantly from dealer to dealer with some offering 40%+ less than others so it pays to seek at least 3 valuations before selling your gold. Cities enjoying high concentrations of bullion dealers such as Toronto should see the most competitive prices paid – and always remember that a fancy showroom is paid for by high spreads between buy and sell prices.
Many pawn shops and cheque-cashing outlets will also buy scrap gold, as do specific cash-for-gold outlets and mail-order companies – however prices paid can be very low in relation to market value.

Canadian Bullion Dealers – Problems
As with any purchase it pays to do basic groundwork before selling or buying gold bullion in Canada – if you want your transaction to be worry and problem-free
Common issues such as customer service complaints, high buy-sell spreads and increasing concerns over fake bullion products mean this is an important first step when dealing with a new company for the first time.
Read online reviews – Bullion.Directory features a review section for each of our listed Canadian gold dealers.
Also enquire with your local chapter of the Canadian BBB if there have been any complaints or issues regarding a company you'd like to deal with.
Finally, if you have a bad experience – or indeed a fantastic experience, please leave a review on the company's listing – your review will truly assist future buyers.
IMPORTANT: The above tax details are listed for information purposes only and are believed correct at time of publication. Bullion.Directory are not tax experts. All enquiries about Canadian taxes should be addressed to the appropriate body. Taxes and taxation are subject to change.