What a slide! The GDXJ ETF moved over 5% lower yesterday, and it closed at a fresh 2023 low.

Bullion.Directory precious metals analysis 08 March, 2023
By Przemysław K. Radomski
Founder of GoldPriceForecast.com
Is the bottom in or is the slide likely to continue?
Let's take a closer look at the charts to find out.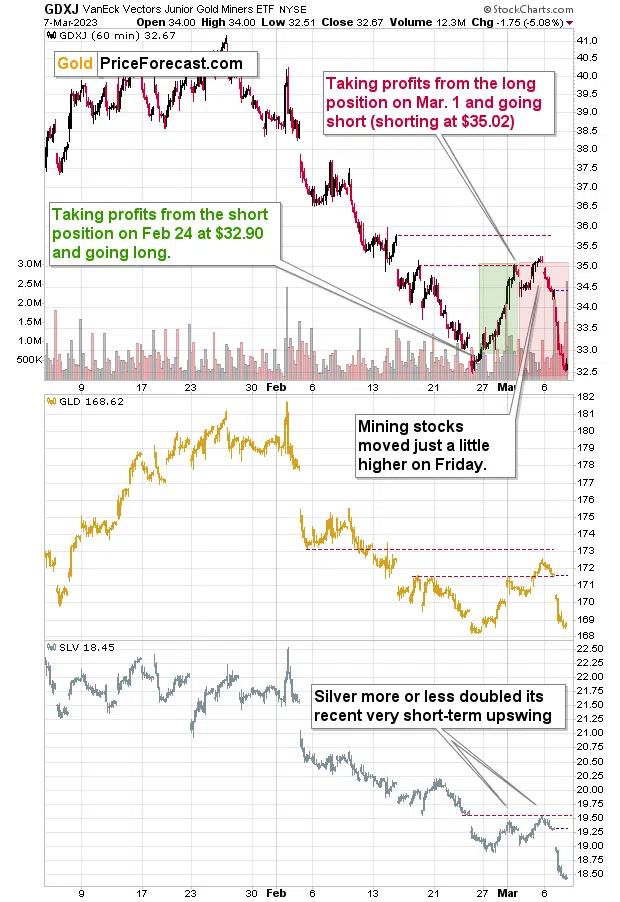 The clue to answering the above question lies in the final part of the rally that we saw last week.
That's when miners clearly underperformed gold and when silver outperformed. Junior miners (upper part of the chart) moved just slightly above their initial high, gold moved somewhat higher, and silver pretty much doubled the size of its initial rally.
That's what tends to happen right before bigger declines – and the emphasis really does go on "bigger".
What has happened so far? Well, not that much. Even though yesterday's rally was huge on a stand-alone basis, it only took miners back to their previous lows in intraday terms (we did see a move to new yearly lows in terms of the closing prices, though), and gold is not at its new lows yet.
The silver price plunged – quite decisively so.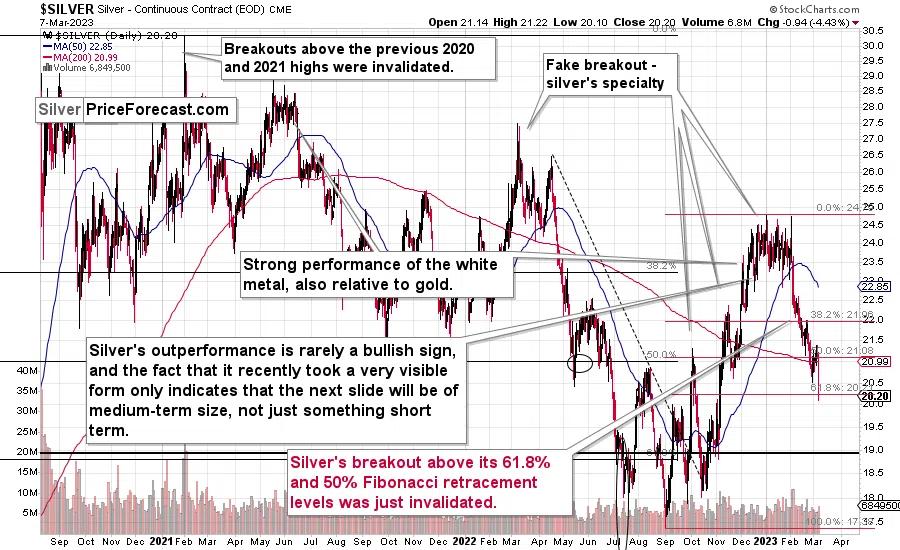 Interestingly, the latter happened only a bit over a month after the moment when silver tried to move above the $25 level. On a side note, we saw the same indication in the first days of February – miners were underperforming gold, and based, i.a., on it, I warned that a decline was coming.
Now, the white metal has declined below its 61.8% Fibonacci retracement level, which is a great indication that this decline is not just a correction but actually a new, big move lower.
Let's keep in mind that miners and silver are linked not only to gold and the USD Index but also to the stock market.
Mining stocks, because they are, well, stocks.
Silver due to its multiple industrial uses.
What are stocks likely to do next?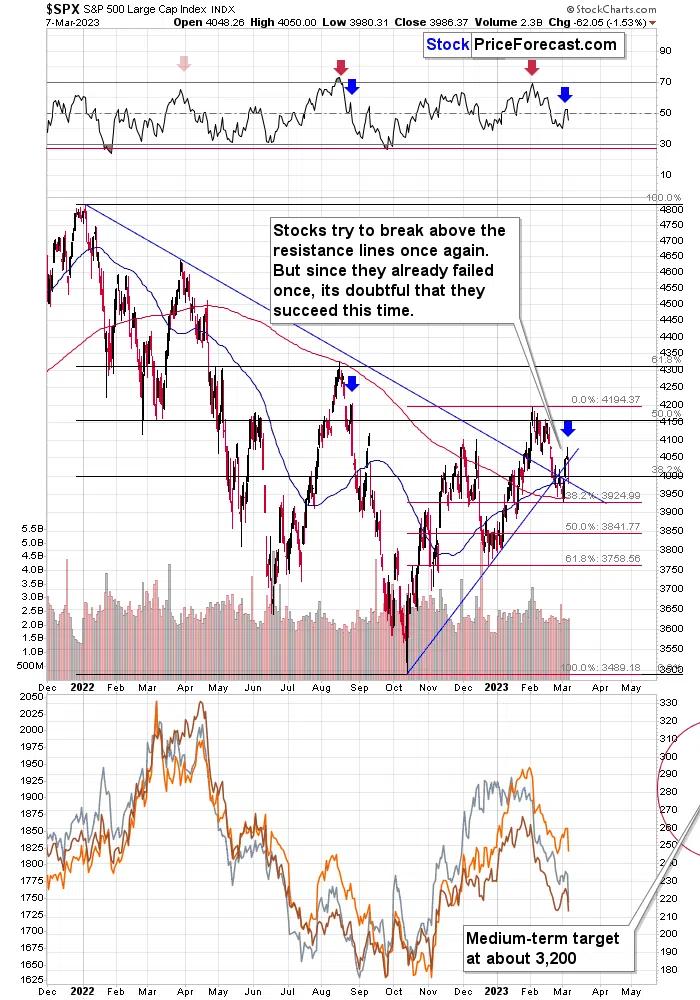 Stocks formed a clear reversal on Monday, so they were likely to decline on Tuesday, and that's exactly what happened.
However, given the analogy to the previous decline that started in August 2022, it seems that the rally has only begun.
The recent bump in the RSI indicator and a top in it that I marked with a blue arrow suggest that the current situation is similar to what we saw in the early part of the slide.
So, silver and miners have been so weak that they managed to decline even without the stock markets' help. What's likely to happen when they finally do get this bearish "help"?
That's right, you guessed it – miners and silver are likely to decline in a truly profound manner. Just as I warned you at the beginning of February, I'm warning you right now – in my opinion, another big move lower is already underway. And the profits of those who are positioned to gain from the upcoming decline (like my subscribers, for example) are likely to increase much more than they increased based on yesterday's slide.
Przemyslaw Radomski
Przemyslaw K. Radomski, CFA, has over twenty years of expertise in precious metals. Treating self-growth and conscious capitalism as core principles, he is the founder of GoldPriceForecast.com
As a CFA charterholder, he shares the highest standards for professional excellence and ethics for the ultimate benefit of society and believes that the greatest potential is currently in the precious metals sector. For that reason it is his main point of interest to help you make the most of that potential.
This article was originally published here