There's a saying in the resource sector investment community regarding whether or not a person might be on the inside loop of a lucrative move.

Bullion.Directory precious metals analysis 01 December, 2015
By David Smith
Senior Analyst at The Morgan Report
The saying goes: If you're out of the room, you're out of the deal.
As the day comes closer when the precious metals turn to the upside in earnest – well before the public mania phase alerts everyone on the planet to the potential – we could confront an event which moves the precious metals upward so quickly and violently, that people don't have at least a core holding beforehand will be left standing at the proverbial station.
That train might not just pull away, but instead launch down the rails like a rocket.

Responding to First Majestic's decision to stockpile, rather than sell at low prices, some of its silver production, Steve St. Angelo of SRSRoccoReport.com wrote:
…investors need to be prepared for the time that acquiring physical gold and silver will be virtually impossible. It seems as if (and according to the speculation of many in the precious metal industry) the rise in the price or value of gold and silver will not occur as it did from 2009 to 2011. This time around, the values of the precious metals will probably skyrocket virtually overnight… thus creating a huge panic for the public to FINALLY GET IT. Unfortunately, by then it will be too late, as physical metal will be in very short supply.
Out of the Room… or Out to Lunch?
Right now, most Americans and Canadians are only dimly aware of the progressive destruction to their real net worth that's taking place while inflation silently but persistently chips away at the financial foundations. As prices rise, they experience snapshots about specific goods and services affecting them directly, but seldom put things together to form a larger picture that clearly demonstrates what's really going on.
In a recent tax filing information packet provided by a New York tax preparation firm, the following information and recommendation under the subhead "Surtaxes" is provided for its clients:
Current high-income earners… Be aware that the rest of America will soon be joining you! When the surtaxes on this group of Americans were passed, Congress purposefully did not adjust the thresholds for inflation, and in 6 years, over 50% of all Americans will pay these surtaxes based on estimated inflation rates. Begin planning now…
The Public Is Surprisingly Clueless about the Value of Precious Metals
A number of times during the last few years, Mark Dice, media analyst, political activist, and author, has been videotaped standing across the street from a coin shop in San Diego. Wearing a t-shirt labeled "Sound Money" he offers to sell passersby a one troy ounce $50 Canadian Gold Maple Leaf for "half price" at $25, because he "needs to pay his cell phone bill."
Everyone he asked – men, women, young and old – turned him down. He offered to sell it to one young lady for $20, $10, then $5…and finally in exchange for a stick of her chewing gum, but she refused each and every time!
In another experiment, Dice worked diligently to sell a 10 troy ounce bar of silver for $10, then $5, and finally 99 cents. One young lady (should we laugh or cry?) would not even trade her $1.99 noodle bowl for the 10 ounce silver bar. In perhaps the most bizarre experiment of all, every person queried the next day chose a Hershey's candy bar over 10 ounces of silver!
Given the state of world affairs in general, alongside economic policies of the federal government specifically, it's a safe bet the day is coming when clueless people like the ones in these videos are going find themselves distinctly in the minority.
But by then, along with most of their brethren, the search for precious metals is going to be futile or unaffordable.
We often hear about "the 1%" of very wealthy Americans who control an outsized amount of the nation's total wealth. But as government and pension debts at all levels mount, the sands of change are becoming more apparent. When much of that paper wealth changes hands, those who have had to foresight to hold build a strong base in precious metals with a portion of their disposable income stand to benefit in an outsized way.
Right now, less than 1 percent of Americans have any precious metals. If even one or two percent more decide to take the plunge, physical supplies of gold and silver will shrink faster than an outgoing tide. Maybe you should consider becoming a part of this 1%.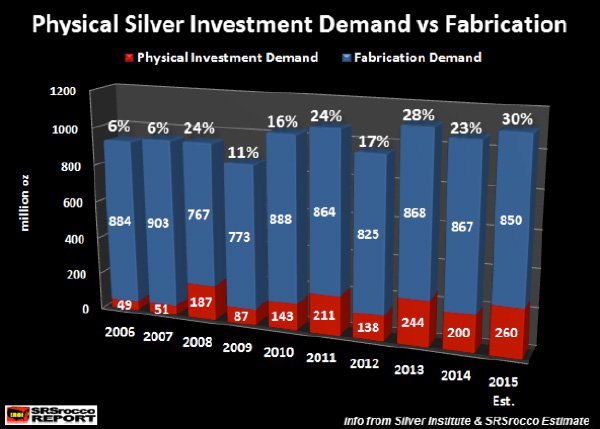 Steve St. Angelo has this to say:
It is plain to see, investors continue to buy record amounts of physical silver even at much lower prices. The bankers assumed at some point that investors would grow weary of holding onto a supposed DEAD-BEAT asset as its price decline. However, the opposite has occurred as investors realize… nothing has been fixed. So why stop buying, especially at lower bargain prices? The day will come when the bankers lose control of the highly leveraged debt-based fiat monetary system. This can take place at any time…
If you want to be part of "the deal" when silver and gold leave today's bargain-basement prices in the rear view mirror, make sure you're "in the room"…

…take your stake in physical gold and silver now.

This article was originally published
here