Precious Metals Market Report
Friday 17 March, 2017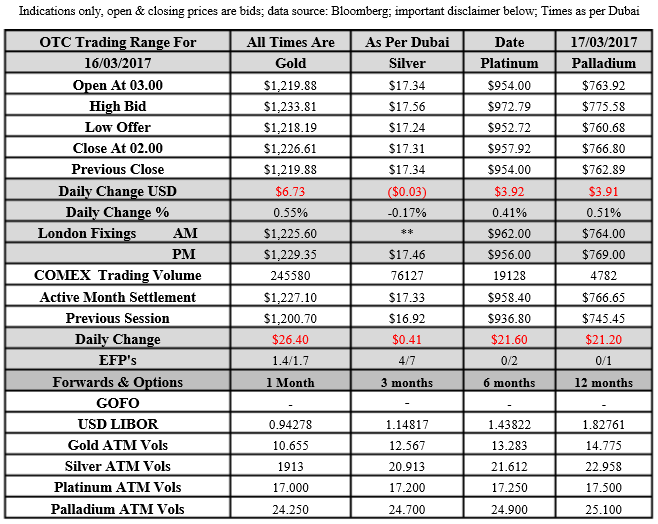 Fundamentals and News
Gold Seen Climbing as Yellen Sets Scene for Negative Rates
Interest rates to go deeper into negative territory: Gordon

Yellen 'very, very clear' she's keeping to rate hike path
Gold will rise after the Federal Reserve pledged to stick to its gradual pace of tightening as negative real interest rates deepen and weigh on the dollar, according to Wayne Gordon, executive director for commodities and forex at UBS Group AG's wealth management unit.
The Fed raised rates by a quarter percentage-point Wednesday, and policy makers penciled in two more quarter-point increases this year and three in 2018, unchanged from projections in December. Chair Janet Yellen said the central bank was willing to tolerate inflation temporarily overshooting its 2 percent goal and intended to keep its policy accommodative for "some time."
UBS' Gordon Sees Better Gold Prices After Fed Hike
"Last night was really setting the scene for the next three-to-six months," Gordon said in a Bloomberg TV interview. "Yellen was very, very clear" that although she sees risks to the economy as balanced and sounded more optimistic, she's going to stick to three rate hikes this year and three next year, he said. "That means real interest rates go deeper into negative territory in the U.S., that means a weaker U.S. dollar and it means a better gold price."
Gold is up 7 percent this year as investors bought haven assets amid political risks such as Donald Trump's presidency, elections in Europe and the Brexit process. Precious metals are top of Morgan Stanley's commodity picks. But Societe Generale SA recommends selling on rallies as it sees gold declining amid further tightening by the Fed and limited impact from political events.
Spot bullion rose 0.7 percent to $1,227.87 an ounce by 12:15 p.m. in London on Thursday after jumping 1.7 percent a day earlier, the most in six months. UBS sees gold at $1,300 this year, while Societe Generale has forecast an average of $1,125 in the fourth quarter.
Policy makers forecast inflation will reach 1.9 percent in the fourth quarter this year, and 2 percent in both 2018 and 2019, according to quarterly median estimates released with the Federal Open Market Committee statement. The Fed's preferred measure of inflation rose 1.9 percent in the 12 months through January, just shy of its target.
(*source Bloomberg)
Data – Forthcoming Release

Technical Outlook and Commentary: Gold
Gold for Spot delivery was closed at $1226.61 an ounce; with gain of $6.73 or 0.55 percent at 2.00 a.m. Dubai time closing, from its previous close of $1219.88
Spot Gold technically seems having resistance levels at 1233.3 and 1242.4 respectively, while the supports are seen at $1203.7 and 1194.6 respectively.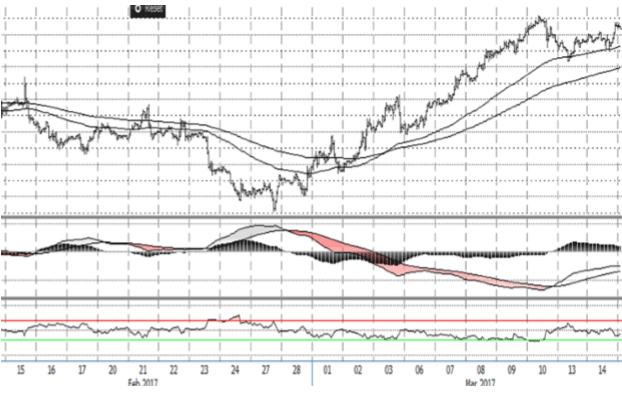 Technical Outlook and Commentary: Silver
Silver for Spot delivery was closed at $17.31 an ounce; with gain of $0.03 or 0.17 percent at 2.00 a.m. Dubai time closing, from its previous close of $17.34
The Fibonacci levels on chart are showing resistance at $17.51 and $17.69 while the supports are seen at $16.95 and $ 16.77 respectively.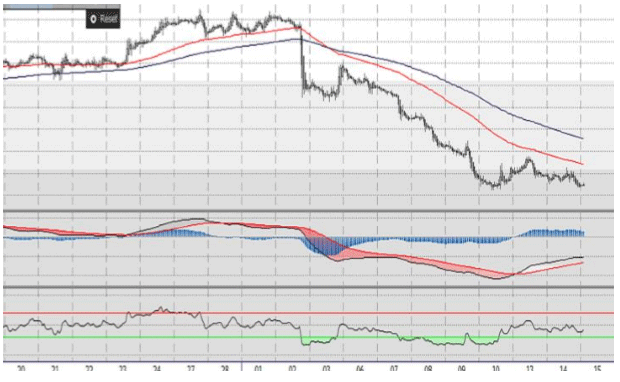 Resistance and Support Levels


Indications only, open & closing prices are bids; data source: Bloomberg; important disclaimer below; Times as per Dubai

This analysis is also available at
Kaloti Precious Metals SG
Bullion.Directory or anyone involved with Bullion.Directory will not accept any liability for loss or damage as a result of reliance on the information including data, quotes, charts and buy/sell signals contained within this website. Please be fully informed regarding the risks and costs associated with trading in precious metals. Bullion.Directory advises you to always consult with a qualified and registered specialist advisor before investing in precious metals.