Gold gets a large bid seemingly from nowhere…

Bullion.Directory precious metals analysis 17 March, 2015
By Christopher Lemieux
Senior Analyst at Bullion.Directory; Senior FX and Commodities Analyst at FX Analytics
Gold traders were caught off guard in slow trade by a large bid representing $1.2 billion as prices meander in the low-$1,140s. Market participants are uncertain as to whether or not the Federal Reserve will drop "patience" from their FOMC minutes report.
Yes, it really has come to that as US economic data continues to disappoint.

Price action jumped on increased volume, but the effects were not felt for long. Gold was unable to break through $1,160, and the rally was quickly sold in a series of lower highs on the one-hour chart.
Was the surge an algo-calculated event? Notice how the surge began as prices reached $1,142 (last hit in last November).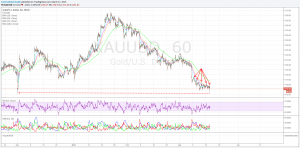 A closer look at the one-hour chart shows the series of lows with the 20-one hour EMA acting as dynamic resistance guiding prices lower.
Sentiment is still to the downside with tomorrow's FOMC minutes looming. It is assumed that if "patience" is removed then the Fed is only a few meetings away from the first rate hike since 2006.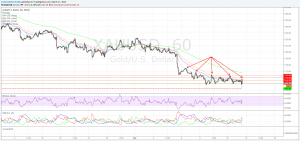 $1,150 will be the whole-number support, while a close below will send prices back to $1,142 per toz.
Tomorrow is surely to be a volatile event. If the Fed's language is even mildly hawkish, gold could retest $1,130. However, dovish language will send prices higher with the dollar likely to head lower.