Gold loses close to $70 in a week.

Bullion.Directory precious metals analysis 4 November, 2015
By Christopher Lemieux
Senior Analyst at Bullion.Directory; Twitter @Lemieux_26
Traders are rather neurotic, pricing in future events based on subjectivity. A simple change in rhetoric within the October FOMC minutes has caused traders to assume the Federal Reserve will raise interest rates in December.
Gold had an abysmal trading session, loosing almost $16 dollars per ounce. Currently trading at $1,117, gold has seen a swing of roughly $70 in just five days with the dollar strengthening on the potential for a Fed funds boost.

The problem: the implied probability is still historically low at 47 percent for a 25 bps hike and 52.3 percent for a 50 bps hike, respectively. The Federal Reserve has never hiked at probability levels this low nor into a weakening economy.
Since the Fed has backed themselves into a corner after not hiking rates since 2006, the market is starting to price in larger movements, which is troubling. Instead of worrying about a 25 bps hike, like in September and October, there is greater probability the move will be double that.
That would undoubtedly strengthen the dollar and severely crush any inflation pipe dream the Fed had going. Furthermore, it would cause volatility within the lofty markets and continue to compress corporate earnings. At this stage, it could be an economy killer.
Alas, gold sold off as expected. Price action was in a tough spot, budding against the 50 percent Fib. retracement of January's high. Momentum waned at the wrong spot, causing the yellow metal to close below its 200-day EMA – a key resistance level it briefly traded above last May. It has been downhill ever since.
While looking at an updated chart from "Gold Lower as Traders Eye ECB Minutes," gold is at a precarious place. Price action is resting on trend support from August's uptrend. If prices close below this key trend support, expect prices to fall lower to $1,103 with traders eyeing the $1,072 lows.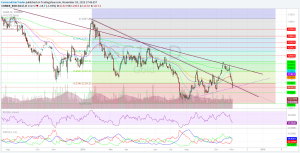 The only catalyst higher is the change of perception that December will be off the table for the Fed, which can be tricky.
At only 52 percent, traders are pricing in a lower probability for a rate hike than the "shoe-in" September and October hikes that never materialized.
But, where have I seen this before?
Think being so wrong so many times, odds of probability would kick in for Wall St & the #Fed ~My hope is "transitory" pic.twitter.com/FuQ2UQyqmS

— Chris Lemieux (@Lemieux_26) August 14, 2015