Can gold's momentum remain above the 200-EMA?

Bullion.Directory precious metals analysis 20 October, 2015
By Christopher Lemieux
Senior Analyst at Bullion.Directory; Twitter @Lemieux_26
Gold has been on a tear of late, gaining over five percent on the current rally. Surprising gold bulls and bears alike, the yellow metal could be on its way to the first annual gain since 2012.
The commodity space, in general, is lower on the session. Economic barometers crude and copper have fallen as traders question whether or not global demand can support current prices. The Energy Information Administration (EIA) inventory report confirmed the American Petroleum Institute (API) reports of another large crude build of eight million barrels. This marks the second consecutive week of over seven million barrels as refineries slow down for patience season.

Copper is lower on the day as questions mount as to how strong the Chinese economy really is with some analysts believing the world's growth engine is only growing at half of the official rate (3-3.5 percent v. 6.8 percent).
Gold and silver have fallen after their sizable rally. Traders book profits on a modestly stronger dollar, while many still are wary if gold can maintain its upward trajectory. Some analysts still see the Federal Reserve raising the key benchmark rate in December, despite Fed fund future traders pricing another five-to-six months before the first rate hike. The confusion that the Fed is injecting into the markets should keep precious metals elevated, but until December comes and goes with a hike, rallies could be sold.
The European Central Bank (ECB) policy minutes and interest rate decision, tomorrow, could either aid or hinder gold's momentum. It is expected that the ECB will at least use rhetoric of more quantitative easing to help push down the rising euro. Selling pressure on the euro will push the dollar higher by de facto, considering that the euro is roughly 30 percent of the dollar index. In turn, the higher dollar could put additional pressure on gold.
Gold's price action has hung around the 200-day EMA, which has significant technical appeal to traders. Although today's selling pressure has gold slightly underneath the key moving average, gold could sustain its upward trajectory if it is retaken. There has not been a meaningful move above the 200-day EMA since late-2014, while the last time gold traded above it was  in mid-May.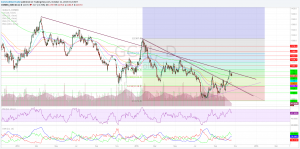 Gold has been able to take out the minor, descending trend line that was established last January but is having trouble hurdling the larger trend created back in March 2014. Technically, if gold continues to trend lower, near-term support is seen at $1,161 and $1,141 per ounce.
The March 2014 trend line coincides with price resistance of $1,182, while a close above these levels could open up $1,200 – a price not seen since June. Moving averages are signaling bullishness with the 50-day crossing above the 72-day EMA. If gold can remain resilient, the yellow metal could see a 20/200-EMA crossover which would fuel further gains.
Aside from the ECB minutes and conference tomorrow, US unemployment claims on Thursday could either strengthen or weaken the possibility of a move from the Fed this year (in the mind of Wall Street). After hovering near 42-year lows, initial jobless claims has been a false sense of employment market strength since nobody is willing to account for the record 94 million Americans not in the labor force (thus not labeled "unemployed").