Investment choices in the '86 classic – which is best for you?

Bullion.Directory precious metals guest post 20 January, 2016
By Nick Adamo
President at Bullion Shark LLC
The 1986 silver eagle is one of the most sought out and desired Silver Eagle coins because it is the first year that the silver eagle was made.
No Silver Eagle collection can be complete without the 1986 – however, collectors are left with many choices when buying this rare coin.
Often, collectors wonder whether they should buy a brilliant uncirculated, an almost perfect grade MS69, or a prefect MS70.

When faced with this dilemma, one should first consider what their budget is, as these different conditions of 1986 silver eagles considerably vary in price.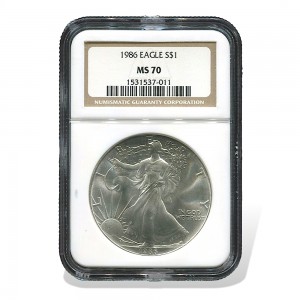 For instance, a brilliant uncirculated 1986 silver eagle goes for around $45, while a NGC MS69 goes for around $60, and the NGC MS70 goes for around $1,300.
Additionally, if you are a collector who wishes to put together a set, you must also consider that the other coins will cost you a lot more.
For example, a 1999 silver eagle in MS69 will probably only cost you around $40, while the 1999 in NGC MS70 will cost you around $30,000.
In total, a complete set of silver eagles graded NGC MS70 from 1986-2015 can cost you over $60,000, while a NGC MS69 set will only cost you about $1,300 and a raw set even less.
Besides the price, collectors should also consider the quality of 1986 silver eagle they wish to purchase.
If a collector only wants the best, then a NGC MS70 would be ideal, as this coin is considered flawless. However, if the collector is not picky, and just wants a complete set for the cheapest price, then a brilliant uncirculated set would be just fine. Additionally, collectors should consider the time frame in which they want to complete their set.
Typically, the higher the grade assigned to a coin, the harder it is to find. For instance, a brilliant uncirculated silver eagles are readily available and are usually not difficult to find.
A set could probably be located for purchase within a week. However, as you try to find higher grades, such as the NGC MS69 set, it becomes a slightly more challenging task and might take you a couple of weeks – whereas the NGC MS70 set could take you years to put together because the populations of Silver Eagles in MS70 are low.
Collectors who have these coins tend to hold them for a long time, and not all the coins will be on the market at once. Rather, you might have to pick up an addition to your set here and there.