What differentiates each type of Silver Eagle and which is more suitable for the investor?

Bullion.Directory precious metals guest post 23 January, 2016
By Nick Adamo
President at Bullion Shark LLC
Every year, the United States Mint makes a business-strikes and a proof American Silver Eagle, (with the exception of 2009, where no proof coin was issued)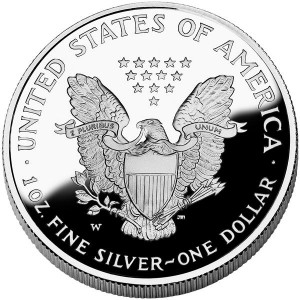 Both of these silver coins essentially have the same design, but the major difference lies in the finish.
Proof Silver Eagles go under a special minting process that helps give them that black and white contrast. Coin blanks are hit by a die many times to give them their extreme, frosty white details. Proof Silver Eagles have lower mintages than the typical business-strike Silver Eagles do.

For example in 1986, 5,393,005 bullion-grade coins were minted while only 1,446,778 proofs were minted.
Surprisingly enough, 1986 is the year with the most proofs minted because it was the first year of production for the American Silver Eagle. Many years have proof mintages well below the million mark, making these coins seem very collectible.
Now it is time to allocate a little bit of time to each of these very beautiful yet unique coins.
Business-strike Silver Eagles meet extremely high demand every year, causing production to rise accordingly.
As stated before 5,393,005 business-strikes were minted in 1986, and in 2014 demand rose to a new high of 44,006,000. These silver coins are extremely sought after for their world prestige and beauty.
Investors often buy the bullion grade silver eagles, while collectors often buy a single proof coin of each year to complete his or her collection.
Collectors often buy Silver Eagles that are certified to be perfect or near perfect by one of the world trusted third-party grading services. These coins can go for thousands of dollars due to extreme scarcity.
For example a 1999 Silver Eagle in NGC MS70 (perfect grade) has an NGC population of 109 (as of 12/26/15) and can go for near $30,000.
Proof Silver Eagles are, most definitely, highly collectible coins. Since each coin undergoes a special minting process and has a stunning finish, these coins are in high demand.
Most people do not buy silver eagles with the proof finish in bulk for investment purposes but for their aesthetic appeal.
However, these coins do carry a higher premium than regular Silver Eagles.
Although, typically worth more in uncertified and  69 grade than the business-strike Silver Eagles, PF70 Silver Eagles are less rare and valuable than MS70 Silver Eagles.
For example the key date 1993 Silver Eagle in PF70 has an NGC population of 451 (as of 12/26/15) and a value of around $2,000. This price is far below the key date 1999 in NGC MS70.
No coin collector or silver investor can go wrong with either business-strike or proof silver eagles. Each coin is unique and beautiful in its own way and is sure to please the collector and investor alike. Whether you buy graded silver eagles or raw silver coins in bulk, the world famous silver coin won't let you down.