Good is Bad and All is Not as it Seems

Bullion.Directory precious metals analysis 08 August, 2022
By Paul Engeman
Director at Ainslie Bullion

US markets were shocked Friday night our time when the NFP employment figures we discussed on Friday came in at literally more than double the expected headline print with 528,000 new jobs added in July and the unemployment rate dropping to 3.5% from 3.6% and wages rising to 5.2% annualised. 
And so in our 'good news is bad news' financial markets, shares fell as the odds of a 75bps rate rise in September surged. 
But all is not what it seems…

A look behind that headline figures sees a not so rosy picture for the real economy. The figures are comprised of two components, the Establishment and Household Surveys.  Since March we have seen a complete disconnect between the 2.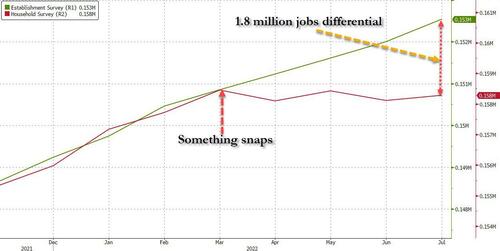 In the Household survey we have seen 168K jobs lost as opposed to the 1.68m jobs gained in the Establishment survey.  This is further confused by the report showing 141K full time job losses in that time and 78K part time as well.  So how does that add up?  By the surge in MULTIPLE job holders, some 263K of them.  Moreover, and in support of the bigger Establishment number, the US has hit a post COVID high number of 7.54m Americans holding multiple jobs.
The numbers are even further skewed from normality in that we are now looking at an all-time record high number of people working multiple FULL time jobs!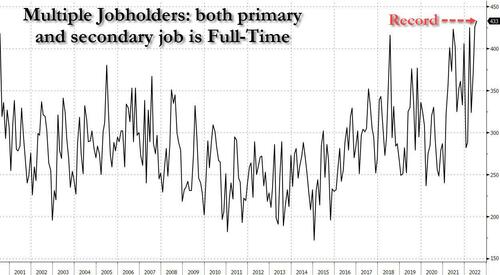 Whilst the Whitehouse is keen to paint the picture that the US isn't in a recession because employment is so strong (despite 2 consecutive quarters of negative growth) looking under the hood of that hero headline number paints a very different picture.  Crescat's Tavi Costa points out the precedent too…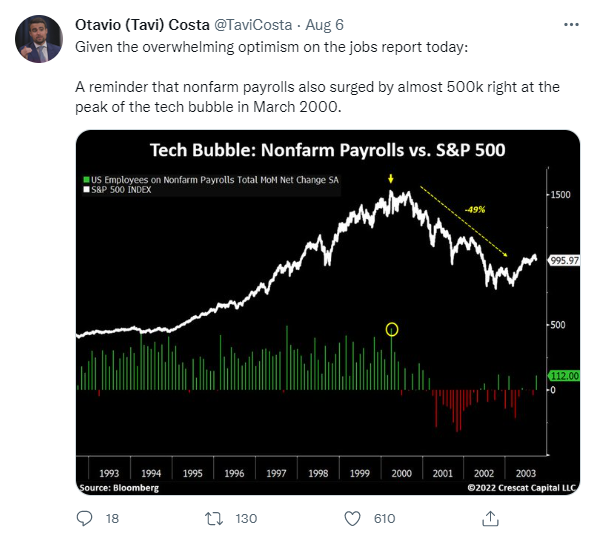 Everyday Americans are most definitely feeling the pinch of the most certainly NON transitory inflation and now rising interest rates.  Friday also saw a salient reminder of this with the Consumer Credit surging by its 2nd biggest monthly increase on record.  This coincides with savings having fallen to historical lows too.  In simple terms the average American has no savings and maxed out credit cards and working multiple jobs to make ends meet.  Not great news for Mr "This isn't a recession" Biden when consumer spending accounts for 70% of US GDP. Q3 aint looking good Joe…

As mentioned earlier the market is now pricing in an 80% chance of a whopping 75bps hike in September and whispers of an emergency interim hike in August now on the table too.
The 'market of truth', the US Treasuries market, reacted strongly, seeing a further flattening and the 2s30s yield curve now the most inverted since just before the dot.com crash…
And so whilst US shares have enjoyed a 'surely the Fed are about to pivot' rally of late, there will be some exceedingly nervous investors right now staring down the barrel at a Fed staring down the same barrel back at them.
Who's going to blink?
Paul Engeman
Paul Engeman is a director at Ainslie Bullion, one of Australia's leading bullion dealers, Gold Silver Standard, the precious metals-backed crypto tokens and at Reserve Vault, Australia's largest private secure vault facility.
Paul's in-depth analysis is published daily on Ainslie Bullion and associated companies' websites – where he writes passionately on our current economic situation and the solutions that gold, silver and other assets can help provide.
This article was originally published here