There are almost as many different ways to collect Silver Eagles as there are coins in the series, which now number over 100 different issues.

Bullion.Directory precious metals guest post 12 May, 2020
By Nick Adamo
President at Bullion Shark LLC
Originally launched in 1986 as a way for the U.S. government to sell off some of what it viewed as excess silver stockpiles, the American Silver Eagle was initially issued in two versions – business strike bullion coins and proof pieces with highly polished mirrored backgrounds and frosted design devices.
The American Silver Eagle quickly became not just a widely traded bullion coin, favored for its .999 silver purity, legal tender status and backing by the government, but also a popular collector coin.
The rise of third-party grading since the coin's launch has also helped fuel the coin's rise as not just the world's most popular silver bullion coin but also the most widely collected modern U.S. silver coin.

Today there are more American Silver Eagles in existence than all the Morgan Silver Dollars ever made, numbering over 500 million coins, and over 15 million of them have been graded.
The completionist, or someone who specializes in this series, wants one of every coin. But most collectors can't afford the proof 1995-W coin that was only issued as part of a special 10th anniversary set that year that included the $50, $25, $10 and $5 American Gold Eagles and was priced at $999. Today the coin sells for around $3,500 in ungraded or Proof 69 examples and substantially more in Proof 70.
Someone on a limited budget could acquire the Complete 1986-2020 Silver Eagle Set ungraded and housed in a popular album for $1200.

Graded American Silver Eagles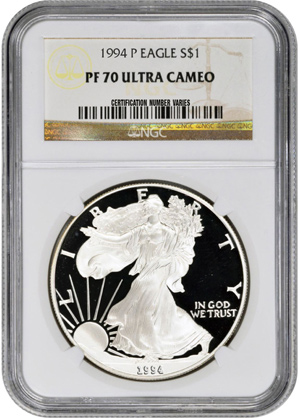 Those who prefer graded coins can acquire the Complete 1986-2020 Silver Eagle Set NGC MS69 and 1986-2020 Proof Silver Eagle Set NGC PF69 UCAM for about $4,100 for both sets.
Those who want the best and seek to assemble sets graded 70 will encounter sticker shock, especially for the earlier issues, which are rare in the top grade and for some issues not often seen in the market.
For example, while MS69 coins from NGC or PCGS run less than $100 in most cases apart from certain special issues, MS70 examples of the coins from the 1980s and 1990s run typically from $1000 to $5000 with certain issues like 1999 costing $12,000 in that grade.
When one gets to the 2000s, when quality standards at the U.S. Mint had increased substantially as technology improved, prices drop down to around $100 for most MS70 coins again with some exceptions.
Because of those expensive and hard to source issues from the first two decades, a complete MS70 Silver Eagle Set would run in the range of $100,000 in PCGS and $50,000 in NGC, well beyond the means of most collectors.
Regardless, Bullion Shark has placed a handful of these ultra rare sets in the hands of collectors and is always looking to build more.
For Proof American Silver Eagles, on the other hand, 70s are more affordable for the earlier years with most issues running between about $300 and $1,000 because they are found in slightly larger numbers in that grade than the MS70 coins of early years.
If one puts aside the 1995-W that runs well over $10,000 in Proof 70, the 1986-2020 Silver Eagle Set Proof 70 can be obtained for around $10,000.
A new low-mintage series key – the 2019-S Enhanced Reverse Proof – was issued last year. It is interesting that the 2019-S Enhanced Reverse Proof with a mintage of 29,707 according to the latest data from the Mint, and the 1995-W with a mintage of 30,102, which are only about 400 coins apart, sells for so much less today than the earlier coin.
Although more 2019-S Enhanced Reverse Proof Silver Eagles have been certified in perfect grade 70 than the 1995-W Proof Silver Eagle, it seems that the coin is a bit too cheap.

Special Coins and Finishes
Another way to collect the series is to focus only on the different types of American Silver Eagles, acquiring one of each finish: mint state, burnished uncirculated, proof, reverse proof, enhanced uncirculated and enhanced reverse proof.
Most of those coins were issued as part of special anniversary sets and coins, which so far include:
the 1995 10th Anniversary five-coin set discussed above in connection with the rare 1995-W proof;
the 2006 20th Anniversary Silver Eagle three-coin set, which included the first reverse proof (in which the fields are frosted while the design elements are polished) and burnished uncirculated Silver Eagles (struck on specially burnished planchets and given a "W" mintmark for the West Point Mint);
the 2011 25th Anniversary Silver Eagle five-coin set, which included first and only uncirculated Silver Eagle struck at the San Francisco Mint; the 2012 75th Anniversary of the San Francisco Mint two-coin set, which included the first reverse proof American Silver Eagle struck at the San Francisco Mint;
the 2013 75th Anniversary American Silver Eagle two-coin set, which included the first enhanced uncirculated American Silver Eagle that uses laser frosting to highlight different parts of the coin's design;
the 2016 30th anniversary burnished uncirculated and proof coins with edge lettering noting the anniversary;
the 2019 Pride of Two Nations set that includes a modified proof Silver Maple Leaf from the Royal Canadian Mint;
and the 2019-W Enhanced Reverse Proof American Silver Eagle in which the field is frosted like a Reverse Proof, while the design is selectively frosted and polished at different levels to highlight various design elements. The 2019-S Enhanced Reverse Proof uses the same finish as the 2019-W Enhanced Reverse Proof.
Sleeper Coins
Within this large number of coins, some possible sleepers include: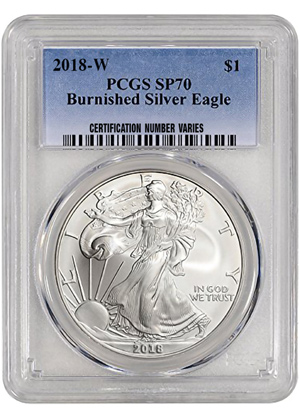 the Burnished Silver Eagles, especially the 2018-W Burnished Silver Eagle and 2019-W Burnished Silver Eagle with respective mintages of 138,947 and 125,564, which are still very affordable even in MS70
the 2008-W with Reverse of 2007 with a mintage of only 46,318 (lower than any regular or special issue in the series) that only runs about $500 in MS69 and $1,000 in MS70;
and the 2015 (P) Silver Eagle and 2020 (P) Silver Eagle struck at the Philadelphia Mint that do not carry mint marks but were identified from markings on monster boxes of 500 of each coins, which have respective mintages of 79,640 and 240,000.
Type 2 American Silver Eagle Coming in 2021
American Silver Eagles have always been prized for their beautiful design that combines an obverse based on Adolph Weinman's Walking Liberty half dollar obverse with a heraldic eagle reverse created by former U.S. Mint Chief Engraver John Mercanti, who also retooled the obverse design to make it strike better in large numbers.
But as the series approaches its 35th anniversary in 2021, a growing number of collectors said they wanted to see a new reverse design. In late 2019 the Mint announced that it will introduce a new reverse in 2021 for the bullion coin only initially and will also include both overt and covert security enhancements to the coin. T
With this change, the series will now have two subsets based on the new types of reverses: type 1 issued from 1986-2020 and type 2 issued from 2021.
Expect a lot of excitement around the launch of the new 2021 American Silver Eagle reverse design and perhaps some new special issues for collectors.
And remember that later this year the first-ever 2020 Privy-Marked Silver Eagle proof is coming to celebrate the allied victory in World War II 75 years ago.

This article was originally published
here