Silver Outpaces Gold Prices as US-China Row Worsens Over Hong Kong, Yet More Post-Virus Stimulus Coming

Bullion.Directory precious metals analysis 22 May, 2020
By Adrian Ash
Head of Research at Bullion Vault

GOLD PRICES rallied on Friday in London, cutting the week's earlier 1.5% drop against the US Dollar to just 0.5% as Western stock markets struggled again despite fresh government and central-bank stimulus to boost the world's post-Covid recovery as relations worsened further between the top 2 economies, the US and China.
Asian stock markets closed the week with a loss, cutting over 2% off China's CSI300 index as the Communist dictatorship opened its delayed annual party congress with a pledge to spend $500bn on post-virus lockdown stimulus, taking Beijing's budget deficit to a projected 3.6% of GDP even as it refused to set any economic growth target for 2020 following Q1's sharp plunge.
"Taxes and fees will continue to be cut to aid the corporate sector," said the CCP's Prime Minister, Li Keqiang.

Gold priced in Dollars rallied to $1735 per ounce Friday in London, some $30 below Monday's new 8-year high.
Hong Kong's Hang Seng index meantime lost 5.6% today, dropping over 3% for the week, as "a controversial national security law [for the city] is [also] expected to be on the agenda at Chinas rubber-stamp legislative body, the National People's Congress," says the South China Morning Post's InkstoneNews.
Beijing wants the semi-autonomous region to prohibit acts of "treason, secession, sedition, subversion against the central people's government" with a bill abandoned in 2003 after half-a-million Hong Kongers marched in protest against it.
With the United States already backtracking on a US-China trade deal following the global pandemic of Novel Coronavirus starting in Wuhan, President Donald Trump yesterday threatened to "act strongly" against Beijing if it imposes those rules on Hong Kong.
In what Bloomberg calls "a clear message to Donald Trump," China's President Xi Jinping then "confirmed on Friday that [China] would effectively bypass [Hong Kong's] legislature to implement [the] national security laws."
"Given the fact that most of the equity markets and other commodities are under pressure right now, the uncertainty around the situation in China and the trade relationship with the US is helping gold," reckons German bank Commerzbank's analyst Eugen Weinberg.
Crude oil led Friday's retreat in natural resources prices, cutting almost 5% off the last month's 80% rebound.
<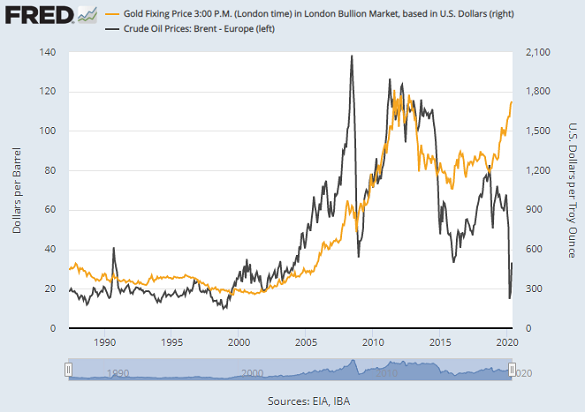 In contrast to gold however, the price of silver – which finds nearly 60% of its end-use from industry, rather than gold's 10% – showed a solid weekly gain up at $17.19 per ounce on Friday.
The giant iShares Silver Trust (NYSEArca: SLV) has swollen over 6% so far this week as investors have bought the ETF product's shares, taking it to a new record size needing over 14,000 tonnes of backing with its biggest weekly expansion in more than 12 months.
That total equates to more than 6 months' of global silver mining's 2020 output, as forecast by specialist analysts Metas Focus for the Washington-based Silver Institute.
Platinum meantime doubled silver's 3% weekly price rise to reach $844 as the close of London trade approached Friday, just $15 below Wednesday's new 10-week highs.
After US Federal Reserve chief Jerome Powell told Congress this week that the Fed "is not out of ammunition by a long shot" in fighting the "very, very bad" economic slump caused by the anti-Covid lockdowns, notes from the European Central Bank's latest policy meeting today revealed that it is "fully prepared" to expand its monetary stimulus.
Even so, the 19-nation Eurozone – the world's second largest single-currency economy – is "heading towards a decline in activity unprecedented in recent history.
Germany and France this week backed a €500bn European Union plan for cross-border bonds to finance post-virus stimulus.
This article was originally published
here