The SNB is messing with two currencies at once.

Bullion.Directory precious metals analysis 22 April, 2015
By Christopher Lemieux
Senior Analyst at Bullion.Directory; Twitter @Lemieux_26
To say central banking policy across the board is reckless would be an understatement. Yet, every week some central bank seems to amaze the world by molding markets with their actions or rheotic. The problem is, the Swiss National Bank (SNB) controls two currencies that are used as safe havens: the Swiss franc and… gold.
The correlation between gold and the Swiss franc is known by some, but not touched upon in any media outlets. It is important to note that when gold began to increase in 2009, the Swiss franc did, too. In 2011, the SNB implemented their euro-franc peg, and, at nearly the same moment, gold began to fall from its all-time high of $1,923 per toz.

Today, the SNB reduced the amount of account holders that would be exempt of their asinine negative deposit rate policy. The SNB may not have the cash to physically manipulate the once prized currency through the purchase of dollars and euros, so they will do it with negative rates and rhetoric.
Once the franc began to tumble, gold quickly followed and brought the "premier" currency below $1,200.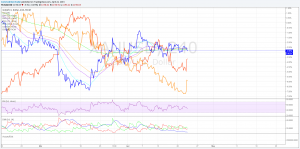 1.05 on on the franc seems to be the key level the SNB wants to talk down. It has held as resistance, so far.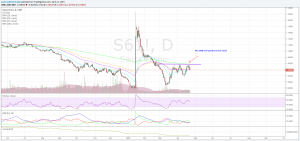 The SNB apparently did not loose enough in January when they could no longer keep their charade going. Artificially suppressing the franc may cause an appreciation exceeding the 40-plus percent seen three months ago.