Precious Metals Market Report
Monday 20 March, 2017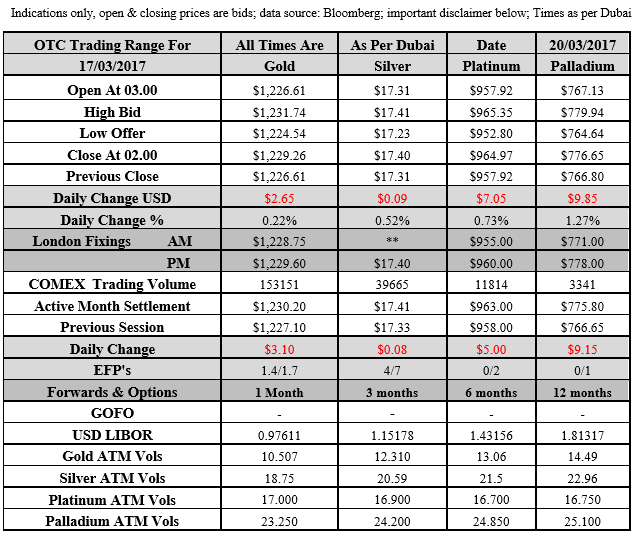 Fundamentals and News
Yellen Surprises Hedge Funds Who Cut Gold Wagers Before Rally
(Bloomberg)
Janet Yellen's soothing words on the pace of U.S. interest rate hikes were a day late for hedge funds losing faith in the metal.

Money managers cut their bullish bets on bullion by the most since 2015 in the week ended March 14. The next day, Federal Reserve Chair Yellen reiterated that monetary policy will remain accommodative for "some time," easing market fears that there might be more than three rate hikes this year. Her words sparked the biggest gold rally since November.
Gold, which climbed through the first two months of the year, had foundered in March as the prospect of higher borrowing costs curbed the appeal of non-interest-bearing assets. Yellen's remarks came as the Bank of Japan maintains its unprecedented monetary easing program and the Bank of England holds its benchmark rate at a record low, helping to keep yields on trillions of dollars worth of debt below zero.
"The fact that we still have stimulative measures, the fact that we still have negative rates out there — that generates uncertainty in people's minds," saidGeorge Milling-Stanley, the head of gold strategy at State Street Global Advisors, which oversees $2.47 trillion. "There's still an awful lot of things out there that are supportive of gold in the short- to long-term."
The funds reduced their gold net-long position, or the difference between bets on a price increase and wagers on a decline, by 47 percent to 49,835 futures and options contracts in the week ended March 14, according to U.S. Commodity Futures Trading Commission data released three days later. That was the biggest decline since December 2015.
As traders awaited the Fed meeting, gold futures in New York dropped in the first part of last week. Yellen's statement on March 15 then reversed those losses, sending the metal up 2.5 percent to $1,230.20 an ounce at the close on March 17, the biggest two-day gain since Nov. 2.
Yields on more than $8 trillion in government and corporate debt in the Bloomberg Barclays Global Aggregate Index of investment-grade bonds have fallen below zero, meaning they're certain to lose money if held to maturity. While the Fed funds rate rose by a quarter point to 0.75 percent to 1 percent last week, that upper-band of the range is still well below the average of 5.18 percent over the past four decades.
(*source Bloomberg)
Data – Forthcoming Release

Technical Outlook and Commentary: Gold
Gold for Spot delivery was closed at $1229.26 an ounce; with gain of $2.65 or 0.22 percent at 2.00 a.m. Dubai time closing, from its previous close of $1226.61
Spot Gold technically seems having resistance levels at 1234.1 and 1242.7 respectively, while the supports are seen at $1206.3 and 1197.7 respectively.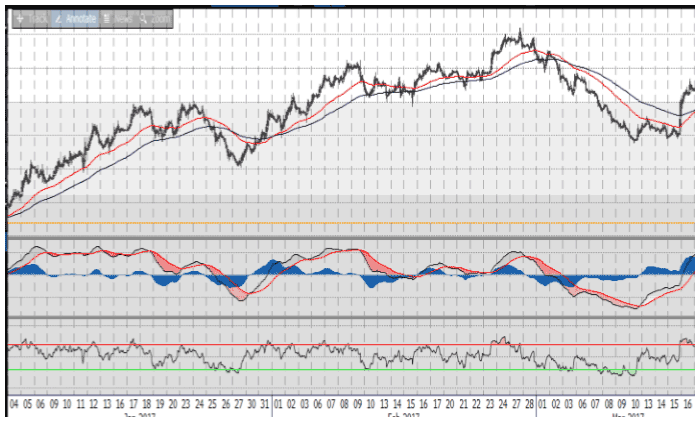 Technical Outlook and Commentary: Silver
Silver for Spot delivery was closed at $17.40 an ounce; with gain of $0.09 or 0.52 percent at 2.00 a.m. Dubai time closing, from its previous close of $17.31
The Fibonacci levels on chart are showing resistance at $17.54 and $17.72 while the supports are seen at $16.98 and $ 16.80 respectively.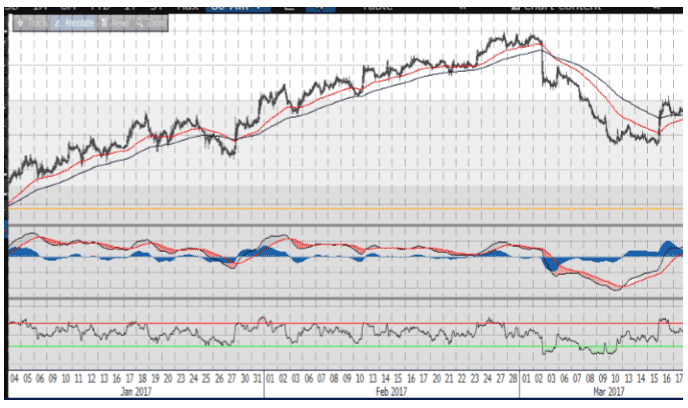 Resistance and Support Levels


Indications only, open & closing prices are bids; data source: Bloomberg; important disclaimer below; Times as per Dubai

This analysis is also available at
Kaloti Precious Metals SG
Bullion.Directory or anyone involved with Bullion.Directory will not accept any liability for loss or damage as a result of reliance on the information including data, quotes, charts and buy/sell signals contained within this website. Please be fully informed regarding the risks and costs associated with trading in precious metals. Bullion.Directory advises you to always consult with a qualified and registered specialist advisor before investing in precious metals.