Precious Metals Market Report
Wednesday 16 August, 2017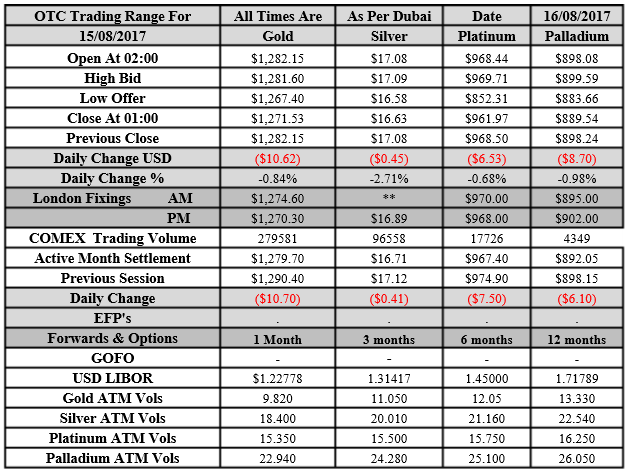 Fundamentals and News*
Gold Posts Biggest Loss in Five Weeks as Dollar Rises
Gold futures fall, the largest loss in five weeks as the dollar rallied, while tensions between U.S. and North Korea moved off center stage, curbing demand for haven assets.

Bullion for delivery in Dec. -0.8% to settle at $1,279.70/oz at 1:44pm on Comex in N.Y., the biggest decline since July 7
A report by Korean Central News Agency said Kim Jong Un will watch the U.S.'s conduct "a little more," signaling fading risks of a threatened missile attack on Guam
"The firmer dollar is weighing on gold, as is the declining risk aversion now that tensions between North Korea and the U.S. have eased somewhat," Commerzbank AG analysts including Eugen Weinberg say in note
NOTE: Dollar Extends Gain as Yen Slides Amid Improving Risk Appetite  Gold heading toward $1,200 in weeks on dollar recovery; Fed seen raising rates more than markets expect: ABN
NOTE: Fed's Dudley Says He Still Favors Another Rate Hike in 2017
Gold ETF holdings tracked by Bloomberg jumped 0.3 percent Monday, biggest increase since end-June
Gold Miners
gauge of 15 large global gold producers tracked by Bloomberg Intelligence -1.5%; Losers include Harmony Gold Mining, Sibanye Gold and Randgold Resources
Druckenmiller sold his whole stake in Barrick Gold in second quarter

Other precious metals futures
Silver futures, down 2.4%, biggest loss since July 7 on Comex
Platinum, palladium slump on N.Y. Mercantile Exchange Gold drops for second day as tensions between U.S. and North Korea subside, reducing appeal of haven assets, and as Federal Reserve Bank of New York chief William Dudley signals he still favors another interest rate increase this year, which boosted dollar and Treasury yields.
(*source Bloomberg)

Data – Forthcoming Release

Technical Outlook and Commentary: Gold
Gold for Spot delivery was closed at $1282.15 an ounce; with loss of $10.62 or -0.84 percent at 1.00 a.m. Dubai time closing, from its previous close of $1271.53
Spot Gold technically seems having resistance levels at 1286.8 and 1284.2 respectively, while the supports are seen at $1262.7 and 1255.2 respectively.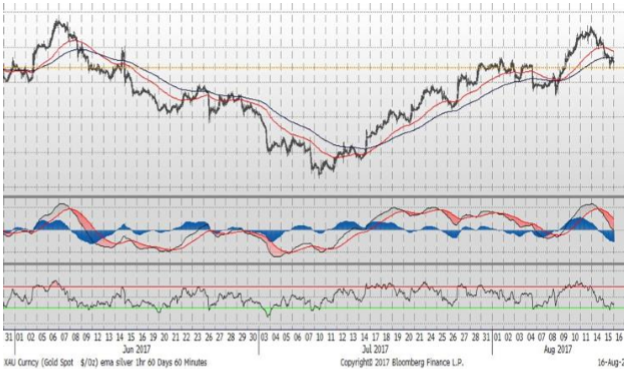 Technical Outlook and Commentary: Silver
Silver for Spot delivery was closed at $16.63 with LOSS of $0.45 or -2.71 percent at 1.00 a.m. Dubai time closing, from its previous close of $17.08
The Fibonacci levels on chart are showing resistance at $17.08 and $17.26 while the supports are seen at $16.46 and $ 16.28 respectively.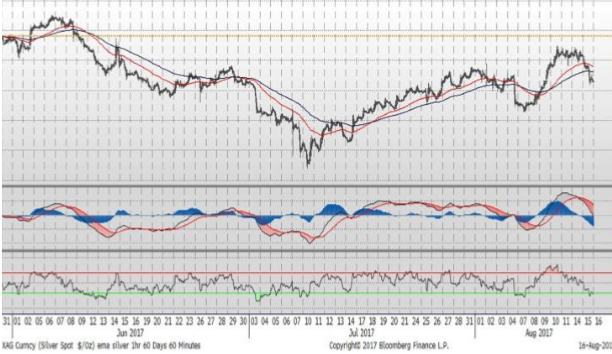 Resistance and Support Levels


Indications only, open & closing prices are bids; data source: Bloomberg; important disclaimer below; Times as per Dubai

This analysis is also available at
Kaloti Precious Metals SG
Bullion.Directory or anyone involved with Bullion.Directory will not accept any liability for loss or damage as a result of reliance on the information including data, quotes, charts and buy/sell signals contained within this website. Please be fully informed regarding the risks and costs associated with trading in precious metals. Bullion.Directory advises you to always consult with a qualified and registered specialist advisor before investing in precious metals.