Precious Metals Market Report
Thursday 10 August, 2017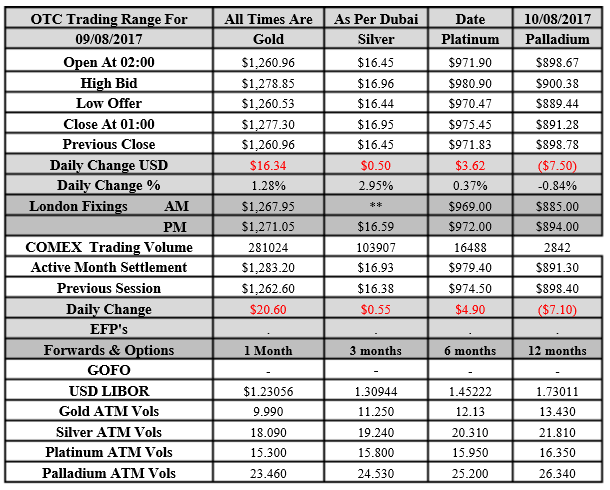 Fundamentals and News*
Gold Jumps to Eight-Week High as Nuclear Spat Fuels Haven Demand
Gold climbed to the highest since mid-June, pushing up mining-company shares amid military tensions between the U.S. and North Korea.

Equities slid and the Swiss franc and some developed-market government bonds advanced as President Donald Trump threatened North Korea with "fire and fury" following a series of missile tests by the communist regime, boosting demand for haven assets. Gold also climbed after Indian imports of the metal were said to have doubled.
The U.S. North-Korea tensions add to investor angst that has helped push up gold more than 11 percent this year, even with equities hitting records and the Federal Reserve keen to shrink its balance sheet. Should geopolitical tensions intensify, gold is likely to be in demand as a safehaven, according to analysts at Commerzbank AG.
"The threat has escalated and investors are rushing from equities back into precious metals for safety," Phil Streible, senior market strategist at RJO Futures in Chicago, said in a telephone interview. "It seems the U.S. is one step closer to engaging in military conflict with North Korea."
Gold futures for December delivery climbed 1.3 percent to settle at $1,279.30 an ounce at 1:35 p.m. on the Comex in New York. Prices earlier rose to $1,282.40 per ounce, the highest since June 14.
An index of 15 gold miners tracked by Bloomberg Intelligence climbed 1.1 percent, led by Toronto-based Yamana Gold Inc. Randgold Resources Ltd. and Barrick Gold Corp. were among the best performers, each gaining more than 2 percent.
President Donald Trump's threat to hit North Korea with "fire and fury" jolted markets from New York to Seoul even as U.S. lawmakers questioned the president's willingness to back up the heated rhetoric.
"North Korea best not make any more threats to the United States," Trump told reporters in Bedminster, New Jersey, on Tuesday. "They will be met with fire, fury and, frankly, power the likes of which this world has never seen before."
(*source Bloomberg)

Data – Forthcoming Release

Technical Outlook and Commentary: Gold
Gold for Spot delivery was closed at $1277.30 an ounce; with gain of $16.34 or 1.28 percent at 1.00 a.m. Dubai time closing, from its previous close of $1260.96
Spot Gold technically seems having resistance levels at 1279.7 and 1286.10 respectively, while the supports are seen at $1258.8 and 1252.4 respectively.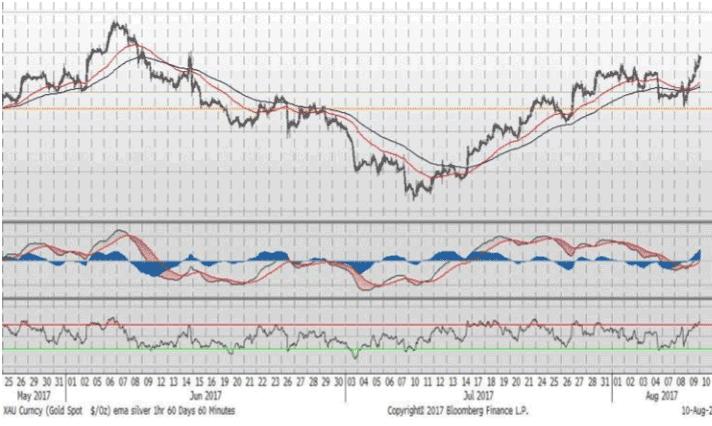 Technical Outlook and Commentary: Silver
Silver for Spot delivery was closed at $16.95 with gqain of $0.50 or 2.95 percent at 1.00 a.m. Dubai time closing, from its previous close of $16.45
The Fibonacci levels on chart are showing resistance at $17 and $17.19 while the supports are seen at $16.36 and $ 16.17 respectively.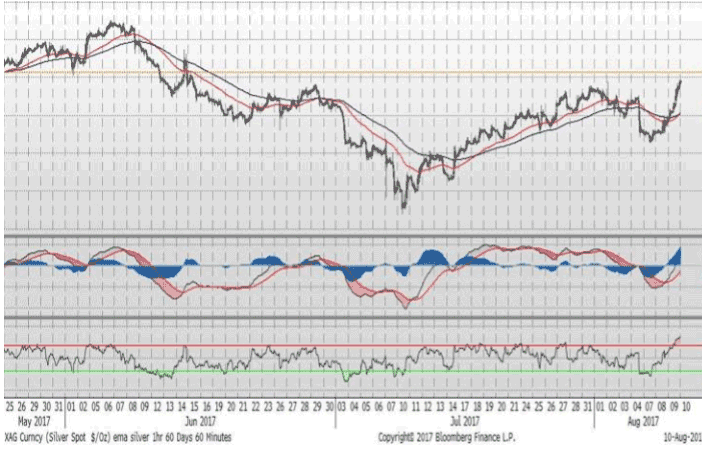 Resistance and Support Levels


Indications only, open & closing prices are bids; data source: Bloomberg; important disclaimer below; Times as per Dubai

This analysis is also available at
Kaloti Precious Metals SG
Bullion.Directory or anyone involved with Bullion.Directory will not accept any liability for loss or damage as a result of reliance on the information including data, quotes, charts and buy/sell signals contained within this website. Please be fully informed regarding the risks and costs associated with trading in precious metals. Bullion.Directory advises you to always consult with a qualified and registered specialist advisor before investing in precious metals.