Precious Metals Market Report
Thursday 1 June, 2017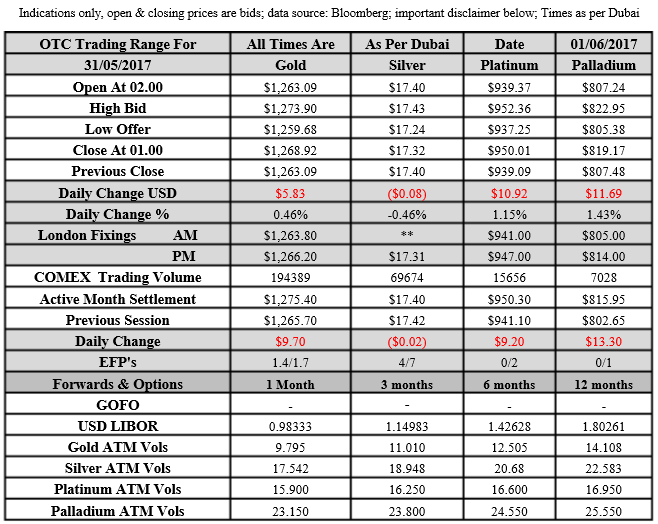 Fundamentals and News*
Junior Gold Miners Set for Fourth Monthly Drop on Outlook Angst
Miners seeing longest stretch of declines since 2014

Mining companies drop even as bullion has gained this year
Shares of junior gold miners headed for the longest stretch of monthly losses in more than two years amid investor concern that flagging momentum in this year's bullion rally will dent the outlook for profits.
An index of 72 companies tracked by Bloomberg Intelligence dropped Wednesday, with Johannesburg-based Lonmin Plc and Apex Mining Co. among the worst performers. The gauge has lost 15 percent since the end of January, falling four straights months in the longest slump since December 2014.
While gold has climbed more than 9 percent this year with a drop in the dollar, junior gold miners have failed to follow through with gains. Spot bullion is little changed in May, as stable U.S. economic growth and expectations that the Federal Reserve will raise U.S. interest rates pinches demand for the metal as a store of value.
The junior miners have a low chance "of making money unless gold moves higher," said Brad Yates, head of trading for Elemetal. "People think they'll continue to burn through cash."
Asanko Gold Inc., which mines the metal in West Africa, was halted in Toronto trading after Muddy Waters LLC said it was shorting the stock, believing it "highly likely to end up a zero."
VanEck Vectors Junior Gold Miners, an exchange-traded fund linked to producers, is down 1.9 percent this month.
Gold for immediate delivery has gained 0.1 percent in May. On Wednesday, gold futures for August delivery rose 0.8 percent to settle at $1,275.40 an ounce at 1:36 p.m. on the Comex in New York.
An index of 15 senior gold-mining companies tracked by Bloomberg Intelligence was also set for a fourth straight monthly decline, the longest slump since September 2015. Among the worst performers on Wednesday were Toronto-based Yamana Gold Inc. and Gold Fields Ltd.
In other precious metals:
Silver futures for July delivery on the Comex fell 0.1 percent to settle at $17.406 an ounce.
Platinum futures for July delivery climbed 1 percent to $950.30 an ounce on the New York Mercantile Exchange.
Palladium futures for September delivery rose 1.7 percent to $815.95 an ounce on the Nymex.
(*source Bloomberg)

Data – Forthcoming Release

Technical Outlook and Commentary: Gold
Gold for Spot delivery was closed at $1268.92 an ounce; with gain of $5.83 or 0.46 percent at 1.00 a.m. Dubai time closing, from its previous close of $1263.09
Spot Gold technically seems having resistance levels at 1273.4 and 1278.4 respectively, while the supports are seen at $1254.4 and 1252.5 respectively.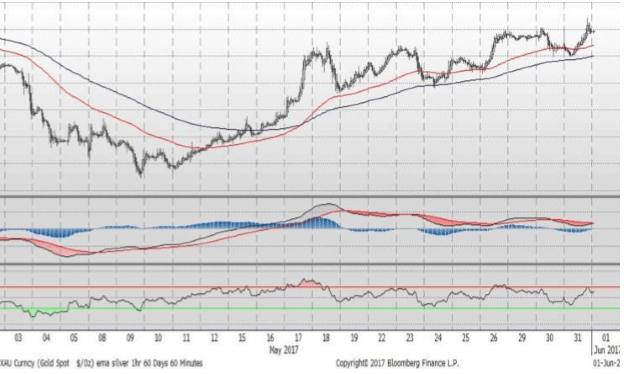 Technical Outlook and Commentary: Silver
Silver for Spot delivery was closed at $17.32 with loss of $0.08 or -0.46 percent at 1.00 a.m. Dubai time closing, from its previous close of $17.40
The Fibonacci levels on chart are showing resistance at $17.44 and $17.52 while the supports are seen at $17.16 and $ 17.08 respectively.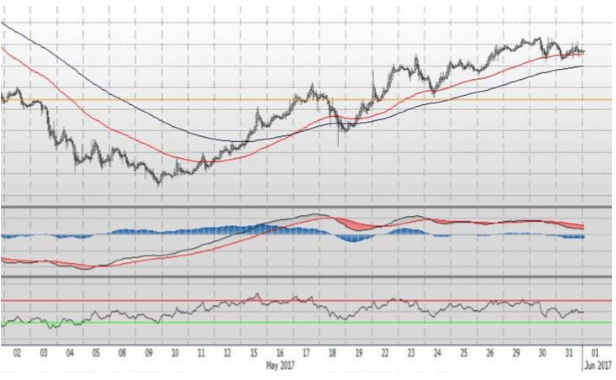 Resistance and Support Levels


Indications only, open & closing prices are bids; data source: Bloomberg; important disclaimer below; Times as per Dubai

This analysis is also available at
Kaloti Precious Metals SG
Bullion.Directory or anyone involved with Bullion.Directory will not accept any liability for loss or damage as a result of reliance on the information including data, quotes, charts and buy/sell signals contained within this website. Please be fully informed regarding the risks and costs associated with trading in precious metals. Bullion.Directory advises you to always consult with a qualified and registered specialist advisor before investing in precious metals.