Gold Prices Flat vs Falling Dollar Amid Jerusalem Violence, Brexit Wrangling, Italy Confusion

Bullion.Directory precious metals analysis 26 March, 2018
By Steffen Grosshauser
European Operations Executive at Bullion Vault

GOLD PRICES stayed flat against a weak US Dollar on Monday in London, holding around $1319 per ounce as violence flared in Jerusalem, where the United States today opened its Embassy to Israel, moving it from Tel Aviv.
Press reports said 41 Palestinians were killed and 1,700 injured as Israeli forces fired teargas and live ammunition at protests against the opening of the new US embassy, recognizing Jerusalem as the capital of Israel, attended by President Trump's daugher Ivanka and her husband Jared Kushner.
With gold unmoved in Dollar terms, the US currency's fall from this month's new 2018 record highs on the FX market pulled bullion prices lower for non-US investors, with Sterling and Euro prices slipping £5 and €4 per ounce respectively to £970 and €1100 – down some 1% from last week's near 8-month peaks.
Who won Bullion Dealer of the Year 2018?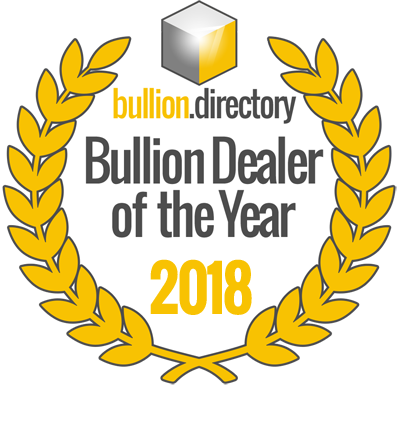 Your Top Choice in 2018 from 27,000 votes!
VIEW WINNER
While most Asian stock markets advanced, European stocks as a whole retreated amid fresh wrangling in the UK's governing Conservative Party over a post-Brexit trading agreement with Europe plus confusion over who Italy's rightwing League party and anti-establishment 5-Star Movement will jointly  propose today for Prime Minister.
From a technical point of view, gold's 50-day moving average is likely to slip below the average of its last 100-day prices soon, Bloomberg quotes technical analysts Monday.
That tends to be considered a bearish signal.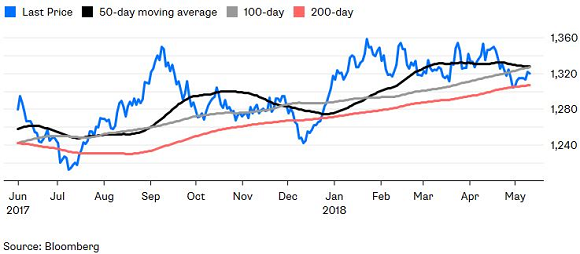 "From a geopolitical point of view," reckons Joshua Rotbart of bullion services providers J.Rotbart & Co in Hong Kong, "we are currently in an equilibrium between the prospects of a 'good end' in the Korean peninsula against the looming conflict in the Middle East between Iran and Israel.
"The price [of gold] reflects this balance."
Israel's stock market was little changed Monday, as was its Shekl currency, while crude oil prices fell again from the multi-year highs reached last week after the Opec cartel of producer nations signalled it has enough spare capacity to act as a "cushion" if US sanctions against Iran hit exports from the group's third largest member.
Investor interest in the world's largest gold-backed ETF, the SPDR Gold Trust (NYSEArca:GLD), shrank for the second week in a row last week, down 0.7% to decrease the amount of bullion needed to back the fund's shares by 6.5 tonnes.
That brought the GLD's total holdings down to the lowest in a month at 857 tonnes.
On the Comex derivatives exchange, in contrast, hedge funds and other speculative money managers raised their net long position in gold futures and options by 1.2% in the week to 8 May, the day when US President Trump announced the US' withdrawal from the Iran nuclear deal.
Speculators' net position on Comex silver was negative for the twelfth out of the last 13 weeks, according to the latest US Commodity Futures Trading Commission data.
Silver tracked gold prices to stay unchanged Monday against the Dollar at $16.66 per ounce.
Platinum also began the week flat in Dollars at $923 per ounce as mining and refining executives met with traders and analysts in London for the annual Platinum Week series of events and seminars.

This article was originally published
here
FREE REPORT: 5 "Tells" that the Metals Markets Are About to Reverse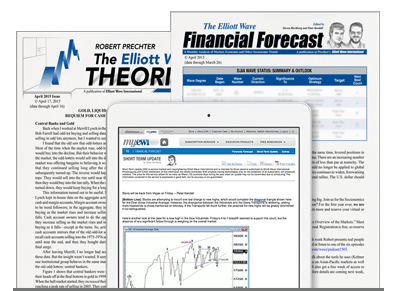 Jump on once-in-a-lifetime opportunities and avoid dangerous pitfalls no one else sees coming.
We can help you prepare for opportunities and side step risks that will surprise most investors. The insights that you'll gain are especially applicable to the price patterns of key financial markets, including precious metals and the stock market now.
Read the Free Report Now - Immediate Access, No Email Required.