Gold Price Erases Last Week's Drop, Platinum at $400 Discount as S.African Miners Struggle

Bullion.Directory precious metals analysis 11 May, 2018
By Adrian Ash
Head of Research at Bullion Vault

GOLD lagged silver and platinum but neared it's first weekly gain in four against the Dollar on Friday, erasing last week's 0.8% loss to trade at $1324 per ounce.
World stock markets also showed a small gain for the week as bond prices rose, edging longer-term interest rates down from their recent multi-year highs as the US Dollar trimmed May's gains on the FX market following Thursday's  weaker than expected US inflation data.
US President Donald Trump meantime confirmed he will meet North Korea's Kim Jong un in Singapore next month to discuss de-nuclearization of the east Asian peninsula.
Who won Bullion Dealer of the Year 2018?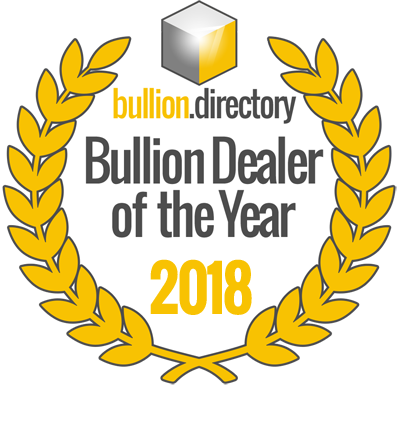 Your Top Choice in 2018 from 27,000 votes!
VIEW WINNER
Heading for its highest weekend in Euro terms since September at €1100, the UK gold price in British Pounds per ounce also retained this week's 0.5% gain to hold around 4-month highs of £976 after the Bank of England yesterday held short-term UK rates unchanged at what was a record low of 0.5% when first reached in early 2009.
Silver doubled gold's week-on-week Dollar gain to add 1.5%, touching its highest intra-day price since 23 April at $16.80 per ounce.
Prices to buy platinum bars rose more steeply still, adding 1.8% for the week in US Dollar terms to peak at $928.
Ahead of Monday's start to London's annual Platinum Week of seminars, events and business meetings however, that still left platinum prices near a $400 per ounce discount against gold.
That was a new all-time record discount to gold for the white precious metal – which finds 40% of annual end-use in catalysts to reduce harmful emissions from diesel engines – when first reached at the end of March.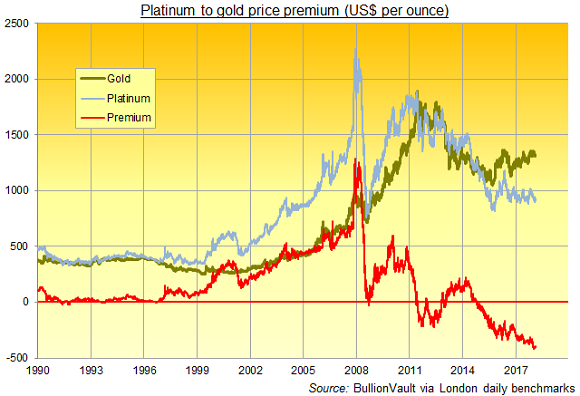 Mine output in South Africa – which produces 70% of the world's newly-mined platinum each year – shrank 6.1% in March from the same month in 2017, new data showed this week.
Monday's results from No.3 platinum mining company Lonmin (LON:LMI) "will make or break" its proposed takeover by Sibanye-Stillwater (JSE:SGL), says South Africa's Business Day.
"At the current rate of cash burn," the report quotes London-based brokerage and analysis providers Liberum, "Lonmin will be pushed into net debt before the year end, scuppering the proposed merger" before Sibanye's shareholders get to vote on the deal.
Shares in No.2 platinum miner Implats (JSE:IMP) meantime rallied today from 19-year lows after it invited tenders to build new waste-processing facilities at its Marula project on the eastern limb of South Africa's Bushveld Complex of mineral deposits – scene of violent unrest and stoppages so far this year over pay and working conditions.
"Gold seems yet again to have found a significant floor," says the latest technical analysis of precious metal prices from French investment bank Societe Generale.
"[The] succession of daily Hammer patterns at $1302/1300 levels suggests bearish pressure has alleviated."
"New resistance comes in at $1326," agrees the latest daily note from bullion bank Scotia Mocatta's New York office, pointing to "the 38.2% Fibo retracement level of the April high [to] May low range…which nearly coincides with the 100-day moving average."
For gold's longer-term investment outlook, says specialist consultancy Metals Focus, "the recovery in the [US] Dollar, along with further gains in Treasury yields, present key headwinds to gold prices in the coming months.
"That said, we retain the view that macroeconomic conditions will favour gold later this year…An unabated rise in oil and yields has the potential to derail equity markets and negatively impact risk sentiment."
Crude oil held Friday near this week's new 3.5-year highs, trading above $77 per barrel of European benchmark Brent.

This article was originally published
here
FREE REPORT: 5 "Tells" that the Metals Markets Are About to Reverse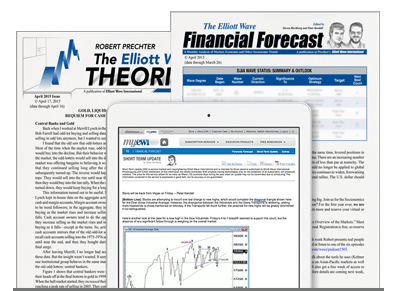 Jump on once-in-a-lifetime opportunities and avoid dangerous pitfalls no one else sees coming.
We can help you prepare for opportunities and side step risks that will surprise most investors. The insights that you'll gain are especially applicable to the price patterns of key financial markets, including precious metals and the stock market now.
Read the Free Report Now - Immediate Access, No Email Required.