Strong dollar remains in headwind.

Bullion.Directory precious metals analysis 9 April, 2015
By Christopher Lemieux
Senior Analyst at Bullion.Directory; Senior FX and Commodities Analyst at FX Analytics
Traders knocked gold below $1,200 for the time being, as market participants determine whether or not the Federal Reserve will hike the Fed funds rate for the first time since 2006.
The Fed is stringing along financial markets. Either the economy is strong and deserve a tightening of monetary policy, or it is not.
The voting members of the FOMC still remain as divided and as confused as traders. NY Fed Bank President William Dudley told a crowd at an event held by Thompson Reuters that Fed policy will be highly reactive to the market's reaction.
The dollar pushed higher and holding above 99, while still remaining a key headwind for gold prices.
Currently trading at $1,196 per toz, price action is lingering underneath broken support of $1,198/$1,200. The XAUUSD four-hour chart shows two different, potential, bearish EMA crossovers – 72/200 and 20/50 EMA.
This could create technical selling trending between $1,186 and $1,180. Secondary support can be found at $1,170.
If price action can rebound above $1,200, traders will likely target $1,209 and $1,224, respectively.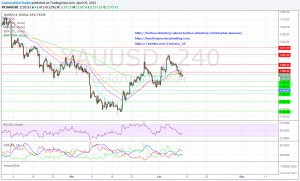 Gold will likely remain range bound until the Fed makes their mind up on rates, one way or the other.