Gold Price Hits New Record High as Lockdowns and US-China Tensions Increase, US Yields Fall to New All-Time Low, Comex Futures Break $2000

Bullion.Directory precious metals analysis 03 July, 2020
By Atsuko Whitehouse
Head of Japanese Market at Bullion Vault

GOLD PRICES surged to a fresh all-time high early Monday morning, as rising Covid-19 cases and simmering US-China tensions have dented hopes for a swift economic recovery, while price dislocation between London and New York "diminished" gold futures market making a huge impact on the movement of physical gold.
Spot gold prices jumped $1987.54 per ounce to hit a new record high in early Asian trade this Monday and then lost the gain as the dollar index – a measure of the US currency's value versus its major peers – advanced for the second session in a row after declining 4.1% for last month.
Meanwhile, real US Treasury yields hit an all-time low at the start of the week's trading.

Gold went up 10.9% in July, the biggest monthly gain since 2012.
"Despite the strength seen in gold through the month of July, Net Managed Money longs on Comex fell slightly over the period, again demonstrating how diminished this trading venue has become," said John Reade, Chief Market Strategist at the World Gold Council this morning.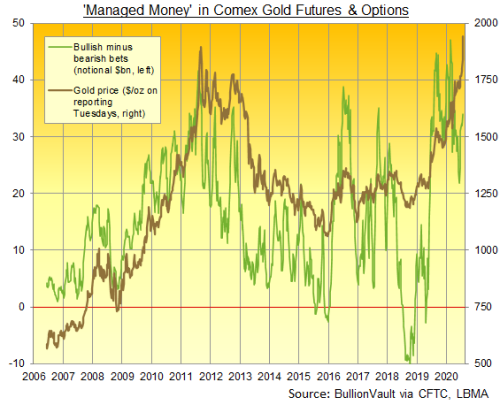 Latest data show that hedge funds and other leveraged speculators in Comex gold futures and options cut their bullish betting on gold as a group in the week ending 28th July but also trimmed their bearish bets as well.
Overall, that pushed the net long position of Managed Money traders down by 5.22% and 38% smaller than the peak off February 2020 last week when gold prices hit all-time highs last Tuesday, according to the latest data compiled by regulator the Commodity Futures Trading Commission (CFTC).
Comex gold futures recorded a new all-time high at $2009.5 per ounce Monday morning after hitting above $2000 during the last session.
The gold price gap between London and New York held at $15.8 per ounce, cutting what was a $100 premium for Comex futures contracts in March as US warehouses continued to see fresh deliveries.
"The premium in futures since Covid-19 has led to massive deliveries in trader arbitrage and made a huge impact on the physical gold movement," says a note from ICBC Standard Bank's former Tokyo manager Bruce Ikemizu, now chief director of the newly established Japan Bullion Market Association.
"On Thursday, 102 tonnes of gold were declared for delivery, the largest delivery in one day."
Meanwhile, "London traded gold volume has been exceptional, setting a record on 30 July, when 89.36 million troy ounce changed hands to a value of some $174 billion, over 50% higher in value terms than the previous high," London Bullion Market Association (LBMA) tweeted last Friday.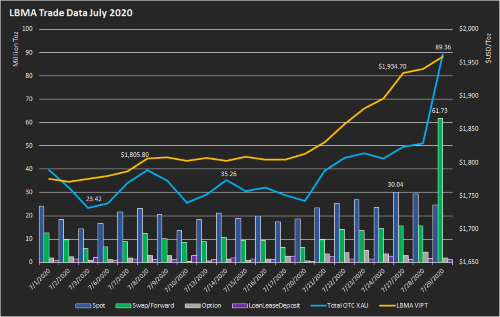 Trading volumes through London's bullion market has risen since March, when it jumped more than 85% from the same period in 2019, according to figures shared with BullionVault by LBMA-i data providers Nasdaq.
Global coronavirus cases surpassed 18 million as the pandemic is now adding a million infections every four days, with flareups prompting more lockdowns.
The British government is reportedly considering a plan to seal off London, while Australia's second-most populous state on Sunday declared a state of disaster, expanding restrictions imposed three weeks ago on Melbourne's 5 million residents to all of the state of Victoria.
Gold prices for UK investors edged higher by 0.2% at £1513 per ounce Monday lunch time as UK factories output grew at fastest rate since 2017.
European manufacturing PMI also came in higher with European shares rising, while Euro gold prices steadied at €1681 per ounce after hitting its record high of €1687 early this Monday.
Manufacturing activity in China, the No.1 bullion consumer nation, continued to recover from the fallout of the Covid-19 pandemic in July as businesses reported the fastest expansion of output and new orders since January 2011.
Gold prices in China meantime showed a historic discount to London, increasing to $69 per ounce on Monday after the market increased the weekly average to $55 last week, the second biggest after week ending 17th April.
Tensions between the US and China are rising again after the US Secretary of State, Mike Pompeo, said Donald Trump will take action in the coming days to tackle national security risks posed by TikTok and other Chinese software companies, as Microsoft revealed it was trying to buy TikTok's parent company ByteDance.
Staying in the US, the US Senate is due to go into recess on 7th  August, leaving little time for Republicans and Democrats to reach agreement on the latest stimulus package as failure to reach a deal by  31st July has left more than 25 million people grappling with economic uncertainty due to Covid-19 , after the expiration of benefits worth $600 a week.

This article was originally published
here