Gold Bullion 'Beefs Up Security' Says Russia as Turkey-Iran Gold Trading Trial Hits US Relations

Bullion.Directory precious metals analysis 24 November, 2017
By Adrian Ash
Head of Research at Bullion Vault

GOLD BULLION slipped against a falling US Dollar on Friday, heading for a 0.3% weekly drop as the US Thanksgiving holidays left world stockmarkets to edge higher and diplomatic tensions worsened further between Turkey and Washington.
With the Dollar dropping again on the FX market, gold trading in London – center of the global wholesale market – saw the metal drop hard against all other major Western currencies.
Priced in the Euro, gold bullion fell to EUR 1083 per ounce, its lowest weekly close since the start of October.
Gold bullion rose for investors however in Turkey – the world's 5th largest private gold consumer, and a heavy central-bank buyer – as the Lira re-touched this week's fresh all-time record lows versus the Dollar.
New York court hearings are now scheduled to begin on 4 December against Iranian-Turkish gold trader Reza Zarrab for breaking international sanctions over Tehran's nuclear program.
Nato member Turkey's deputy prime minister Bekir Bozdağ this week described Zarrab as a "hostage", and the trial – which threatens to implicate senior Turkish figures – "looks like a ticking time bomb at the heart of Turkey-US relations," says one editorial in the Hurriyet newspaper today.
Ankara is now  suing US-resident cleric Fethullah Gulen for damage caused in last year's attempted coup after failing to have him deported.
Following this week's summit with the leaders of Russia and Iran, Turkey's President Recep Tayyip Erdoğan meantime repeated today that there is "no place" in war-torn Syria's future for what he called the "terrorist" YPG party of Kurdish separatists – a group supported by the United States in its fight against Islamist extremists ISIS, but which Ankara sees as an arm of eastern Turkey's rebel Kurdish group the PKK.
US President Trump tweeted overnight that he will call Erdoğan today. But amid the continuing row over a Nato military drill in Norway labelling images of the Turkish president and also its founding father Mustafa Kemal Atatürk as "enemy collaborators", there is "increased rumbling," says another Hurriyet editorial, "that Ankara's true interests lie in deepening relations with Russia and Eurasia instead."
Russia has quadrupled its national gold bullion reserves over the last decade "to beef up national security," according to a Reuters report of comments from central bank First Deputy Governor Sergei Shvetsov today.
Since the turn of this century, the combined national gold reserves reported by Turkey, Russia and China have more than quadrupled according to data compiled by the mining-backed World Gold Council to more than 4,000 tonnes today.
The gold bullion reserves of Western allies the US, the UK and the Eurozone member states are nearly 5 times as large, but have shrunk by 10% since the start of 2000.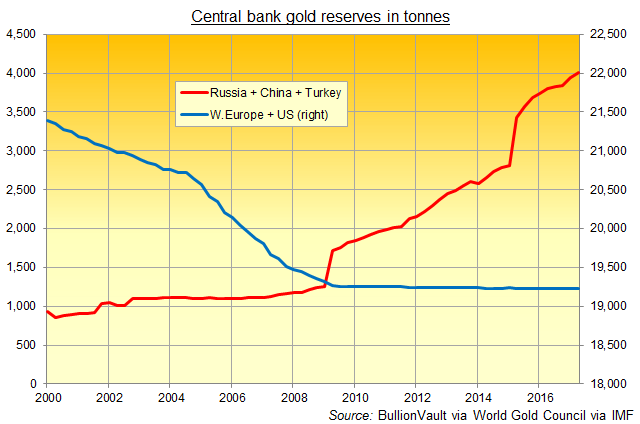 Mooting an 'alternative' gold trading venue from the existing Western-led market, Shvetsov also said that "The traditional system based in London and partially in Swiss cities is becoming less relevant as new trade hubs are emerging, first of all in India, China and South Africa.
Saying that Moscow and Beijing have signed a memorandum of intent regarding bilateral gold trading, "We are discussing the possibility to establish a single gold trade [system] both within the BRICS, and at the level of bilateral contacts," potentially leading to the launch of new pricing benchmarks.
The term 'BRICS' – referring to the highly diverse nations of Brazil, Russia, India, China and South Africa – was coined by US investment bank economist Jim O'Neill in 2001 as a marketing tool for selling emerging-economy investments to Western money managers.
With sales of Russian-mined gold curbed by Western sanctions over the 2014 annexation of Crimea – a move linked by analysts to Moscow's surge in gold bullion buying – gold-trading bank  VTB Capital said this week it plans to double sales of bullion to China in 2018.