The reality/perception divergence.

Bullion.Directory precious metals analysis 20, January 2016
By Christopher Lemieux
Marco Strategist; Twitter @Lemieux_26
Gold continues to see demand amid the global equity selloff, with many international indices already in a bear market. Silver is bouncing higher, too, while testing the 50-day EMA.
In "When Credit Goes, So Does Equities," I issued – last January when being a bear was rare – a bold, contrarian move: the S&P 500 at 1,810. What was probably the most bearish call, the index fell to a multi-year low of 1,867. Not too shabby when Wall Street fortunetellers were predicting year-end targets of 2,200-2,300.

Although my target, essentially, missed on the surface, the underlying fundamentals and thesis behind the call were still valid going into 2016. Then, the S&P 500 had the worst start to a year…. ever! Now: S&P 500 carved out a low of 1,812. We have also witnessed junk credit collapse, which was another call successfully made.
Despite the pressure in the precious metals market since 2011, the road to $1,000 in gold was one of Wall Street's prime motives. For some reason, if gold has reached this psychological price level then it would signify that globalized central planning had worked and the most expensive doorstop would be thrown to the wayside.
I had my doubts that gold would hit $1,000 but knew that even if it had gone there, the price itself did not erase the supporting fundamentals for owning it.
It's moments like these, where risk bubbles to the surface and perceptions begin to chance, that make owing gold attractive.
Intraday, gold has been able to retake $1,100 and has stalled out at the top of the session's trading range. Much like the previous move higher to begin the year, price action has reached overbought conditions (not so on longer-dated charts).
The momentum still remains to the upside, but prices will likely digest the move and wait for another directional catalyst. If this process can occur with gold above $1,090, there should be another push higher. Otherwise, traders could look to retest lower support near $1,075/9.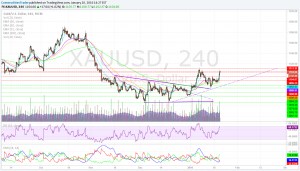 Unless the Federal Reserve does something drastic, given the economic rollover and global turmoil, it doesn't look good.
I reiterate 1810 $SPX target 17% from current levels, and were at 2000 and 2008 levels. So much for "buy and hold" pic.twitter.com/8ipE908DMP

— The Realist (@Lemieux_26) January 15, 2016