"We're not going to be in a recession, in my view," Biden told reporters on Monday.

Bullion.Directory precious metals analysis 28 July, 2022
By Paul Engeman
Director at Ainslie Bullion

As we discussed in the lead up yesterday, last night saw the much anticipated US Fed meeting and whilst they raised rates by 75bps for the second month in a row as widely expected, it was what the accompanying statement and Chair Powell said afterwards that saw big moves in markets last night. Were they premature?
In what feels very much like a 'here we go again' moment, the market was looking for any cue that the Fed will soon pause or pivot signalling a return to easy money.  And so, whilst raising rates a whopping 75bps, the first sentence of the statement delivered these words:
"Recent indicators of spending and production have softened."

And so again we are in a bad news is good news mentality where the market jumped on a dovish interpretation of that sentence and Powell later stating it is "likely appropriate to slow increases at some point" and stating that rather than the hawkish forward guidance they have been delivering this year, they will instead set policy on a meeting-by-meeting basis and any changes would be "data dependent".
Here's a screen shot of a range of markets at session's end this morning: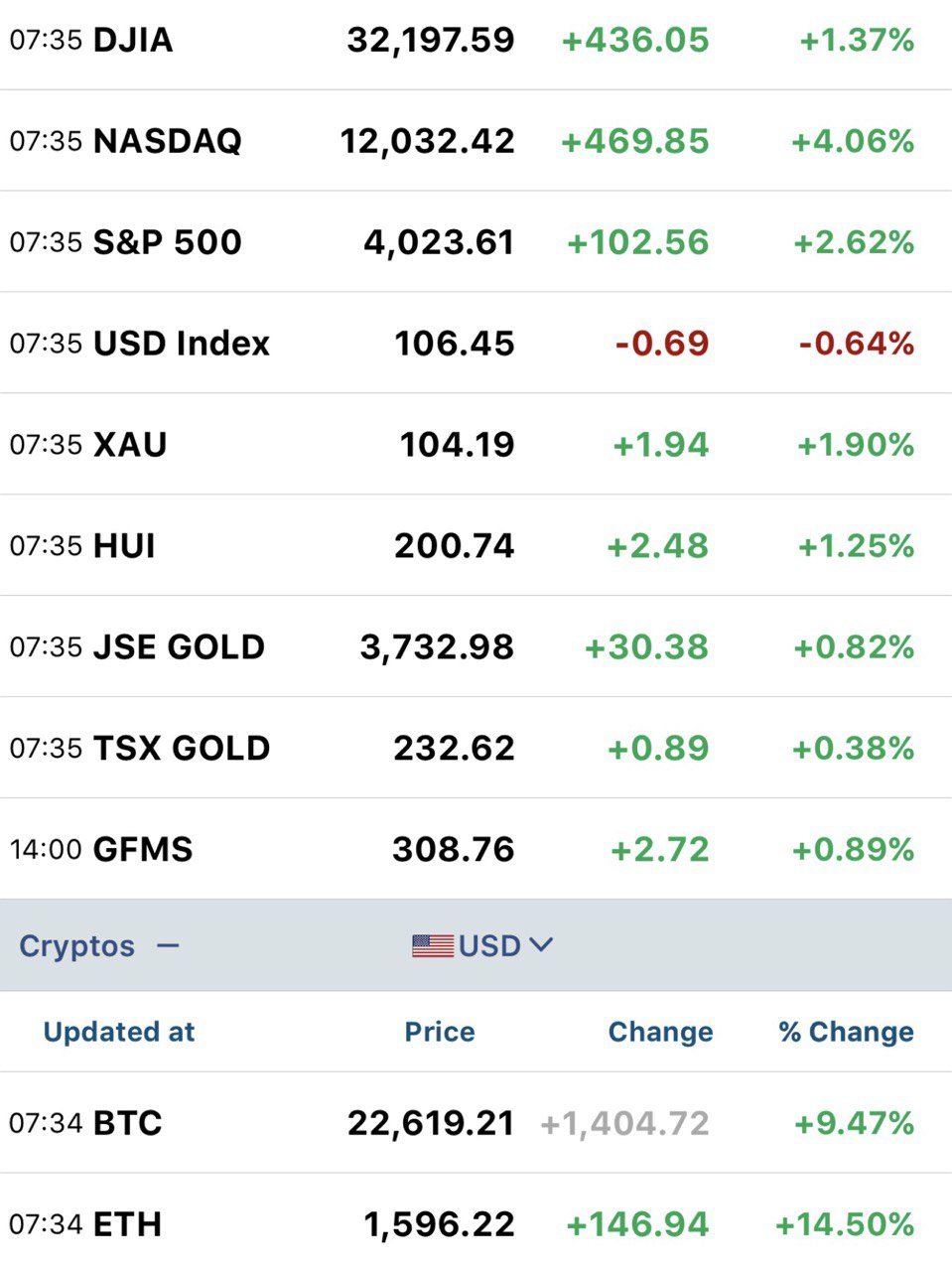 Everything went up bar the poor old USD. The market, ever ready to deploy the hope strategy bought everything on the expectation this was the sign of a pivot coming.  Whilst more often uncorrelated, precious metals too rallied strongly as the insurance or 'smart money' bets were placed in tandem.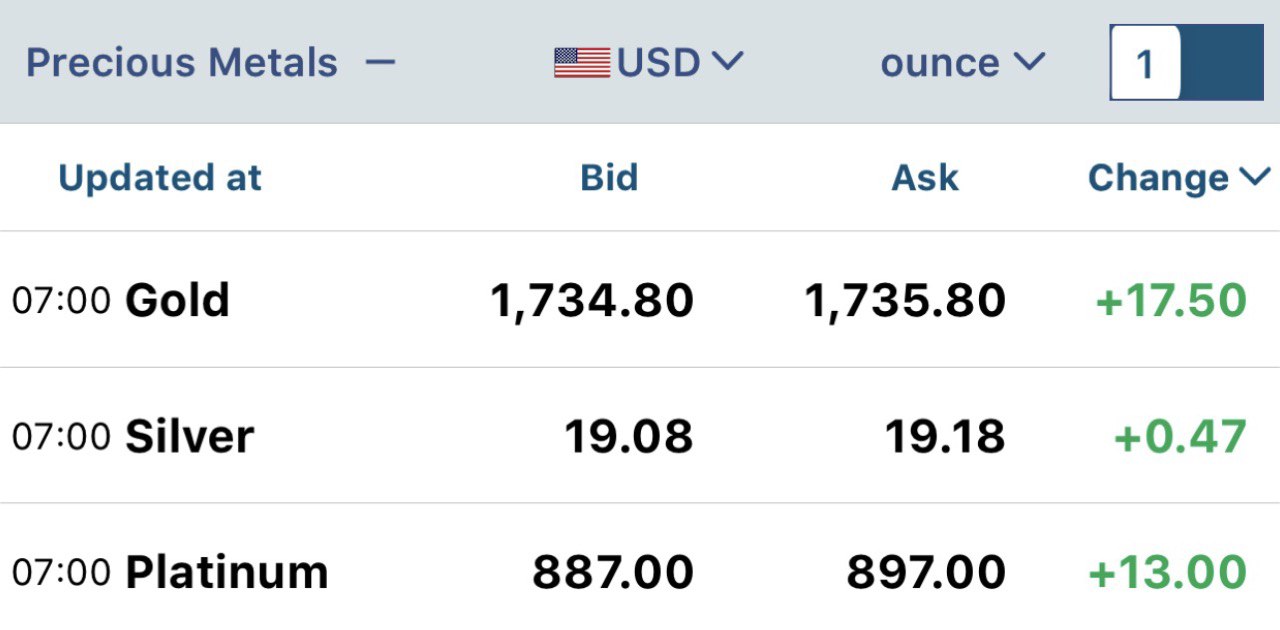 The market reaction has some 'smarter' heads scratching those very same heads as Powell was very clear that he doesn't think a recession is likely and that he expects they will continue to raise rates to get inflation back into their 2% range.  That is a LONG way from last month's 9.1%.
From Bloomberg:
""It's clear the Fed wants to move away from offering concrete forward guidance considering elevated uncertainty," said Robert Dent, a Nomura Securities economist. "I do not believe that's a dovish innovation."
The Federal Open Market Committee "is strongly committed to returning inflation to its 2% objective," it said in a statement, repeating previous language that it's "highly attentive to inflation risks." The FOMC reiterated it "anticipates that ongoing increases in the target range will be appropriate," and that it would adjust policy if risks emerge that could impede attaining its goals."
And so whilst those looking for dovish hope have lowered their expectations on the next meeting in September (August is skipped), some are actually seeing it worse than the previously assume 50bps:
""We read Chair Powell's press conference as more hawkish than the market's interpretation," Citigroup Inc. economists Andrew Hollenhorst and Veronica Clark wrote in a note to clients. Inflation readings excluding food and energy will "push the Fed to hike more aggressively than they or markets anticipate," with a 75 basis-point move in September."
Let's not lose sight too of where the Fed DOES give forward guidance and that is the so called dot plot that shows were each member thinks the rate target is going forward: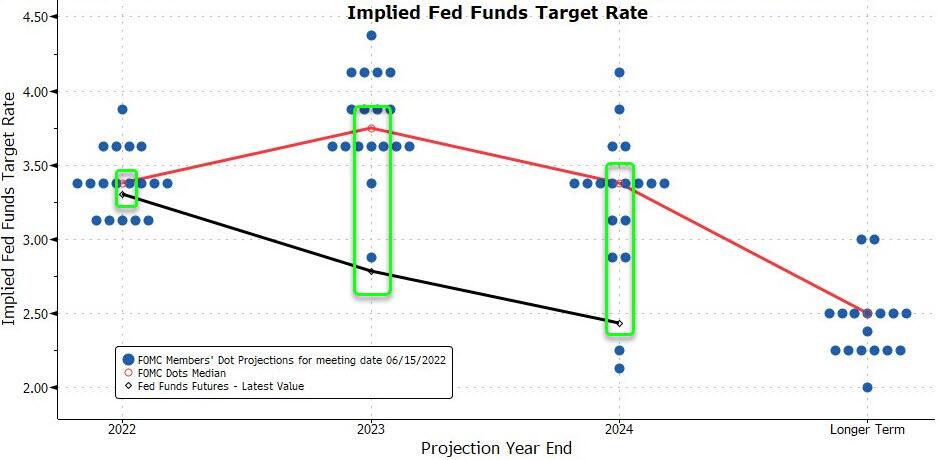 That shows the Fed's FOMC committee seeing rates continuing to rise from last night's 2.25-2.50% result all the way to 3.25-3.5% this year (i.e. another 100bps) and even another 50 bps next year.  That is now massively different to what the market is now pricing.  Who will be right has equally massive implications for the price of assets.
Any thoughts of the pain being over are clearly premature.  Both Powell and Biden are hosing down recession fears.  When the talking heads are saying something like that is not going to happen, its often a good sign it is.  From CNN:
"We're not going to be in a recession, in my view," Biden told reporters on Monday. "The employment rate is still one of the lowest we've had in history. It's in the 3.6 (percent) area. We still find ourselves, the people, investing." [spoiler alert, employment almost always peaks just before each recession]
"My hope is we go from this rapid growth to a steady growth. And so, we'll see some coming down. But I don't think we're going to — God willing — I don't think we're going to see a recession,"
As we reported yesterday and Monday, the evidence is firmly to the contrary but nothing is certain when you are in unprecedented territory.
Paul Engeman
Paul Engeman is a director at Ainslie Bullion, one of Australia's leading bullion dealers, Gold Silver Standard, the precious metals-backed crypto tokens and at Reserve Vault, Australia's largest private secure vault facility.
Paul's in-depth analysis is published daily on Ainslie Bullion and associated companies' websites – where he writes passionately on our current economic situation and the solutions that gold, silver and other assets can help provide.
This article was originally published here