The Pros and Cons of Diversifying Your Retirement Portfolio With Proof Coins

Bullion.Directory precious metals investment analysis 19 May, 2021
By Ilir Salihi
Senior Editor at GoldIRAsecrets.com

Investors across the U.S. are increasingly turning to precious metals and other alternative asset classes to diversify their investment portfolios.
For thousands of years, gold, silver, platinum and palladium have long and proven track records as stores of value in times of economic security and crisis. As inflation picks up in the United States and the economy shows signs of weakening, gold is setting record prices.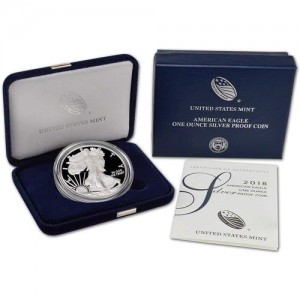 Gold and silver coins like the American Eagle can help you diversify your retirement account against stock market and inflation risk – so it's hardly surprising that Americans are opening up more and more precious metal IRAs and holding gold, silver, palladium and platinum coins within them.

American Eagle gold and silver coins are among the most popular and widely-held coins held in precious metal IRAs across the country, with some investors opting to buy these coins in 'proof' condition.
Despite their popularity and the potential for above-market increases, investors should use a certain amount of caution when buying the 'proof' versions of coins for investment purposes, rather than bullion – especially in a retirement account.
Before you invest, it's important to know as much as you can about these coins, and about the rules governing their use in retirement accounts such as your IRA.
Note: While we refer mostly to the popular American Eagle Gold coin in this article, much of the information also pertains to the silver, platinum and palladium American Eagle coins, as well.


What's the difference between bullion & proof versions of American Eagle coins?
Bullion Eagles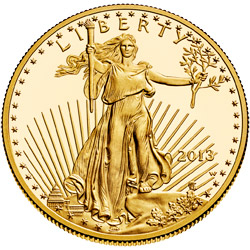 The term "bullion" refers to standardized precious metal products minted to precise weight and purity characteristics, and intended solely for investment and industrial uses.
They are stamped with their fineness and weight, and almost always trade at very close to their "spot price." Premiums and discounts to their spot price are very small.
People who buy bullion are interested solely in the metal quantity of the coin. The beauty or rarity of the product is incidental and of little or no consequence to the bullion investor.

Proof Eagles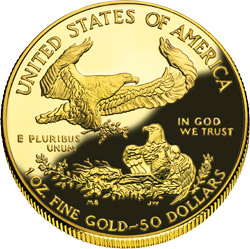 "Proof" coins, in contrast, are specifically manufactured and marketed for the collector's (or numismatic) market.
They are minted and processed to maximize their physical beauty and their value for collectors. They derive at least some of their value from their physical condition, beauty and rarity, over and above the value of the precious metal they contain.
Proof coins (and bars) are usually struck in small quantities to preserve their rarity, and made with highly-polished dies. The engravings are generally of very high quality. The 'field area' for coins in good condition will be noticeably smoother and more shiny than a bullion coin or bar from the same mint.
Typically, proof coins and bars are packaged in capsules to protect them from tarnishing, scratching and wear and tear. Many are 'slabbed' – a special capsule containing certification, a hallmark and a quality grade.
As such, they tend to trade at a significant premium compared to bullion products with an equivalent amount of metal – and normally at well over the market 'spot price' for gold, silver, platinum or palladium.


About the American Gold Eagle Coin

The American Gold Eagle is the official gold coin of the United States Government and are available in both bullion and proof form.
Their minting was authorized by the Gold Bullion Coin Act of 1985, and first released the following year, in 1986. Since then, more than 12 million American Gold Eagle coins have been produced and sold to investors and collectors.
By law, all of the gold in Gold Eagle coins must have been mined within the United States, and manufactured to precise specifications.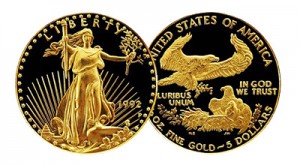 American Gold Eagles are minted using a 22 karat (91.6% gold) alloy that also includes small amounts of silver and copper, which help reduce scratching and wear and tear and preserve the physical beauty of the coin.
American Eagle gold bullion coins are minted in four sizes: 1-ounce, one-half-ounce, one-quarter-ounce and one-tenth ounce.
Silver, platinum and palladium bullion coins, in contrast, come in one-ounce sizes only.
Each coin has a "face value" engraved on the coin itself. But investors and collectors always ignore the face value: The price for bullion coins is overwhelmingly driven by the spot price for gold at the time of sale; The price for proof coins on the other hand is driven by a combination of the spot price at the time of sale and the condition of the coin itself.


Why Gold Eagles?

Although American Gold Eagles and their Silver Eagle counterparts are manufactured to a lower standard of purity than other bullion coins, both remain extremely popular among investors and collectors alike, particularly in the US market.

Government guarantee. These coins are struck by the United States Mint, is guaranteed by the U.S. government directly.
Certificate of Authenticity. All newly-minted American Eagle coins come with an official Certificate of Authenticity.
IRA compatibility. Unlike other proof coins, Gold and Silver Eagle proofs are authorized for precious metal IRAs and other self-directed retirement accounts.
Liquidity. There is a ready market for Eagles. Those who don't own them within an IRA can easily buy or sell them at any reputable coin dealer, or find a private buyer. There is little risk of getting stuck trying to unload a Gold or Silver Eagle.

Those who own them within an IRA cannot sell them directly to their neighborhood coin dealer. But you will normally have no problem exchanging them for cash via your IRA third-party administrator, custodian or vault company.

Proof qualify. Proof Eagle coins are "struck" several times in the minting process, which helps create an exceptionally smooth background field and beautifully sets off the engraving.
A Closer Look at Proofs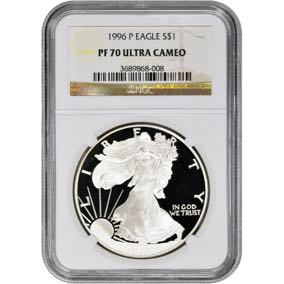 As mentioned above, proofs are premium-grade coins specifically minted for collectors with production techniques designed to add value over and above the precious metal content of each particular coin.
American Eagle gold proof coins are available in the same sizes as the bullion variety: 1-ounce, one-half-ounce, one-quarter-ounce and one-tenth ounce.
You can also buy a "proof set" which contains one of each of these proofs.
Each gold proof is minted to the following specifications:
The one-ounce coin has a $50 face value, a diameter of 1.287 inches, contains one gold troy ounce, with a total weight of 1.0909 troy ounces.
The one-half ounce coin has a $25 face value, a diameter of 1.063 inches, contains 0.5000 gold troy ounces, and weighs 0.5455 troy ounce.
The one-quarter ounce coin has a $10 face value, is 0.866 inches in diameter, contains 0.2500 gold troy ounce, and weighs a total of 0.2727 troy ounces.
The one-tenth ounce coin has a $5 face value, is 0.650 inches in diameter, contains 0.1000 gold troy ounces, and weighs a total of 0.1091 troy ounces.

Each proof series is a limited run, struck at the U.S. Mint facility at West Point. All West Point-minted coins have a "W" mark.
They can be purchased from another collector, from a coin dealer, or directly from the United States Mint.


What About Uncirculated Coins?

The term "uncirculated coins" refers to a special series of Gold and Silver Eagle coins manufacture in 2008 and from 2011 on.
The manufacturing process is slightly different compared to Gold and Silver Eagle bullion coins.
These coins are not meant for use as currency, but are intended primarily for investors and for collectors.


Gold Eagle Proof Coins in IRAs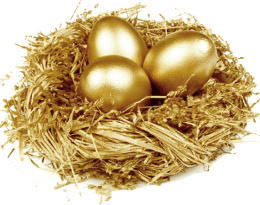 When it comes to IRA investing, the general rule is that only bullion in the form of gold, silver, platinum or palladium bars, coins and rounds of sufficient purity and manufactured by a national or NYMEX/COMEX-certified mint are allowed. Gold bars, coins and rounds must be manufactured to a purity of .995 for gold, and .999 for silver.
However, Congress made a special exemption for the popular Gold and Silver Eagle proof coins, allowing these coins for IRA accounts. Despite the fact that neither coin meets the standard for purity required for inclusion in IRAs – these are the finest bullion coins that the US mints and their exclusion would cause an outcry!
After all if you're going to buy American, why would you not want to be buying the best bullion America has to offer?


Storage Requirements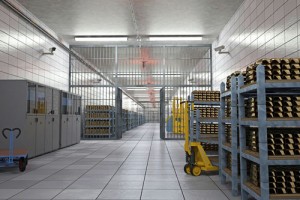 As with regular bullion coins, investors may not keep their IRA proof Eagles in their personal possession.
Instead, you must have an authorized custodian, such as a vault facility, store them on your behalf.

This means that no matter how beautiful your American Eagle proof coins are, you will likely never get to see them in person!
If really DO want to hold proof coins outside of your IRA, you can store them in your home, safe, vault company or even a safety deposit box. Proof coins typically come "slabbed" in a protective case with a certificate of authenticity, but if not it's important to store them in capsules, so that you can help preserve their physical beauty and retail value.


Restrictions

While it is perfectly legal to own American Eagle proofs within your IRA, there are certain restrictions you have to follow:
Your IRA cannot purchase from or sell to you directly, nor your spouse, descendants, anyone ascendants, anyone who advises you on your IRA in a fiduciary capacity, or any business entity you or any of these people control.
You cannot take personal possession of any of your IRA assets. That means you can't keep the coins in your home safe.
If you violate these restrictions, the IRS may disallow your entire IRA account, resulting in immediate tax liability and significant penalties.


Buying American Eagle Proof Coins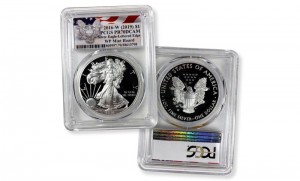 Investors should be aware that when you buy a proof coin, rather than the equivalent amount of gold in bullion form, you will be paying a significant premium.
That is, you will pay a much higher price for an American Eagle gold proof coin than you would for an equivalent amount of gold in the spot market: At press time, one-ounce American Eagle gold coins were selling for about $2,045 from online vendors. An equivalent proof coin can sell for anything between $2,250 and $3,795 depending on rarity!
This is in spite of both the proof and bullion forms have the exact same amount of gold. The same applies to American Eagle silver coins: The proof form contains exactly the same amount of silver as the plain old bullion coin.
Numismatics, or collector coins, derive much of their value from popular sentiment and ongoing collector interest, not from their intrinsic value from the precious metal content of the coin itself.
Buying the more 'common' proofs, one should always be aware that as the Baby Boomer generation passes on, it is possible we will see a glut of numismatic coins on the market as longtime coin collectors' coins hit the market in estate sales.
This may not be enough to make much of a dent in the precious metals market, but it could potentially knock a lot of value off of numismatics in general, and collectors' proofs in particular. True rarities are unlikely to affected.


Selling Proof Coins

Before you buy a proof coin for investment purposes, whether inside or outside of your IRA, you should plan ahead to the time you may want to sell the coin. After all when you buy an American Eagle gold proof coin, you will have to pay a substantial premium over spot price.
If you had to turn around and sell the coin back to the dealer tomorrow, what would you be able to get for it? If you're not careful then chances are, you will be very disappointed at the buy-sell spread for a proof coin.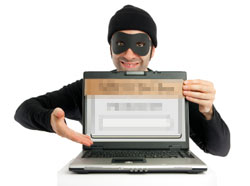 Some unscrupulous dealers will try to buy back proof coins at or near to spot!
Luckily most will pay fair market premiums – and if your dealer has a good buy-back scheme they may even take it back into stock at an above-market price.
Bullion coins don't carry this same risk. Because you pay a much lower premium over the spot price for a bullion coin, you will likely take less of a loss if you had to turn around and sell it in a hurry. This is because bullion coins go for more or less the same price across the majority of good dealers.
This risk with proof coins is so significant that Congress made investing in proof coins illegal, with the sole exception of American Eagle gold and silver proofs!
Takeaway: To Buy or Not to Buy?
Even today less than honest bullion dealers are regularly sanctioned by the government for taking advantage of naive investors and selling proof coins far above market value. That's why we always recommend thorough research, or to use the services of highly rated and trusted companies.
Bullion.Directory's 2021 Bullion Dealer of the Year, Goldco Precious Metals is one company known for it's fair pricing on IRA-suited proof coins – and a quick look through our Gold IRA section will reveal a further shortlist of trusted IRA specialist companies.
In the end it's a matter of choice – and much as buying gold and silver helps to diversify an IRA, buying a mixture of bullion coins and proofs may help diversify your account further – provided you buy and sell at a fair price.
Ilir Salihi
Ilir Salihi is Senior Editor at GoldIRAsecrets.com, an advisory, review and news website specializing in the retirement sector of the US precious metals and alternative assets investment market.
PROOF COIN IMAGES:
BULLION SHARK LLC