What a powerful bearish confirmation!

Bullion.Directory precious metals analysis 14 November, 2023
By Przemysław K. Radomski
Founder of GoldPriceForecast.com
Not only did our profits increase yesterday, but we got this precious gift, too!
What gift, you ask? The powerful bearish confirmation, of course!

Did you see the… Rally in gold?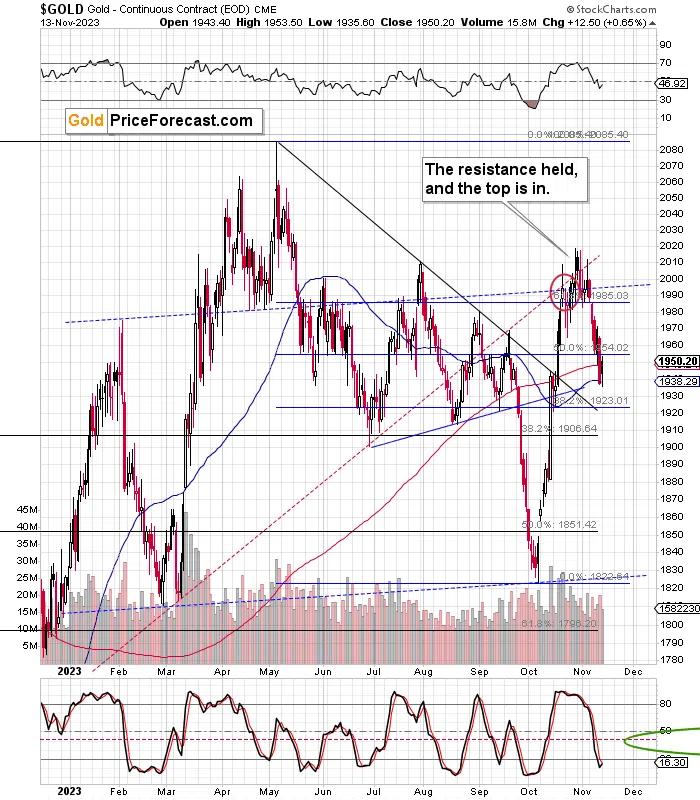 The yellow precious metals moved higher by $12.50 yesterday. It happened on low volume, indicating that it was just a breather, but still, gold closed the day higher.
The same with silver.
The white precious metal ended yesterday's session in the green as well.
But not the mining stocks!
The GDXJ took a breather around the previous local lows, and then it moved lower once again.
Zooming in allows us to see what really happened during those stronger hours of trading.
You see, the GDXJ simply verified the breakdown below the August lows. Those lows stopped the late-October and early-November declines, but this time really is different. Instead of bouncing back, junior miners confirmed the breakdown on an intraday basis.
The most bearish thing about that breakdown, though, is that it happened while gold and silver provided a bullish push. It wasn't enough.
This shows just how weak the miners are and how likely the entire precious metals sector is to slide.
And no, it wasn't the case that miners were weak because the general stock market declined – the S&P 500 and the Dow Jones Industrial Average ended the day pretty much unchanged.
Again, the miners were once again very weak, which serves as a great confirmation of what's to come. Buckle up and enjoy the slide – a profitable slide.
Przemyslaw Radomski
Przemyslaw K. Radomski, CFA, has over twenty years of expertise in precious metals. Treating self-growth and conscious capitalism as core principles, he is the founder of GoldPriceForecast.com
As a CFA charterholder, he shares the highest standards for professional excellence and ethics for the ultimate benefit of society and believes that the greatest potential is currently in the precious metals sector. For that reason it is his main point of interest to help you make the most of that potential.
This article was originally published here