Gold Trading 'Quiet' as 'Lose-Lose Brino' Brexit Deal Sinks Pound, EU 'Too Clever By Half'

Bullion.Directory precious metals analysis 15 November, 2018
By Adrian Ash
Head of Research at Bullion Vault

GOLD trading saw bullion prices hold little changed against a rising US Dollar on Thursday as Western stock markets fell again and the British Pound sank following a raft of resignations from UK prime minister Theresa May's government over her draft EU withdrawal deal.
Now needing to put the deal before Parliament in London, and saying the choice is between this deal, a hard Brexit or no Brexit at all, May today faced calls for a vote of no confidence from pro-Brexit members of her Conservative Party.
The remaining 27 member states of the European Union also need to approve the UK's withdrawal agreement, with Brussels setting a date 10 days from now.
Who won Bullion Dealer of the Year 2018?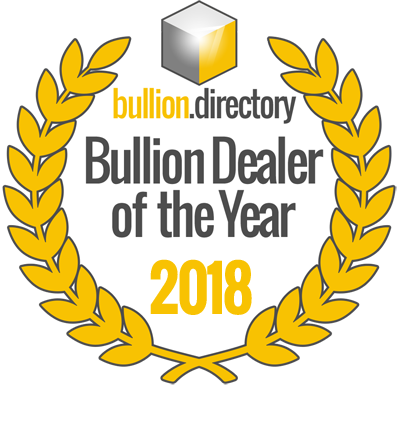 Your Top Choice in 2018 from 27,000 votes!
VIEW WINNER
"Like [Tuesday] we saw plenty of buyers below the $1200 level [on Wednesday]," says a trading note from Swiss refiners MKS Pamp.
But with gold prices rising $15 per ounce amid last night's Brexit headlines, "Quiet trading in Asia today," it goes on, noting that "The [Shanghai] premium eased to $4-5 over loco London" – around half the typical incentive for new bullion imports into China, the No.1 gold consumer nation.
Four members of May's team quit Thursday morning, saying they do not support the proposed withdrawal agreement and repeating the action of leading Brexiteers David Davis and Boris Johnson in July, when they agreed to May's plan in face-to-face meetings only to resign publicly the following day.
The Pound sank Thursday but UK government bond prices jumped, pushing London's cost of borrowing down near the lowest levels of 2018.
Eurozone stock markets slipped 0.6% while London's FTSE100 index of mostly international corporations edged 0.4% lower and the Pound fell 3 cents towards $1.27 versus the Dollar.
"UK-facing shares fall as foreign-currency earners rise," notes UK brokerage Charles Stanley's Garry White, adding that "[global bank] HSBC sees the Pound falling to $1.10 in the event of a no-deal Brexit. If the agreement makes it though Parliament, sees it at $1.35."
Gold traded in UK Pounds recovered most of last week's £18 loss, jumping 2.8% to reach £948 per ounce.
It peaked at £1194 amid the English riots of summer 2011, falling to a low of £693 four years later before peaking again at £1069 immediately after the mid-2016 Brexit referendum result.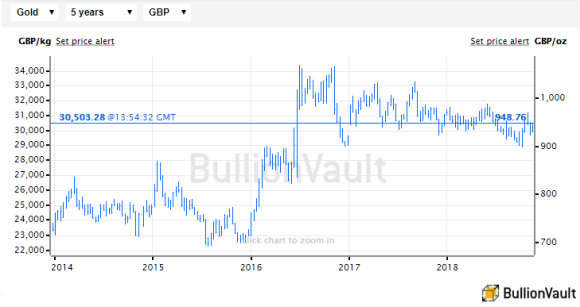 Jumping back above £11 per ounce for UK investors, silver like gold prices also recovered this week's earlier losses in US Dollar terms on Thursday, rallying 30 cents from the new 34-month low of $13.90 per ounce hit overnight.
Platinum prices failed to rally versus the Dollar however, trading around 2-week lows at $830.
Brent crude oil meantime extended its bounce from this week's new 8-month lows, rallying to $66.50 per barrel.
"This is a bad deal which isn't in the interests of the whole country," said UK opposition Labour Party leader Jeremy Corbyn last night – before reading the document – and then calling on May to "withdraw her half-baked Brexit deal that doesn't even have the support of her own Cabinet" in Parliament today.
"The Prime Minister has broken her promises," said MP Nigel Dodds of Ulster's DUP, the Unionist party previously allied with May's Conservative Party to give her a working majority in Parliament.
"Since the very beginning," said the European Union's chief negotiator Michel Barnier this morning, "we have had no doubt that Brexit is a lose-lose situation and that our negotiations are only about damage control."
Across its 585 pages, the Draft Agreement on the UK's withdrawal from the European Union and the European Atomic Energy Community uses the words:
"customs union" twice
"hard border" 4 times
"migration" 5 times
"tariff" 21 times
"VAT" 28 times
"sovereign" 84 times
"member states" 202 times
"transition" 401 times
"European Parliament" 417 times; and
"Parliament of the United Kingdom" once.
"There is ample material to support an assertion that this is Brexit in Name Only (BRINO)," says historian, journalist and Brexit blogger Richard North.
"It is the consummate triumph [for Brussels]," counters Telegraph columnist Ambrose Evans-Pritchard. "Britain is 'out of Europe, but run by Europe'. The EU can have its cake and eat it.
"But sometimes in life you can be too clever by half…Some 80% of Europe's capital markets are in London [and if the UK rejects May's deal] the financial shock of a no-deal Brexit would crystallize mounting risks and hurl the Eurozone into an existential crisis."
Italy's debt prices slipped again Thursday while German bond prices rose – widening the BTP-Bund spread to 315 basis points – as Rome's ruling left-right coalition vowed to push ahead with breaching rules of government deficits with its 2019 spending plans.
Ahead of Romania taking on the revolving EU presidency for 2019, Bucharest's deputy speaker in parliament "gave the middle finger" to Brussels yesterday over an EU report on corruption in the member state.
Hungary's government meantime gave asylum "for security reasons" to ex-Macedonia prime minister Nikola Gruevski, convicted at home for corruption.

This article was originally published
here
FREE REPORT: 5 "Tells" that the Metals Markets Are About to Reverse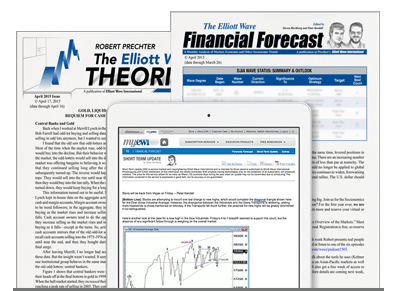 Jump on once-in-a-lifetime opportunities and avoid dangerous pitfalls no one else sees coming.
We can help you prepare for opportunities and side step risks that will surprise most investors. The insights that you'll gain are especially applicable to the price patterns of key financial markets, including precious metals and the stock market now.
Read the Free Report Now - Immediate Access, No Email Required.