Precious Metals Market Report
Friday 23 June, 2017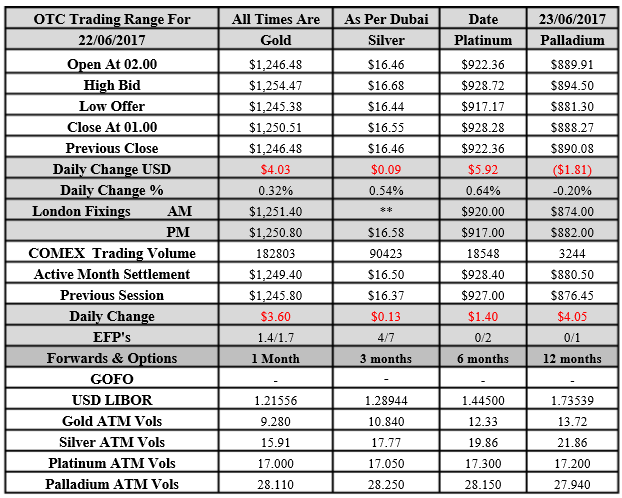 Fundamentals and News*
Gold Rises a Second Day as Declining Yields Boost Haven Appeal
Gold gained for a second day as crude oil's slump into a bear market revived fears inflation will continue to undershoot the Federal Reserve's target, putting at risk policy makers' projections for monetary tightening.

While crude oil stabilized after Wednesday's slump, it's still down about 20 percent this year. The yield on 10-year U.S. Treasuries slipped to 2.1511 percent, near the lowest since November, signaling increasing doubt on the Fed's ability to cut its balance sheet and aggressively push borrowing costs higher.
"Yields are getting lower and lower and that's going to push investors into the metals market, specifically into gold," Phil Streible, a senior market strategist at RJO Futures in Chicago, said in a telephone interview. "With lower crude oil prices, you're going to see a sector rotation out of energy and into assets like gold. People think the economic data is going to look weaker and the Fed will start to question their stance."
Bullion futures for August delivery rose 0.3 percent to settle at $1,249.40 an ounce at 1:37 p.m. on the Comex in New York. Prices slumped to a one-month low on Wednesday, a week after the Fed raised rates for a second time this year.
The Bloomberg Dollar Spot Index slipped for a second day.
The "slump in oil prices pushed investors to look at alternatives," Naeem Aslam, the London-based chief market analyst at Think Markets U.K. Ltd., said in an email. "Given the sharp sell-off in oil, our investors have become risk averse, and this is pushing the yellow metal higher. Another element which is also providing the tailwind is the weakness in the dollar."

In other precious metals:
Silver futures also rose on the Comex in New York
Platinum futures slipped on the New York Mercantile Exchange as palladium gained
(*source Bloomberg)

Data – Forthcoming Release

Technical Outlook and Commentary: Gold
Gold for Spot delivery was closed at $1250.51 an ounce; with GAIN of $4.03 or 0.32 percent at 1.00 a.m. Dubai time closing, from its previous close of $1246.48
Spot Gold technically seems having resistance levels at 1255.8 and 1259.6 respectively, while the supports are seen at $1243.4 and 1239.50 respectively.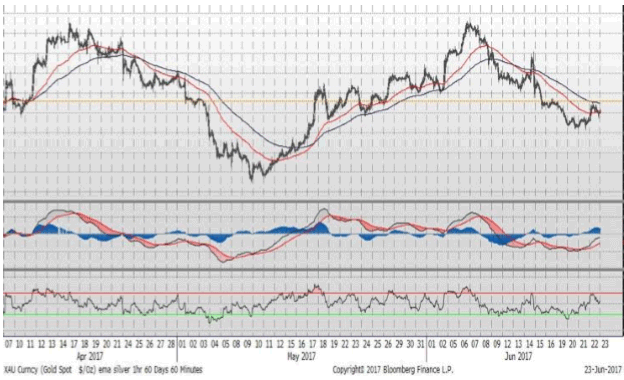 Technical Outlook and Commentary: Silver
Silver for Spot delivery was closed at $16.55 with gain of $0.09 or 0.54 percent at 1.00 a.m. Dubai time closing, from its previous close of $16.46
The Fibonacci levels on chart are showing resistance at $16.76 and $16.87while the supports are seen at $16.40 and $ 16.29 respectively.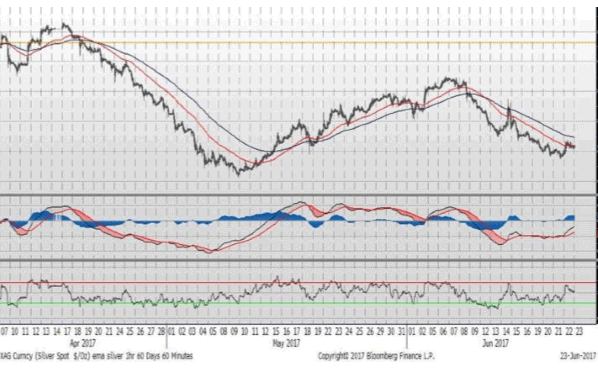 Resistance and Support Levels


Indications only, open & closing prices are bids; data source: Bloomberg; important disclaimer below; Times as per Dubai

This analysis is also available at
Kaloti Precious Metals SG
Bullion.Directory or anyone involved with Bullion.Directory will not accept any liability for loss or damage as a result of reliance on the information including data, quotes, charts and buy/sell signals contained within this website. Please be fully informed regarding the risks and costs associated with trading in precious metals. Bullion.Directory advises you to always consult with a qualified and registered specialist advisor before investing in precious metals.