Gold Prices Rally as Worst Political Uncertainty on Record Sees Global Trade and Manufacturing Plunge

Bullion.Directory precious metals analysis 02 September, 2019
By Adrian Ash
Head of Research at Bullion Vault

GOLD PRICES regained all or most of this week's prior loss against all major currencies on Wednesday in London, trading up to $1488 per ounce for Dollar investors as world stock markets sank following New York's plunge on the weakest US manufacturing data in a decade.
Yesterday's ISM report for September said that activity in the US manufacturing sector on its PMI index shrank the fastest since June 2009, the tail-end of the global recession spurred by the worst financial crisis since the 1930s' Great Depression.
After reversing Tuesday morning's losses – made despite weak PMI data worldwide – gold bullion today regained all but $10 of the week's earlier $40 plunge to $1459 per ounce, its lowest in 8 weeks.

Major government bond prices slipped meantime, edging longer-term interest rates higher from Tuesday's plunge on the ISM data.
But betting that the US Fed will now make 2 cuts to interest rates by year-end has rallied to more than one-third of positions, according to data from derivatives exchange the CME, up from barely one-fifth a week ago.
The odds of 1 rate-cut are still seen around 50-50, the CME data suggest, with the chance of no change from the current ceiling of 2.0% falling near 1-in-6.
"Global policy uncertainty is at an all-time high," says Robert Crayfourd of New City Investment Managers, part of the $18bn CQS asset management group, pointing to the GDP-weighted Baker, Bloom & Davies' index – "above levels seen during the Gulf War, 9/11 terrorist attack, the global financial crisis, Brexit and President Trump's election.
"Reflecting this heightened uncertainty and near-term recessionary fears, governments and central banks have initiated further stimulus measures and a synchronised cycle of central bank loosening is currently underway.
"This has all helped demand for gold which, unlike the increasingly political Dollar, has seen increased global appeal."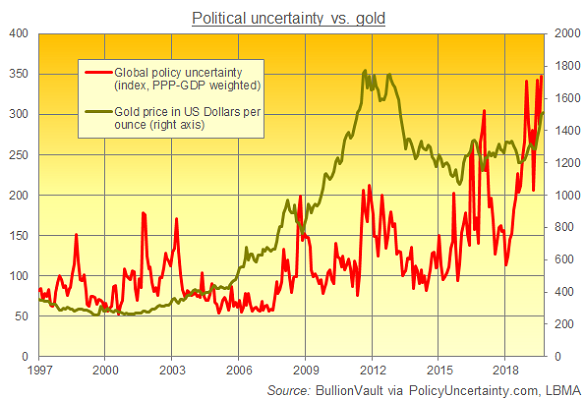 Today in Hong Kong an association of police officers called for a curfew in the Chinese city, saying the government has failed to deter "war zone-like riots".
"Peaceful and violent protesters alike [today] vowed to be even more resolute in escalating their anti-government campaign," says InkstoneNew, seeking repay the "debt of blood" following the shooting by police of a teenager in Tuesday's anti-Communist Party disorder.
Retail sales in Hong Kong sank 23% year-on-year in August amid the ongoing pro-democracy protests, the worst slump on record.
After Beijing on Tuesday paraded a new "hypersonic" nuclear missile through Tianamen Square as part of the Communist regime's 70th birthday celebrations, US politicians led by Florida's Marco Rubio want to block the Thrift Savings Plan for federal employees from funding Chinese-state companies by investing in global benchmark equity index the MSCI.
Investment managers such as Kyle Bass are also urging Senate to block Chinese companies listing on US stock exchanges, just as China blocks foreign firms listing, an idea now proposed by Donald Trump's White House.
Asia's 4th largest economy, South Korea, is set to cut interest rates further according to analysts after its manufacturing sector contracted for a 5th month running in September, consumer prices fell into deflation for the first time on record, and exports fell yet again.
"This [downturn] is important," says the latest daily gold-price and precious metals note from Rhona O'Connell at brokerage INTL FCStone, "as the country is often seen as a key indicator for international trade. This puts flesh on anecdotal evidence.
"Semi-conductor sales are [also] suffering in South Korea," she adds, with its key chip-making industry hit by Japan refusing to allow exports to its neighbor of a vital material since June amid a trade spat sparked by WW2 reparation claims.
Seoul yesterday marked South Korea's Armed Forces Day by sending fighter jets to patrol the skies over the disputed islands of Dokdo/Takeshima.
With the US impeachment drive against Donald Trump now dragging in "all the president's men" according to Fox, UK Prime Minister Boris Johnson on Wednesday lambasted Parliament in his speech to the annual Conservative Party conference, vowing that "We are coming out of the EU on October 31, come what may," in defiance of last month's new law making Brexit illegal without a deal agreed by Brussels.
Israel's current Prime Minister Benjamin Netanyahu – now facing deselection by his Likud Party to try and avoid another general election after September's inconclusive vote – will meantime battle corruption charges today in a Jerusalem court.

This article was originally published
here