Gold Consumer Currencies Sink, Rupee at Record Low as China Defies Trump Over Iran

Bullion.Directory precious metals analysis 28 June, 2018
By Adrian Ash
Head of Research at Bullion Vault

GOLD PRICES rallied or held firm against most major currencies on Thursday but set fresh 6-month lows in US Dollar terms as world stock markets fell and key gold-consumer currencies sank amid worsening tensions over President Trump's foreign policy.
India is preparing to comply with Washington's order to cease buying oil from Iran, according to the Economic Times, ordering refiners to get ready for a "drastic reduction or zero" imports of oil from the Islamic state from November.
But " China and Iran are friendly countries to each other," Beijing's Foreign Ministry said overnight, defying the US threat to shutdown Dollar banking for countries which continue to buy Iranian crude or deal with its central bank.

Iran's top oil buyer, China is also the No.1 consumer market for gold.
"Economic saboteurs" face up to 20 years in jail or even the death penalty said Iran's Supreme Leader Ayatollah Ali Khamenei today after police fired tear-gas and live ammo at thousands of people protesting against the collapse of the Rial currency in Tehran's Grand Bazaar – site of strong support for the 1979 Islamic Revolution and overthrow of Shah Mohammad Reza Pahlavi.
The 7th largest consumer market for gold in 2017, Iran has already seen US sanctions – spurred by Trump's rejection of the nuclear deal reached in 2015 – "cause turmoil" in its gold market said a report from specialist analysts Metals Focus at end-May.
"Poor jewellery consumption and payment term deadlines have…forced retailers to return unsold merchandise to wholesalers," said the consultancy, with private scrapping plus government gold sales to buy US Dollars driving domestic prices to a discount "despite unofficial outflows to Turkey.
"Trends in the investment market are quite different [as] growing political insecurity and weak economic confidence has…created a frenzy of gold coin and bar buying."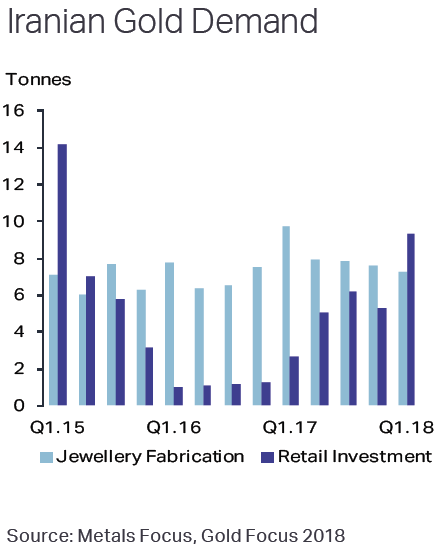 In the first 3 months of 2018 alone, household gold coin and bar demand in Iran reached almost half of last year's total.
Having shut down gold coin sales until January, and then limited consumer purchases in April, the Central Bank of Iran last weekend announced new moves to try and stem the consumer flight into gold coins,  selling contracts for future delivery of bullion through the stock market.
Iran today said it has restarted uranium production at a "major" facility.
"I don't think even one of the 81 million Iranian population believes that Iran should bow to the aggressor, liar, impolite and insulter, and accept his words," President Hassan Rouhani said today of US President Trump.
Benchmark gold prices in Shanghai meantime held unchanged as China's Yuan currency sank to new 7-month lows on Thursday.
No.2 consumer nation India saw its Rupee fall to new all-time lows against the Dollar, driving up local gold prices and forcing domestic wholesalers to offer wider discounts.
https://timesofindia.indiatimes.com/business/india-business/why-rupee-hi…
Asian stock markets fell again and European equities erased yesterday's bounce.
Comment from the Bank of England about UK businesses growing anxious over Brexit uncertainty meantime saw the Pound fall hard on the FX market.
That helped the UK gold price in Pounds per ounce reverse this week's prior £10 drop to £947.
With Turkey's talks about joining the European Union now at a "standstill" according to EU ministers worried by Ankara's increasingly authoritarian politics under re-elected president Recep Tayyip Erdoğan, embattled German chancellor Angela Merkel today praised Turkey ahead of an EU summit on immigration, asking the European Council to pay €3bn to help "in overcoming the challenges of having over 3 million Syrian refugees."

This article was originally published
here
FREE REPORT: 5 "Tells" that the Metals Markets Are About to Reverse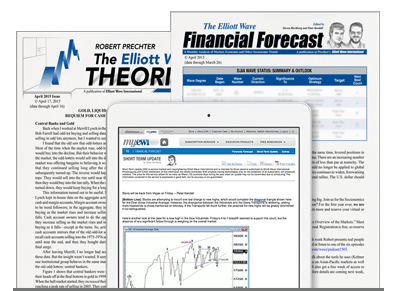 Jump on once-in-a-lifetime opportunities and avoid dangerous pitfalls no one else sees coming.
We can help you prepare for opportunities and side step risks that will surprise most investors. The insights that you'll gain are especially applicable to the price patterns of key financial markets, including precious metals and the stock market now.
Read the Free Report Now - Immediate Access, No Email Required.