Comex Bears Split as Gold Prices Gain in UK and Euro Terms on Fresh Brexit and Italy Headlines

Bullion.Directory precious metals analysis 27 November, 2018
By Adrian Ash
Head of Research at Bullion Vault

GOLD PRICES held unchanged against a rising US Dollar on Tuesday, edging higher for UK and European investors as Brexit and Italy's budget deficit again led the headlines.
With gold prices trading at last week's finish of $1223 per ounce, China and European stock markets meantime fell after US President Trump told the Wall Street Journal it's "highly unlikely" the White House will hold off raising import tariffs on $200 billion of goods to 25% despite his planned meeting with Chinese President Xi Jinping at this weekend's G20 summit in Buenos Aires.
"When [such] concerns [over a trade war are] elevated," says Australian bank ANZ's bullion analyst Daniel Hynes, "investors have tended to seek haven in the US Dollar itself rather than gold.
Who won Bullion Dealer of the Year 2018?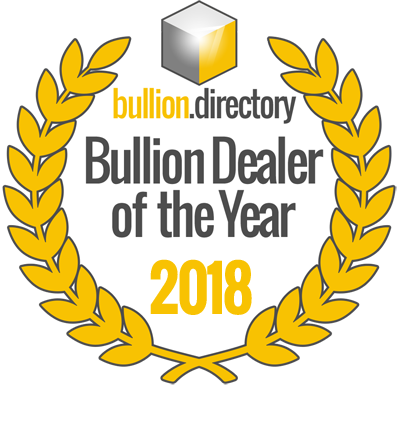 Your Top Choice in 2018 from 27,000 votes!
VIEW WINNER
"It has been an issue plaguing the gold market for a while now."
Delayed by last week's Thanksgiving holiday, new data from US regulator the CFTC showed overnight that hedge funds and other speculators cut their bearish bets against gold on Comex futures and options contracts faster than they cut their bullish bets as a group last week.
Altogether the so-called 'Manged Money' category stayed net negative on gold prices for the 19th week in a row.
Overall however, and including that Managed Money position, non-industry traders flipped back to positive after their first week of net negative betting in five.
Large non-commercial positions first broke away from the Managed Money's net negative betting in mid-October, turning positive on gold's steep rally from $1085.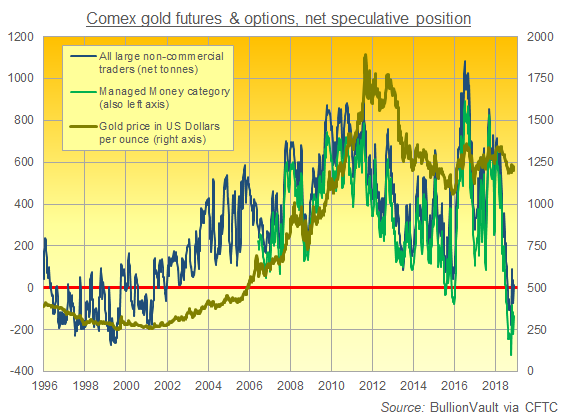 Managed Money traders also stayed bearish on silver prices for the 19th week in succession as of last Tuesday – the CFTC's reporting date – trimming their net negative position to the equivalent of 5,056 tonnes.
That's equal to one-fifth of annual world silver mine output.
Managed Money traders were meantime bullish on platinum for a 3rd week running, albeit with a net positive position equivalent to just 13 tonnes, some 6.9% of projected 2018 global mine output.
Platinum prices, like gold, today held unchanged in Dollar terms for the week so far, trading at $844 per ounce.
Silver however fell 3 cents to $14.25 per ounce.
The British Pound meantime fell near its lowest value of this month so far, pushing the UK gold price in Pounds per ounce up to the top of its recent range at £960.
Set to lose next month's Parliamentary vote on her Brexit deal on declared positions, Prime Minister Theresa May today agreed to a TV debate on the terms for leaving the European Union with opposition Labour Party leader and long-time anti-EU politician Jeremy Corbyn.
Back on the currency market, the Euro today fell near 2-week lows versus the Dollar, buoying the gold price for French, German, Italian and Spanish investors to €1082 – barely 1% below late-October's jump to 4-month highs.
After senior figures from Italy's left-right coalition government hinted they could revise the 2019 budget deficit of 2.4% of GDP – saying "it is not a question of decimal places" – Prime Minister Giuseppe Conte issued a joint letter with them saying that "the objectives already fixed are confirmed."

This article was originally published
here
FREE REPORT: 5 "Tells" that the Metals Markets Are About to Reverse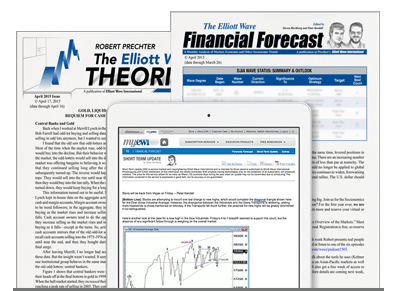 Jump on once-in-a-lifetime opportunities and avoid dangerous pitfalls no one else sees coming.
We can help you prepare for opportunities and side step risks that will surprise most investors. The insights that you'll gain are especially applicable to the price patterns of key financial markets, including precious metals and the stock market now.
Read the Free Report Now - Immediate Access, No Email Required.