Regal Assets Affiliate Program Overview:
The Regal Assets affiliate program gives professional affiliates an opportunity to earn a significant amount of money on well-targeted warm traffic.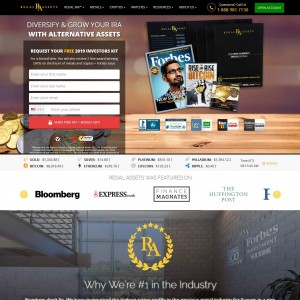 Top-tier affiliates have enjoyed verified overall earnings in excess of $2m and monthly earnings over $100k.
Paying both per qualified lead ($30-$100) and a percentage (1-3%) of any qualified investment – based on an average order value of $35,000 – affiliates typically earn upwards of $1000 per sale.
Although focused on a highly competitive niche – that of US Self-Directed Retirement accounts, payouts typically make up for the more costly SEO or paid ad costs.
Regal Assets Affiliate Payment Rates
Per Lead
Percentage
Notes
$301
–
Qualified Leads Only
–
0%
Sales under $5k
–
3%
Sales over $10k
–
1%
2nd Tier Sales $20k-$30k2
–
2%
2nd Tier Sales over $30k2
(1) $100 paid per lead if over $10k commission paid in month
(2) 2nd tier earnings are available on qualifying sales by any affiliates introduced by you. The second tier program has been suspended.
Affiliate Program Resources

Affiliate Center

Mentor Program

Facebook Group/s

Tech Support

Payout Minimum

Wide Banner Choice

Promotional Videos

PDFs / Lead Magnets

Custom Landing Pages

Custom 800 Number
Market Location
Worldwide
With offices in the USA, Canada, UK and Dubai, the affiliate program does accept international traffic, however the bulk of Regal's sales are typically in the US and it's the US retirement market most affiliates concentrate on.
Product Mix
Alternative Assets
As well as Gold, Silver, Platinum and Palladium coins and bars, Regal Assets offers an ever-growing basket of alternative assets including Cryptocurrencies – so may be of interest to a wider audience outside of precious metals.
Affiliate Network
In-House
Regal Assets run their affiliate program through an in-house network, RA Wealth Partners. Sign-up is free, acceptance into the program depends on experience and marketing ability and interviews may be held over Skype. The RAWP site carries significant affiliate resources, tracking and reporting functions.
Marketing Channels
All Accepted. From social, video and search marketing to in-person events.
Restrictions
No negative competitor reviews. This is a strictly policed policy and affiliates will be removed for violations.
Rated: ★★★