American Bullion Affiliate Program Overview:
The American Bullion affiliate program gives professional affiliates in the financial space an opportunity to earn good money money from well-targeted warm traffic.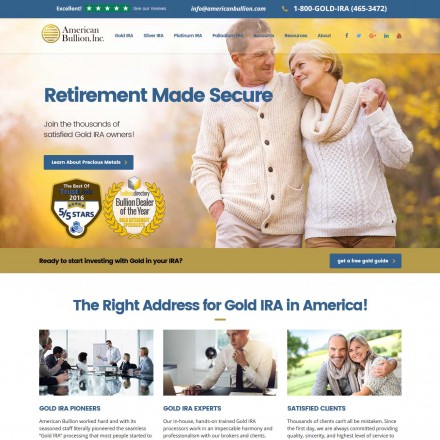 Top-tier affiliates have enjoyed regular monthly earnings of 4 and even 5 figures.
Paying both per qualified lead ($30) and a percentage (3%) of any qualified investment – based on an average order value of $35,000 – affiliates typically earn upwards of $1000 per sale.
Although focused on a highly competitive niche – that of US Self-Directed Retirement accounts, payouts typically make up for the more costly SEO or paid ad costs.
American Bullion Affiliate Payment Rates
Per Lead
Percentage
Notes
$30
–
Qualified Leads Only
–
0%
Sales under $10k
–
3%
Sales over $10k
–
1%
2nd Tier Sales $20k+1
(1) 2nd tier earnings are available on qualifying sales by any affiliates introduced by you.
Affiliate Program Resources

Affiliate Center

Mentor Program

Facebook Group/s

Tech Support

Payout Minimum

Wide Banner Choice

Promotional Videos

PDFs / Lead Magnets

Custom Landing Pages

Custom 800 Number
Market Location
USA
Based in California, USA – American Bullion's only market is domestic and their main market niche is that of precious metal IRAs. They accept international affiliates, however leads and traffic must be US-only.
Product Mix
Alternative Assets
As well as Gold, Silver, Platinum and Palladium coins and bars, American Bullion now offers cryptocurrencies – so may be of interest to a wider audience outside of precious metals.
Affiliate Network
In-House
American Bullion run their affiliate program through an in-house network, AB Gold Affiliate. Sign-up is free, acceptance into the program depends on experience and marketing ability and interviews may be held over Skype. The AB Gold Affiliate site carries a good set of affiliate resources, tracking and reporting functions.
Marketing Channels
All Accepted. From social, video and search marketing to in-person events.
Restrictions
No negative competitor reviews. This is a strictly policed policy and affiliates will be removed for violations.
Rated: ★★★★