Spot Gold Nears 2-Week High as 'Fiscal Turkeys Vote for Christmas' in US Tax Bill, Bitcoin Slips 10%

Bullion.Directory precious metals analysis 19 December, 2017
By Adrian Ash
Head of Research at Bullion Vault

SPOT GOLD led the other precious metals up towards 2-week highs in London trade Tuesday before slipping back as global equities struggled to extend yesterday's fresh record highs in the US stock market.
The Shanghai and Shenzen stock market closed 1.3% higher at new 2.5-year highs, but Tokyo fell and European equities held flat.
German Bund yields ticked higher from last week's 6-month lows beneath 0.3% per annum.
Who won Bullion Dealer of the Year 2018?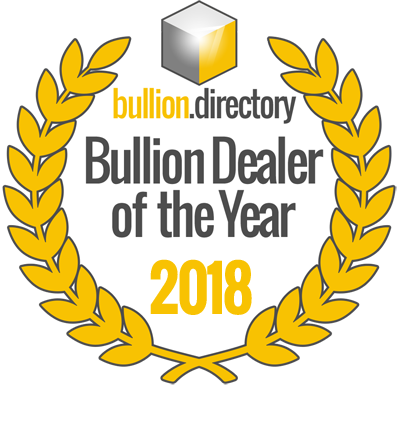 Your Top Choice in 2018 from 27,000 votes!
VIEW WINNER
Energy and base metal prices edged higher but agricultural commodities slipped back near last month's fresh 2017 lows, even as the Dollar retreated on the FX market amid what news wires called "concerns" among traders that Donald Trump's tax reform bill – now set for approval this week – may not boost US economic growth as previously hoped.
Gaining 2.3% from last week's 5-month low against the Dollar, the price of gold for 2-day settlement in London's wholesale market touched $1265 per ounce before dropping to $1261 at lunchtime.
With China's consumer demand set to peak with Lunar New Year in mid-February, bullion prices in Shanghai – entry point for gold into the No.1 consumer nation – had earlier set 2-week highs against the Yuan.
That held the premium above London spot quotes at $11 per ounce on Tuesday, that extended the strongest incentive to new bullion imports since immediately after October's National Day vacation.
Bitcoin meantime sank almost 10% from Sunday night's new all-time peak at $19,694 – set just as futures exchange the CME Group launched its new derivative contracts on the code, now variously known as a 'crypto currency' or 'digital asset'.
The CME's January Bitcoin future traded at a 2.3% contango to spot as the start of New York business approached on Tuesday.
With spot gold at $1265, the CME's Jan 2018 gold futures traded just $1 higher per ounce.
2017 has seen a "massive rally in Bitcoin [while] US equities have outperformed gold," says strategist Jonathan Butler at Japanese conglomerate Mitsubishi.
"To the end of last week, gold had risen 11% in 2017, the DJI by 24% and Bitcoin by 2,133%."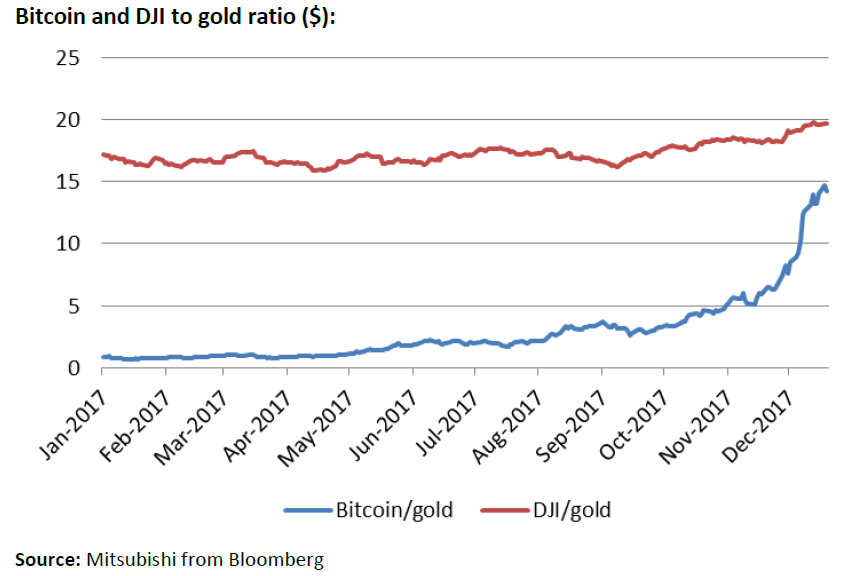 Spot gold prices face "higher equities, surging Bitcoin prices, and the possibility that the tax bill could trigger a modest short-term uptick in both the Dollar and US yields," reckons Ed Meir at commodities brokers INTL FC Stone.
"Probable agreement on the tax reform is doubtless preventing gold from recovering," agrees a note from German financial services group Commerzbank.
With hedge funds and other money managers already slashing their net bullish betting on gold futures and options by 70% from September's near record highs, the US tax reform "is also likely to deter speculative financial investors from betting more heavily on rising gold prices again," Commerzbank says.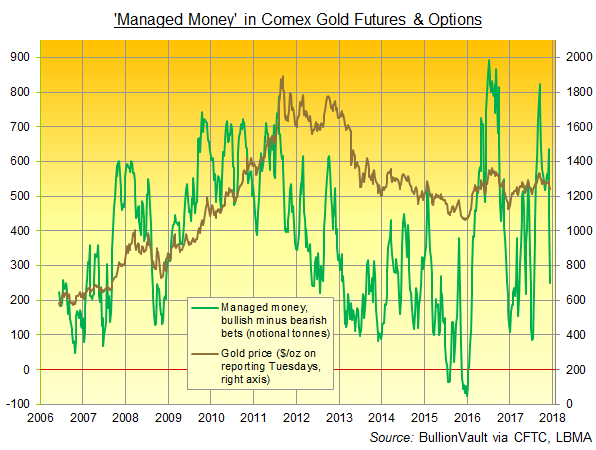 "[But while it] may keep bullion on the defensive over the medium term," says Butler at Mitsubishi, "in the longer term we believe it will be supportive for gold as a risk/inflation hedge.
"These reforms will add another $1.5 trillion to the US national debt, may weaken the Dollar, and [could] raise concerns about an equity market bubble. In the context of US fiscal discipline these reforms could be seen as the proverbial turkeys voting for Christmas."
No.1 oil-producing state Saudi Arabia meantime said Tuesday it intercepted a missile fired by rebel Houthis in neighboring Yemen aimed at Riyadh, the Saudi capital.
"The Saudis started the war," Al Jazeera quotes Houthi spokesman Mohammed Abdul Salam in Yemen, where over 20 million people now rely on humanitarian aid after the civil war began in 2015.
"Our response will continue and increase."
United Nations' staff in Ukraine today reported "heavy shelling" around Donbass by separatist rebels, two days after Russia pulled its observers from a joint ceasefire monitoring program with Ukrainian officials.

This article was originally published
here
FREE REPORT: 5 "Tells" that the Metals Markets Are About to Reverse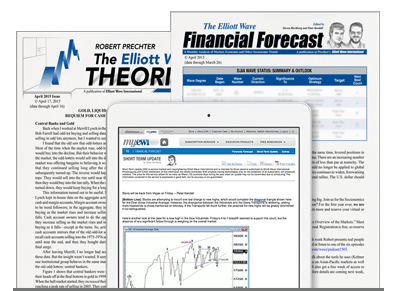 Jump on once-in-a-lifetime opportunities and avoid dangerous pitfalls no one else sees coming.
We can help you prepare for opportunities and side step risks that will surprise most investors. The insights that you'll gain are especially applicable to the price patterns of key financial markets, including precious metals and the stock market now.
Read the Free Report Now - Immediate Access, No Email Required.