Bullion With Attitude (and Added Bling)

Bullion.Directory precious metals guest post 19 January, 2016
By Nick Adamo
President at Bullion Shark LLC

NGC, Numismatic Guaranty Corporation, and PCGS, Professional Coin Grading Service, are the two leading, third-party coin grading services. They were both established in the late 1980's and are recognized worldwide for their integrity and reputability.
As of late, grading companies even grade bullion items, like Canadian Silver Maple Leafs, along with classic rarities, such as Morgan Silver Dollars.
Now, where is the line drawn between slabbed bullion and slabbed rare coins? What is the difference?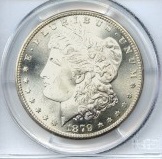 Well to begin, a true rare coin is usually something that was used as currency at one time in history and holds what coin collectors call "numismatic value."
This means that the coin is worth money not only due to its precious metal content but also for its history, mintage and quality. For example, a Morgan Silver Dollar was once used as a dollar coin in the late 19th and early 20th centuries.
The coin does contain near an ounce of silver but also contains rich history. For starters, the Morgan Silver Dollar is one of the most popular rare coins on the market today, some fetching over a million dollars.
A bullion coin is something that is bought more for its precious metal value rather than for its numismatic value.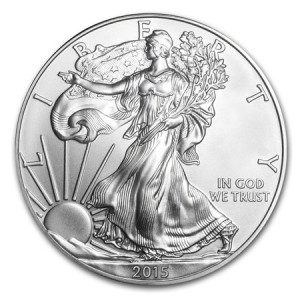 For example, an American Silver Eagle contains an ounce of pure silver and is often bought as a means of silver stacking. The coin does also have a denomination of $1.
So now the grey area between rare coins and bullion comes into play.
One could technically use a Silver Eagle as legal tender, but that is quite illogical. A 2016 Silver Eagle is worth near $20, not $1.
Another factor one must consider is that there are much more Silver Eagles minted than most, if not all, classic rarities. So where do these silver bullion coins find their numismatic value?
It is found in their quality.
If Silver Eagles are graded in MS69 or MS70, which are the two highest grades a business strike Eagle can obtain, they carry hefty premiums – Some going for tens of thousands of dollars.
The modern MS70 coins go for lower prices, usually around the $60-$100 range. So the numismatic value of these coins is found in the grade and not so much in the history.
Although, the American Silver Eagle does have more history than other bullion coins like the Perth Mint Silver Kangaroo. The Silver Eagle features a timeless obverse design taken from the Walking Liberty Half and a beautiful shield and eagle reverse designed by John Mercanti.
Now, some collectible coins and bullion rounds are on the total other side of the spectrum.
For example, some "coins" are certified by third-party grading services but are not assigned a grade. This is solely for collectable purposes, for some grading companies will assign special labels to make the coins more appealing.
In summary, there are a few different kinds of graded "coins."
Of course, they are open to personal interpretation. Many people confuse rare coins for graded bullion or collectible coins, but a coin like the Canadian Silver Maple Leaf cannot be considered a true classic rarity by a true, classic collector.
But hey, some of the graded silver bullion coins are pretty nice…