Precious Metals Market Report
Friday 26 May, 2017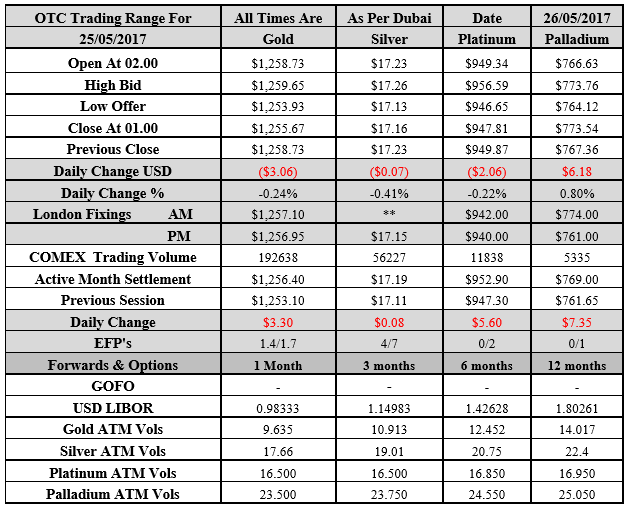 Fundamentals and News*
Gold Open Interest Rises to Highest in a Month Amid Trump Doubts
Gold open interest, a tally of outstanding contracts, rises for a third day to the highest since April 27 amid political uncertainties and concerns about President Donald Trump's ability to push his budget bill through Congress.

Gold futures for Aug. delivery +0.3% to settle at $1,259.80/oz at 1:43pm on Comex in N.Y., first gain in three sessions
"Recent surge in open interest came from bargain hunters and asset allocators worried about Greece, Venezuela, North Korea and geopolitics but mainly about U.S. politics, budgets," George Gero, a N.Y.-based managing director at RBC Wealth Management, said in a note
The most common reaction to the austere budgetreleased by the Trump administration on May 23 is that it can't possibly get past Congress. President Donald Trump himself may be fine with that. In its current form, his budget looks more like a sop to the far-right wing of the Republican Party—cheap currency to buy the goodwill of a crucial part of his base.
Trump has already scored a meaningful political victory—meaningful to him, at least—by eliciting the right responses from the right people. Americans for Limited Government praised the plan as "sober," while former Treasury Secretary Larry Summers, a Democrat, called it "simply ludicrous."
Budget Director Mick Mulvaney, a founding member of the House's conservative Freedom Caucus, brags the plan would wipe out the entire budget deficit and produce a small surplus by 2027, even while spending more on the military and border control and protecting Medicare and the retirement portion of Social Security. That requires leaps of faith both economic and political.
Economically, the proposal assumes 3 percent average annual growth beginning in 2020—way above the 1.8 percent average predicted by the nonpartisan Congressional Budget Office— partly fueled by tax cuts. Until now, the administration had been saying extra growth would simply offset revenue losses from lower tax rates. Now it's claiming the tax plan itself will be revenue-neutral and the growth it stimulates will produce more tax revenue to close deficits.
(*source Bloomberg)

Data – Forthcoming Release

Technical Outlook and Commentary: Gold
Gold for Spot delivery was closed at $1255.67 an ounce; with loss of $3.06 or 0.24 percent at 1.00 a.m. Dubai time closing, from its previous close of $1258.73
Spot Gold technically seems having resistance levels at 1262 and 1266.10 respectively, while the supports are seen at $1248.60 and 1244.50 respectively.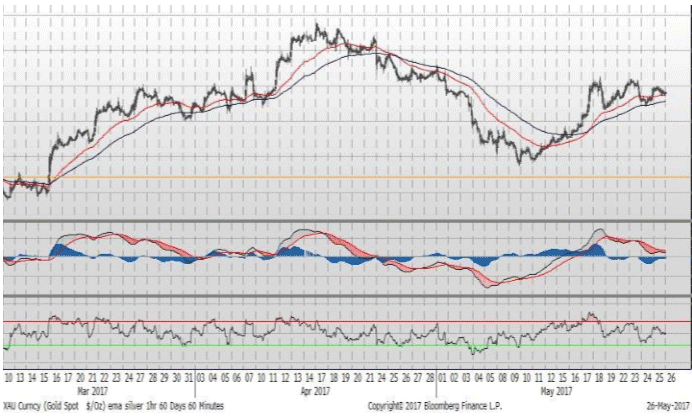 Technical Outlook and Commentary: Silver
Silver for Spot delivery was closed at $17.16 with loss $0.07 or -0.41 percent at 1.00 a.m. Dubai time closing, from its previous close of $17.23
The Fibonacci levels on chart are showing resistance at $17.30 and $17.47 while the supports are seen at $16.73 and $ 16.56 respectively.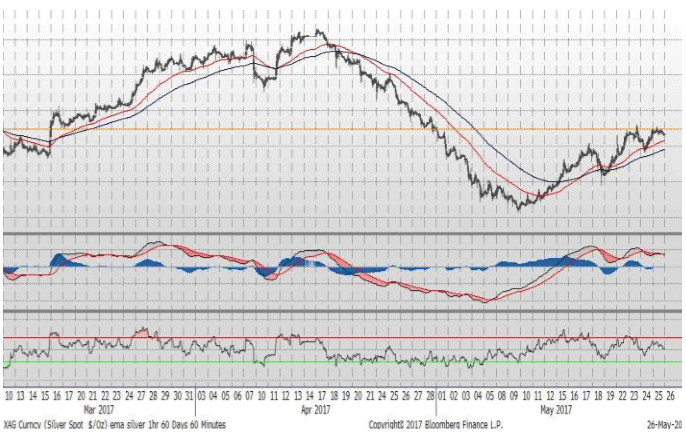 Resistance and Support Levels


Indications only, open & closing prices are bids; data source: Bloomberg; important disclaimer below; Times as per Dubai

This analysis is also available at
Kaloti Precious Metals SG
Bullion.Directory or anyone involved with Bullion.Directory will not accept any liability for loss or damage as a result of reliance on the information including data, quotes, charts and buy/sell signals contained within this website. Please be fully informed regarding the risks and costs associated with trading in precious metals. Bullion.Directory advises you to always consult with a qualified and registered specialist advisor before investing in precious metals.