Precious Metals Market Report
Thursday 25 May, 2017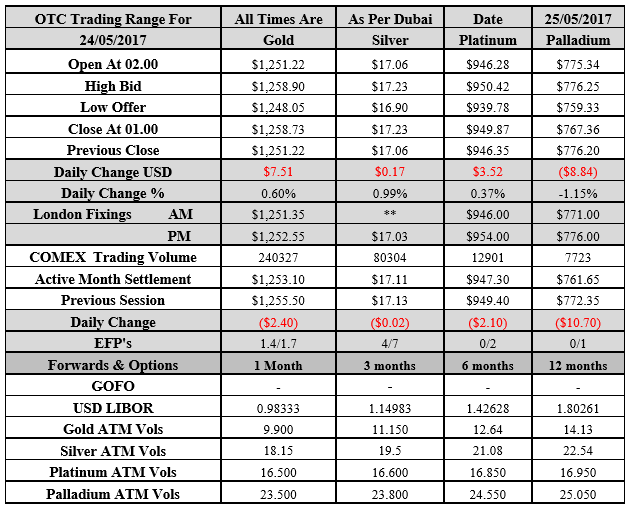 Fundamentals and News*
Spot Gold Rises to Session High After Fed Meeting Minutes
Spot gold extended gains after minutes of the Federal Reserve's last meeting showed that while officials expect further interest-rate increases soon, they said "it would be prudent" to wait for evidence that a recent slowdown in economic activity had been transitory.

"Most participants judged that if economic information came in about in line with their expectations it would soon be appropriate for the committee to take another step in removing some policy accommodation," according to minutes from the Federal Open Market Committee's May 2-3 gathering released Wednesday in Washington.
Political turmoil in the U.S. has weighed on the dollar and boosted demand for gold as a haven. The metal has also benefited from speculation that recent signs of uneven economic expansion may slow the Fed's hand in tightening monetary policy. Growth slowed in the first quarter to an annualized pace of 0.7 percent, even as unemployment continued to decline.
Gold for immediate delivery rose 0.3 percent to $1,255.20 an ounce at 2:13 p.m. in New York, after touching $1,258.40.
One of the most popular exchange-traded funds in commodities is causing a big headache for some investors.
The index tracked by the VanEck Vectors Junior Gold Miners ETF is set to re-balance in less than a month, after the fund grew so fast it reached the kind of stakes in mining companies usually associated with big institutional or activist investors. That's fueled bets the passive fund would curb some holdings and add mid-sized companies, spurring a sell-off in shares of small producers including Alamos Gold Inc.
"It's had a very big ripple effect on stock valuations," said John Ciampaglia, head of ETFs at Sprott Asset Management in Toronto, which oversees a competing fund, referring to the rebalancing of the index and the ETF's portfolio. "Whether you're an active fund manager or an individual investor, or an individual gold company, everyone is watching this thing very closely because some of these stocks have been taken down."
(*source Bloomberg)

Data – Forthcoming Release

Technical Outlook and Commentary: Gold
Gold for Spot delivery was closed at $1258.73 an ounce; with gain of $7.51 or 0.60 percent at 1.00 a.m. Dubai time closing, from its previous close of $1251.23
Spot Gold technically seems having resistance levels at 1263.90 and 1268.4 respectively, while the supports are seen at $1249.40 and 1244.90 respectively.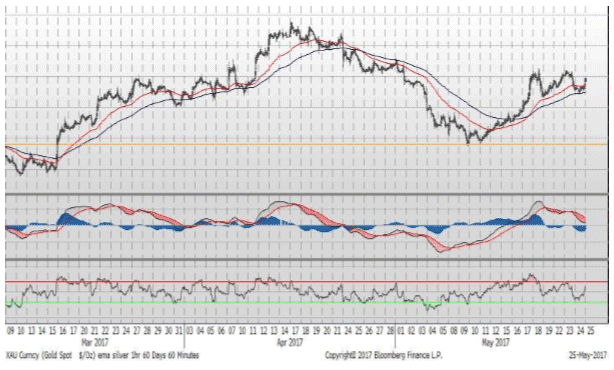 Technical Outlook and Commentary: Silver
Silver for Spot delivery was closed at $17.23 with gain of $0.10 or 0.99 percent at 1.00 a.m. Dubai time closing, from its previous close of $17.06
The Fibonacci levels on chart are showing resistance at $17.33 and $17.53 while the supports are seen at $16.66 and $ 16.46 respectively.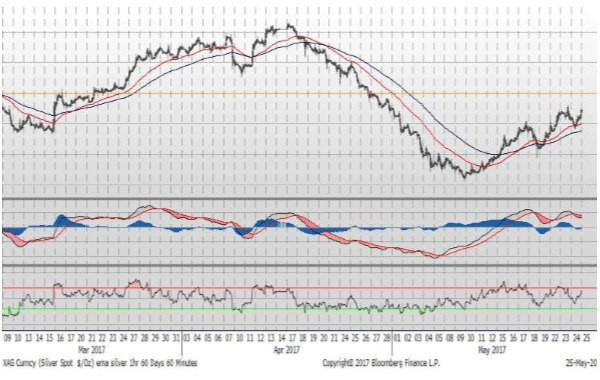 Resistance and Support Levels


Indications only, open & closing prices are bids; data source: Bloomberg; important disclaimer below; Times as per Dubai

This analysis is also available at
Kaloti Precious Metals SG
Bullion.Directory or anyone involved with Bullion.Directory will not accept any liability for loss or damage as a result of reliance on the information including data, quotes, charts and buy/sell signals contained within this website. Please be fully informed regarding the risks and costs associated with trading in precious metals. Bullion.Directory advises you to always consult with a qualified and registered specialist advisor before investing in precious metals.