Precious Metals Market Report
Tuesday 23 May, 2017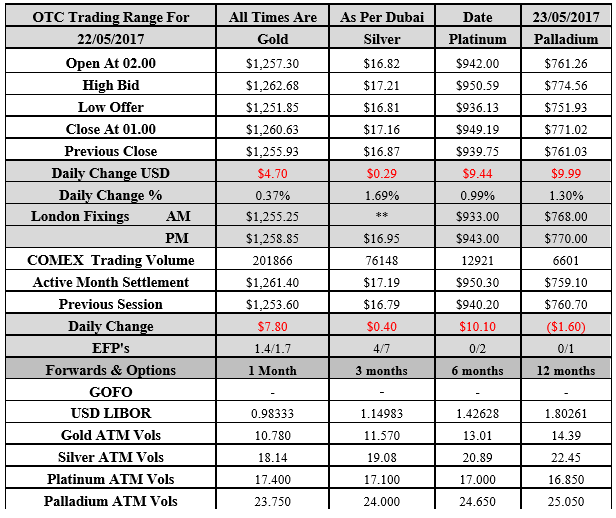 Fundamentals and News*
U.S. Stocks Rise as Oil Advances, Dollar Weakens
U.S. stocks advanced for a third day as President Donald Trump's trip to Saudi Arabia netted deals that lifted industrial shares and crude pushed to a one-month high before OPEC meets this week. The dollar slipped.

The S&P 500 Index's three-day climb topped 1.5 percent as Boeing Co. jumped after Trump's foreign trip overshadowed a week of tumult in Washington. The euro advanced after Chancellor Angela Merkel said the "too weak" currency shared the blame for Germany's trade surplus. The 10-year Treasury yield edged toward 2.25 percent. Brazilian assets resumed a selloff Monday as investors fled what had been one of the most popular trades in emerging markets.
A risk-on tone returned to financial markets a week after near daily political tumult in Washington and Brazil rattled investors. The focus reverted back to speculation that global growth can weather the turmoil, even as the world's largest economy edges closer to another increase in borrowing costs. Money managers will be scrutinizing minutes released this week from the Federal Reserve's latest meeting.
Trump has so far managed to divert attention from the domestic crisis surrounding former FBI Director James Comey as he travels in the Middle East, where U.S. companies have signed multi-billion dollar deals in the defense, energy and infrastructure industries, before continuing on to Europe.
"With Trump on a tour, the hope is we see less news over the next couple of days — a chance for the waters to settle," said Andrew Sullivan, a managing director for sales trading at Haitong International Securities Group Ltd. in Hong Kong. "It's another overhang on the market. We've got all these markets trading at highs and people don't want to miss out, but they don't want to be caught out."
(*source Bloomberg)

Data – Forthcoming Release

Technical Outlook and Commentary: Gold
Gold for Spot delivery was closed at $1260.63 an ounce; with little gain of $4.70 or 0.37 percent at 1.00 a.m. Dubai time closing, from its previous close of $1255.93
Spot Gold technically seems having resistance levels at 1265.3 and 1273.5 respectively, while the supports are seen at $1238.8 and 1230.6 respectively.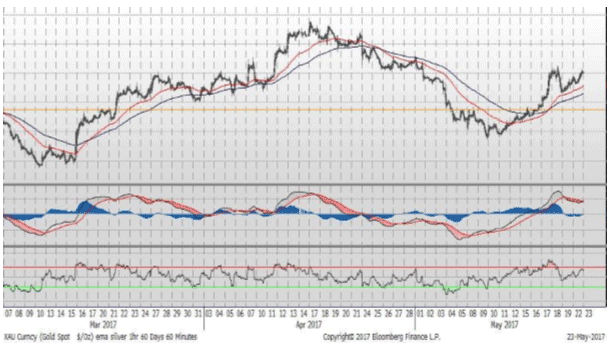 Technical Outlook and Commentary: Silver
Silver for Spot delivery was closed at $17.16 with gain of $0.29 or 1.69 percent at 1.00 a.m. Dubai time closing, from its previous close of $16.87
The Fibonacci levels on chart are showing resistance at $17.23 and $17.41 while the supports are seen at $16.64 and $ 16.46 respectively.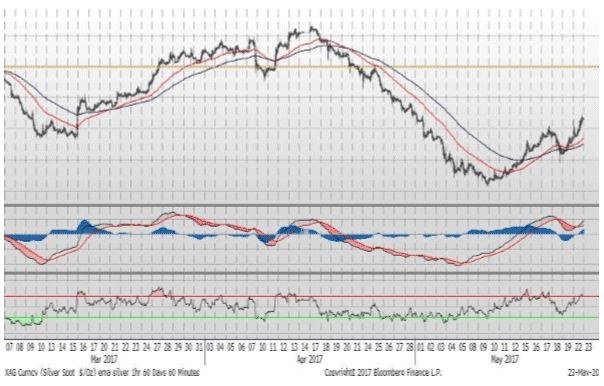 Resistance and Support Levels


Indications only, open & closing prices are bids; data source: Bloomberg; important disclaimer below; Times as per Dubai

This analysis is also available at
Kaloti Precious Metals SG
Bullion.Directory or anyone involved with Bullion.Directory will not accept any liability for loss or damage as a result of reliance on the information including data, quotes, charts and buy/sell signals contained within this website. Please be fully informed regarding the risks and costs associated with trading in precious metals. Bullion.Directory advises you to always consult with a qualified and registered specialist advisor before investing in precious metals.