Precious Metals Market Report
Tuesday 22 August, 2017
Fundamentals and News*
Gold Prices Inch Back Towards $1300 per Ounce
Gold prices continue to rise this week, trading to an intraday high of $1299.70. As of 3:30 EDT, gold futures are trading up $5.40 at $1297. The net gains of gold in 2017 are now residing at around 11%. Many analysts believe a break above 1300 will be significant and signal a further rise in the precious yellow metal.
Higher gold prices today were the direct result of a combination of a weaker U.S. dollar and traders bidding up the precious yellow metal. Spot gold is currently trading up $6.60 on the day, currently fixed at $1290.80. According to the Kitco Gold Index (KGX), a weak U.S. dollar is responsible for $4.40 of today's gains, with the remaining $2.20 attributed to buying in the market.

As reported by Bloomberg Markets, Matt Maley, an equity strategist at Miller Tabak & Co., wrote a note to his clients stating, "Gold has rallied during the recent market setback and is now testing its key resistance level of $1,300. That is the level that stopped rallies in both April and June, so if it can finally break above the level in any significant way, it's going to be very positive for the yellow metal."
The annual military exercises, jointly sponsored by South Korea and the United States, began today. These military exercises are purely defensive according to South Korean President, Moon Jae-in. However, they are viewed in quite a different light in the eyes of the North Koreans. In a statement released by the North Koreans today, they labeled the current exercises as a reckless step towards nuclear conflict.
According to Reuters, a confidential United Nations report found North Korea evaded UN sanctions by "deliberately using indirect channels" to export ban commodities and has generated 270 million between October 2016 and May 2017. In a report by independent U.N experts who monitor sanction violations for the U.N Security Council, it was noted that "lax enforcement of existing sanctions and Pyongyang's evolving evasion techniques were undermining the United nation's goal of getting North Korea to abandon its nuclear and ballistic missiles program."
These annual military exercises between the United States and South Korea have evoked strong responses from North Korea in the past. Last year North Korea successfully tests fired a submarine-launched ballistic missile during the drills.
(*source Bloomberg)

Data – Forthcoming Release

Technical Outlook and Commentary: Gold
Gold for Spot delivery was closed at $1291.88 an ounce; with gain of $7.75 or 0.60percent at 1.00 a.m. Dubai time closing, from its previous close of $1284.13
Spot Gold technically seems having resistance levels at 1299.5 and 1307.5 respectively, while the supports are seen at $1273.9 and 1266.0 respectively.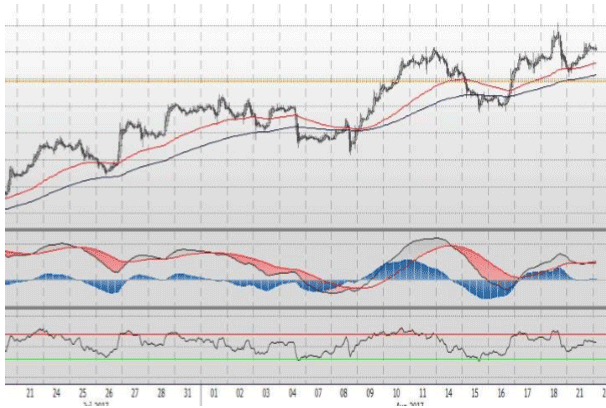 Technical Outlook and Commentary: Silver
Silver for Spot delivery was closed at $17.01 with the gain of $0.04 or 0.24 percent at 1.00 a.m. Dubai time closing, from its previous close of $16.97
The Fibonacci levels on chart are showing resistance at $17.25 and $17.43 while the supports are seen at $16.69and $ 16.51 respectively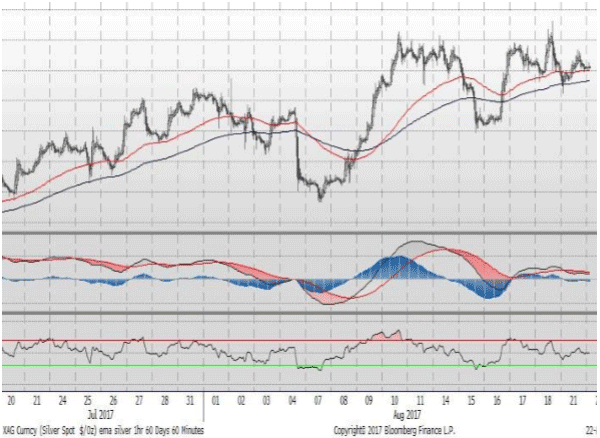 Resistance and Support Levels


Indications only, open & closing prices are bids; data source: Bloomberg; important disclaimer below; Times as per Dubai

This analysis is also available at
Kaloti Precious Metals SG
Bullion.Directory or anyone involved with Bullion.Directory will not accept any liability for loss or damage as a result of reliance on the information including data, quotes, charts and buy/sell signals contained within this website. Please be fully informed regarding the risks and costs associated with trading in precious metals. Bullion.Directory advises you to always consult with a qualified and registered specialist advisor before investing in precious metals.