Precious Metals Market Report
Wednesday 21 June, 2017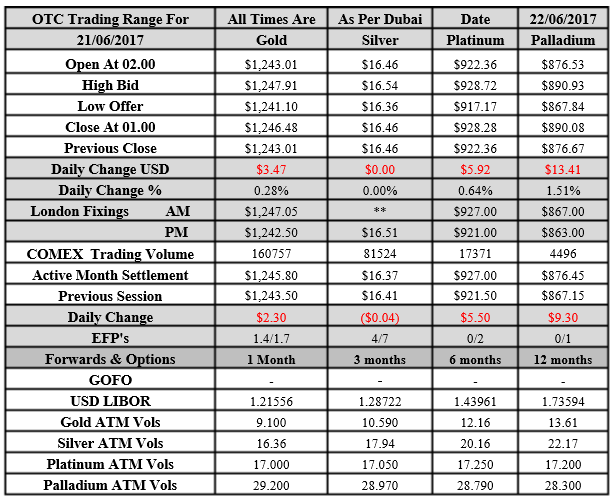 Fundamentals and News*
Gold Trades Near One-Month Low After Fed Comments on Economy
Gold trades near the lowest in a month as investors weigh hawkish comments from Federal Reserve officials who are positive on the U.S. economy and expect inflation to rebound, with Chicago Fed President Charles Evans saying the current environment supports very gradual rate hikes.

Bullion for immediate delivery +0.2% to $1,246.41/oz by 2:44pm in Singapore after -0.8% on Mon., lowest close since May 16: Bloomberggeneric pricing
NOTE: Federal Reserve Bank of New York President William Dudley aligned himself with Chair Janet Yellen in declaring his expectation that a tight labor market will eventually trigger a rebound in inflation data that has been unexpectedly weak in recent months
NOTE: Yields on U.S. Treasuries rose and the dollar advanced after Dudley's comments Mon.
The yield on 10-year Treasuries was steady after rising four basis points to 2.19% Mon.
Bloomberg Dollar Spot Index little changed after +0.4% Monday
"Dudley's comments seem to have sent the U.S. dollar higher against most asset classes and caused more pain for gold bugs," Jeffrey Halley, market strategist at Oanda Corp. in Singapore, says in email
Federal Reserve Bank of Chicago President Charles Evans says "I think where we are with the funds rate right now is kind of in line with my outlook."
Says he didn't dissent last week because "we're at a point where the real economy is really doing quite well"
"I can't just sort of say, it's without risk to continue with very accommodative low interest rates"
Evans answering audience questions Monday after speech in New York
Says "beginning to adjust the balance sheet is one of the easier, more natural things to do, soon," sometime this year
"I want to assure you that if we know things are going wrong we will act"
NOTE: Evans is a voting member of the rate-setting FOMC this year and voted in favor of an interestrate increase last week
(*source Bloomberg)

Data – Forthcoming Release

Technical Outlook and Commentary: Gold
Gold for Spot delivery was closed at $1243.01 an ounce; with loss of $0.83 or -0.07percent at 1.00 a.m. Dubai time closing, from its previous close of $1243.84
Spot Gold technically seems having resistance levels at 1270.1 and 1279.40 respectively, while the supports are seen at $1240 and 1230.70 respectively.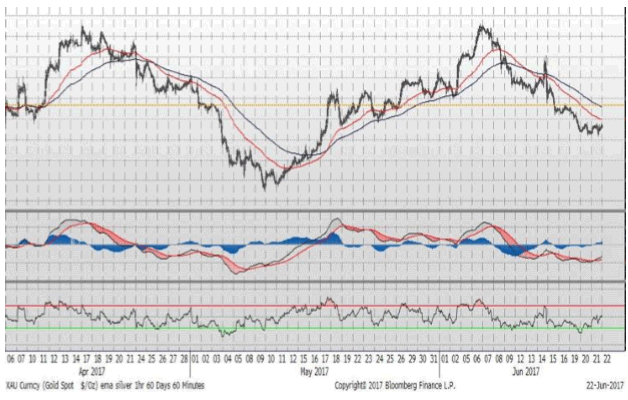 Technical Outlook and Commentary: Silver
Silver for Spot delivery was closed at $16.46 with loss of $0.04 or -0.24 percent at 1.00 a.m. Dubai time closing, from its previous close of $16.50
The Fibonacci levels on chart are showing resistance at $17.11 and $17.33 while the supports are seen at $16.37 and $ 16.15 respectively.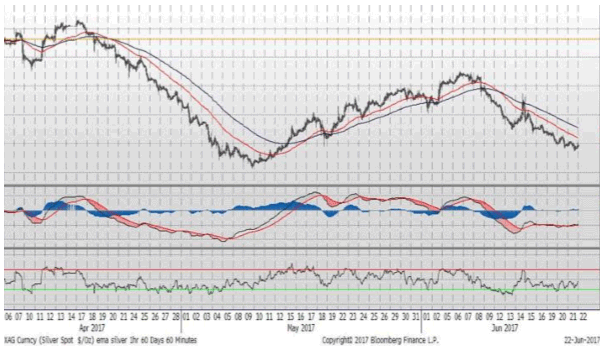 Resistance and Support Levels


Indications only, open & closing prices are bids; data source: Bloomberg; important disclaimer below; Times as per Dubai

This analysis is also available at
Kaloti Precious Metals SG
Bullion.Directory or anyone involved with Bullion.Directory will not accept any liability for loss or damage as a result of reliance on the information including data, quotes, charts and buy/sell signals contained within this website. Please be fully informed regarding the risks and costs associated with trading in precious metals. Bullion.Directory advises you to always consult with a qualified and registered specialist advisor before investing in precious metals.