Precious Metals Market Report
Tuesday 20 June, 2017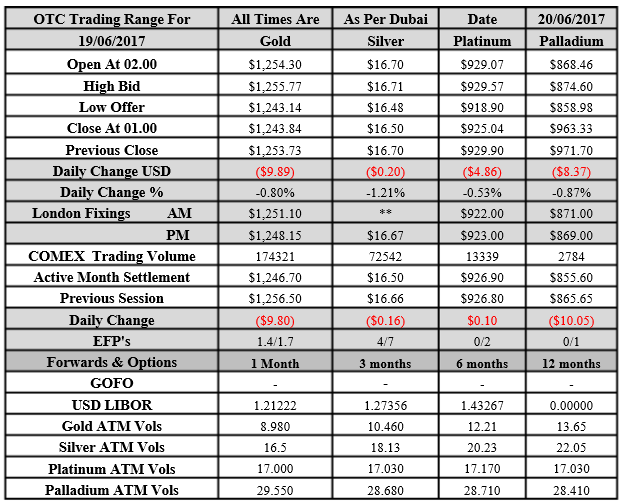 Fundamentals and News*
Gold Futures Slide to One-Month Low Amid Waning Haven Demand
Gold fell to the lowest in a month after hedge funds pulled back amid waning haven demand and easing political uncertainty in Europe.

Money managers saw the move coming, and deserted the metal before the Federal Reserve raised U.S. interest rates for a second time this year, while holdings in the largest exchange-traded fund last week fell by the most in three months. Even analysts and traders surveyed by Bloomberg were bearish for a second straight week, a trend not seen since December.
Bullion has fallen 4 percent since trading at a seven-month high on June 6 after the Fed raised borrowing costs and reiterated its outlook for more rate increases through 2018. In Sunday's vote, centrist French President Emmanuel Macron's party and its allies won the biggest majority in the nation's parliament in 15 years, boosting investor appetite for riskier assets such as stocks and curbing gold's appeal.
"The market is tired after it had a big run-up," Peter Thomas, senior vice president at Zaner in Chicago, said by telephone. "We've had an awful lot of buying off of the geopolitical situation and with the French election over, that's now out of the way."
Gold futures slid 0.8 percent to settle at $1,246.70 an ounce at 1:44 p.m. on the Comex in New York, after touching the lowest for a most-active contract since May 19.
Gold falls to lowest in more than three weeks amid risk-on sentiment as stocks climb in Asia and projections show the centrist party of France's president winning a large majority in parliamentary elections.
Bullion for immediate delivery as much as -0.2% to $1,251.24/oz, lowest since May 24, and at $1,251.84 by 2:51pm in Singapore: Bloomberggeneric pricing; metal -1% last week
Bloomberg Dollar Spot Index little changed after -0.3% last week
MSCI Asia Pacific Index +0.5%
"Gold prices can be seen largely in a consolidation pattern with moderate risk sentiment within the market," Jingyi Pan, a Singapore-based analyst at IG Asia, says by email
(*source Bloomberg)

Data – Forthcoming Release

Technical Outlook and Commentary: Gold
Gold for Spot delivery was closed at $1243.84 an ounce; with loss of $9.89 or 0.80 percent at 1.00 a.m. Dubai time closing, from its previous close of $1253.73
Spot Gold technically seems having resistance levels at 1270.3 and 1279.20 respectively, while the supports are seen at $1241.50 and 1232.70 respectively.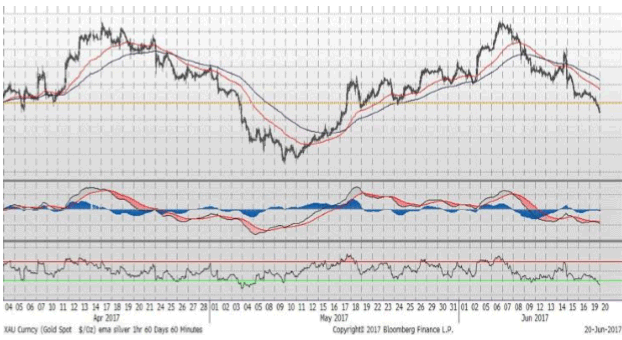 Technical Outlook and Commentary: Silver
Silver for Spot delivery was closed at $16.50 with loss of $0.20 or -1.21 percent at 1.00 a.m. Dubai time closing, from its previous close of $16.70
The Fibonacci levels on chart are showing resistance at $17.12 and $17.32 while the supports are seen at $16.44and $ 16.24 respectively.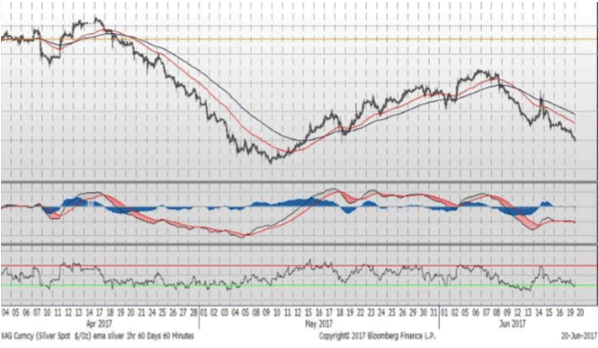 Resistance and Support Levels


Indications only, open & closing prices are bids; data source: Bloomberg; important disclaimer below; Times as per Dubai

This analysis is also available at
Kaloti Precious Metals SG
Bullion.Directory or anyone involved with Bullion.Directory will not accept any liability for loss or damage as a result of reliance on the information including data, quotes, charts and buy/sell signals contained within this website. Please be fully informed regarding the risks and costs associated with trading in precious metals. Bullion.Directory advises you to always consult with a qualified and registered specialist advisor before investing in precious metals.