Precious Metals Market Report
Friday 2 June, 2017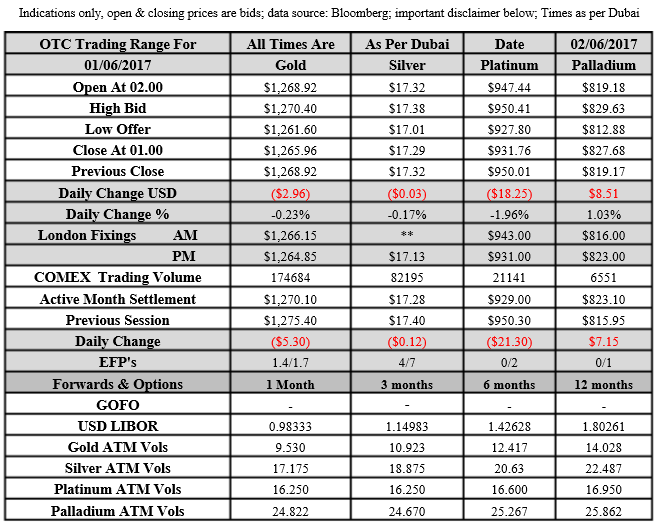 Fundamentals and News*
ADP Data on Business Hiring Gain Shows Solid U.S. Job Market
Companies adding more workers to U.S. payrolls in May than forecast indicate the job market is powering ahead, data from the ADP Research Institute in Roseland, New Jersey, showed Thursday.

Highlights of ADP Report (May)
Private payrolls rose by 253k (est. 180k) after revised 174k gain in April
Goods-producing industries, which include manufacturers and builders, increased headcounts by 48k after 6k
Service providers boosted payrolls by 205k, the most since November, after 167k
Key Takeaway
Businesses continue to hire workers in addition to retaining existing employees, indicating sustained job-market progress that helps explain why Federal Reserve policy makers are projected to raise interest rates when they meet later this month. The ADP report may help bolster economists' forecasts for the private payrolls tally in the May jobs report due from the Labor Department on Friday.
Economist Views
"Job growth is rip-roaring," Mark Zandi, chief economist at Moody's Analytics Inc. in West Chester, Pennsylvania, said in a statement. Moody's produces the figures with ADP. "The current pace of job growth is nearly three times the rate necessary to absorb growth in the labor force. Increasingly, businesses' number one challenge will be a shortage of labor." Gold trades below 5-week high after private gauge of Chinese manufacturing showed contraction and a Fed official said the central bank could raise interest rates 4 times this year.
Bullion for immediate delivery -0.2% to $1,265.86/oz at 11:22am in London: Bloomberg generic pricing
On Wednesday, price reached highest since April 25
Fed San Francisco President John Williams said central bank can raiserates 4 times in 2017 if U.S. economy is strong enough
"While consensus appears to be for a hike in June, investors are still uncertain about the longer term," Bryan Lum, a strategist at Phillip Futures in Singapore, says in email
Should U.S. jobs data be significantly weaker than forecast Friday, Fed will be more dovish at next meeting, supporting gold, he said
Next Fed policy decision is June 14
(*source Bloomberg)

Data – Forthcoming Release

Technical Outlook and Commentary: Gold
Gold for Spot delivery was closed at $1265.96 an ounce; with loss of $2.96 or 0.23 percent at 1.00 a.m. Dubai time closing, from its previous close of $1268.92
Spot Gold technically seems having resistance levels at 1272.5 and 1277.4 respectively, while the supports are seen at $1256.5 and 1251.5 respectively.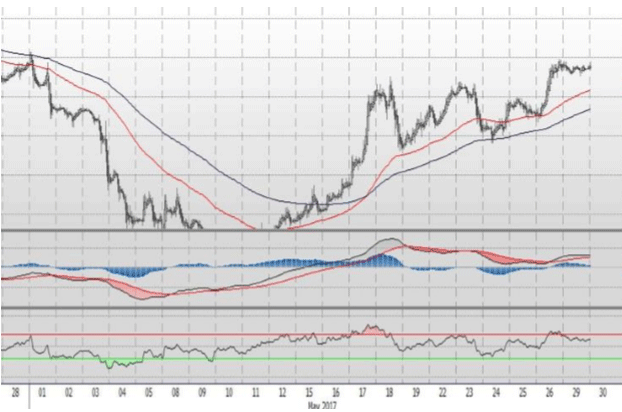 Technical Outlook and Commentary: Silver
Silver for Spot delivery was closed at $17.29 with loss of $0.03 or -0.17 percent at 1.00 a.m. Dubai time closing, from its previous close of $17.32
The Fibonacci levels on chart are showing resistance at $17.43 and $17.54 while the supports are seen at $17.08 and $ 16.97 respectively.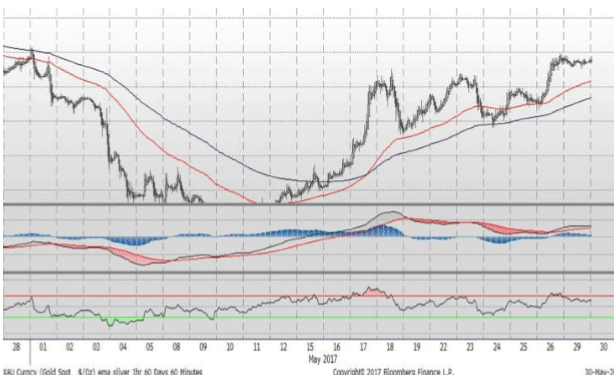 Resistance and Support Levels


Indications only, open & closing prices are bids; data source: Bloomberg; important disclaimer below; Times as per Dubai

This analysis is also available at
Kaloti Precious Metals SG
Bullion.Directory or anyone involved with Bullion.Directory will not accept any liability for loss or damage as a result of reliance on the information including data, quotes, charts and buy/sell signals contained within this website. Please be fully informed regarding the risks and costs associated with trading in precious metals. Bullion.Directory advises you to always consult with a qualified and registered specialist advisor before investing in precious metals.