Precious Metals Market Report
Thursday 17 August, 2017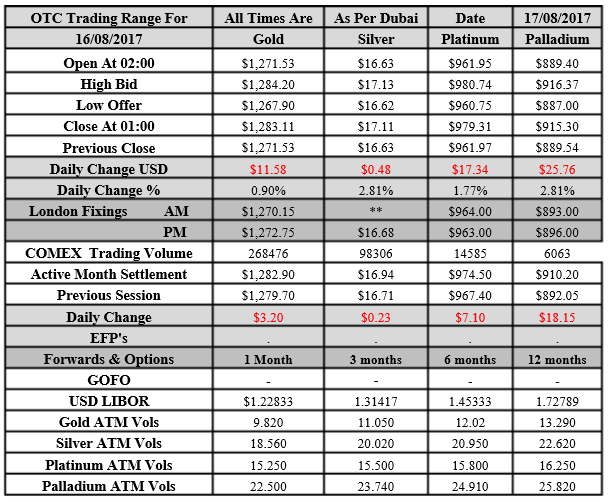 Fundamentals and News*
New Currency Sparks Race to Remake One of World's Oldest Markets
The blockchain revolution is gunning for the gold market.

Public online ledgers that emerged from the explosive markets for bitcoin, a virtual currency, already have drawn the attention of businesses from banks to retailers who see blockchain systems as a revolutionary way to verify and record transactions. Now, companies including exchange owner CME Group Inc., IEX Group Inc. spinoff TradeWind Markets and financial technology firm Paxos are rolling out similar platforms to bring gold into the digital age.
About $27 billion of gold changes hands every day in over-the-counter markets where settlements can sometimes takes days, leaving price risk for buyers and sellers. Using blockchain promises more transparency, security and speedier deals. It also could attract new participants at a time when investors are souring on gold-backed exchange traded-funds, a key source of growth in physical demand over the past decade.
"Digital gold would take market share away from other gold instruments: futures, physical gold bullion, gold ETFs," Ebele Kemery, head of energy investing at JPMorgan Asset Management, said in a telephone interview Aug. 9. Using the technology to trade the precious metal would create "another avenue for where investors can look to find value," she said.
Bitcoin, the first instrument to use blockchain, has more than quadrupled in 2017 to more than $4,000. The crytocurrency this year surpassed the price of gold for the first time.
CME Group, the world's largest exchange owner, teamed up last year with the U.K.'s Royal Mint to create a bullion product called Royal Mint Gold. CME, according to its website, worked with blockchain security company BitGo to provide a "fast, cost-effective and cryptographically secure method" of buying, holding and trading the precious metal.
The RMG trading platform is now being tested with major financial institutions and will be offered to customers by the end of the year, according to CME. That's in line with a timetable set in November 2016, when the exchange first announced the plan. The product, which is geared toward institutional and retail investors, will be backed up by as much as $1 billion of bullion stored at the mint, according to the exchange.
(*source Bloomberg)

Data – Forthcoming Release

Technical Outlook and Commentary: Gold
Gold for Spot delivery was closed at $1283.11 an ounce; with gain of $11.58 or 0.90 percent at 1.00 a.m. Dubai time closing, from its previous close of $1271.53
Spot Gold technically seems having resistance levels at 1290.3 and 1296.1 respectively, while the supports are seen at $1271.4 and 1265.6 respectively.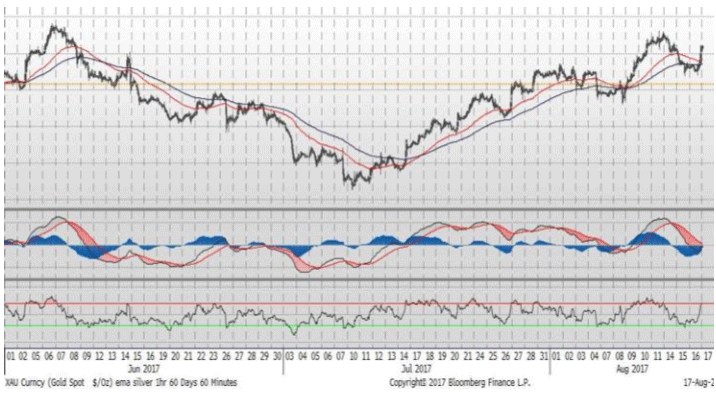 Technical Outlook and Commentary: Silver
Silver for Spot delivery was closed at $17.11 with gain of $0.48 or 2.81 percent at 1.00 a.m. Dubai time closing, from its previous close of $16.63
The Fibonacci levels on chart are showing resistance at $17.23 and $17.38 while the supports are seen at $16.72 and $ 16.57 respectively.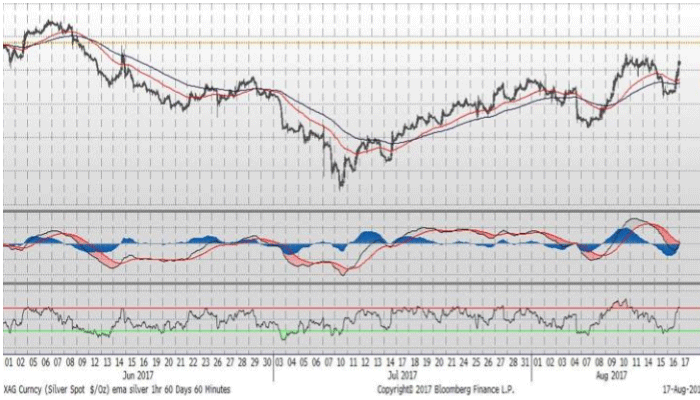 Resistance and Support Levels


Indications only, open & closing prices are bids; data source: Bloomberg; important disclaimer below; Times as per Dubai

This analysis is also available at
Kaloti Precious Metals SG
Bullion.Directory or anyone involved with Bullion.Directory will not accept any liability for loss or damage as a result of reliance on the information including data, quotes, charts and buy/sell signals contained within this website. Please be fully informed regarding the risks and costs associated with trading in precious metals. Bullion.Directory advises you to always consult with a qualified and registered specialist advisor before investing in precious metals.