Precious Metals Market Report
Friday 16 June, 2017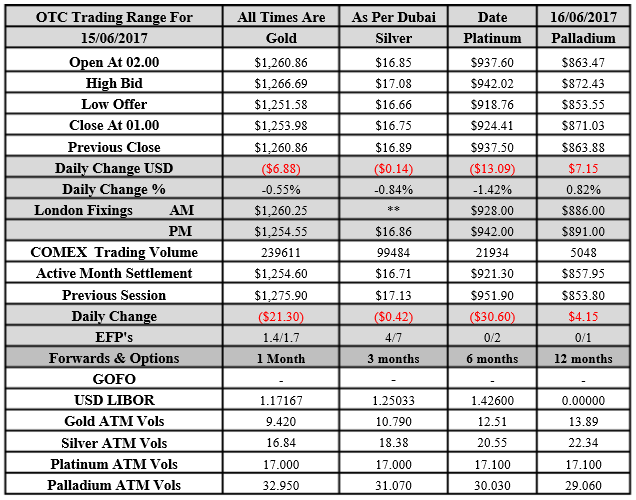 Fundamentals and News*
Gold Climbs From Three-Week Low as Investors Weigh Fed Rate Path
Gold advances from lowest close in almost three weeks as investors assess probability of future U.S. interest rate hikes after Federal Reserve raised borrowing costs for third time in six months Wednesday.

Bullion for immediate delivery +0.2% to $1,263.26/oz by 1:43pm in Singapore: Bloomberg generic pricing
Precious metal -0.5% Wed. to $1,260.86, lowest close since May 25
Bloomberg Dollar Spot Index little changed after -0.2% Wed.
Policy makers maintained outlook for one more hike in 2017 and set out some details for how they intend to shrink $4.5 trillion balance sheet this year
"Despite the Fed's decision to raise rates and commit to a path of interest rate normalization, there remain concerns about the outlook for inflation, and future rate hikes," John Sharma, an economist at National Australia Bank, says in email
With Fed stating that its committee is monitoring inflation developments closely, markets interpreted this as sign future rate rises will be more measured, which should support gold: Sharma
NOTE: Yellen Doubles Down on Bet Hot Job Market Stokes Inflation
"If the market starts pricing in the end to the current hiking cycle, this would remove a major headwind for gold and allow prices to breach the stubborn $1,300 threshold in a sustained move higher," Suki Cooper, an analyst at Standard Chartered, writes in June 15 note
NOTE: Mueller Said to Examine Whether Trump Sought to Slow Flynn Probe

In China:
Bullion of 99.99 percent purity -0.5% to 277.88 yuan/gram on Shanghai Gold Exchange, fifth decline in six days
On Shanghai Futures Exchange: o Gold for Dec. -0.5% to 280.35 yuan/gram o Silver for Dec. +0.2% to 4,063 yuan/kg
In other precious metals:
Spot silver +0.6% to $16.9970/oz
(*source Bloomberg)

Data – Forthcoming Release

Technical Outlook and Commentary: Gold
Gold for Spot delivery was closed at $1253.98 an ounce; with loss of $6.88 or –0.55 percent at 1.00 a.m. Dubai time closing, from its previous close of $1260.86
Spot Gold technically seems having resistance levels at 1274.20 and 1281.40 respectively, while the supports are seen at $1250.90 and 1243.70 respectively.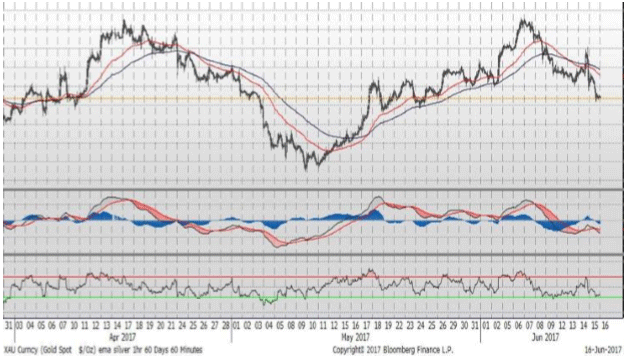 Technical Outlook and Commentary: Silver
Silver for Spot delivery was closed at $16.75 with LOSS of $0.14 or -0.84 percent at 1.00 a.m. Dubai time closing, from its previous close of $16.89
The Fibonacci levels on chart are showing resistance at $17.29 and $17.49 while the supports are seen at $16.65 and $ 16.45 respectively.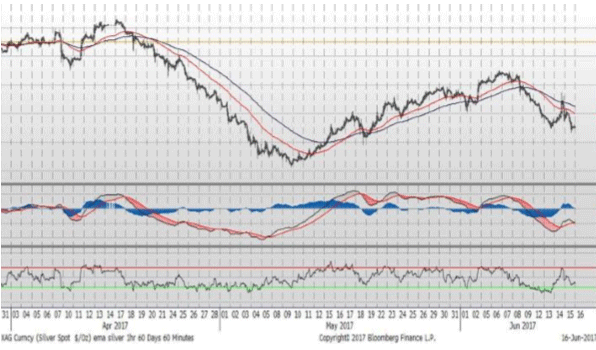 Resistance and Support Levels


Indications only, open & closing prices are bids; data source: Bloomberg; important disclaimer below; Times as per Dubai

This analysis is also available at
Kaloti Precious Metals SG
Bullion.Directory or anyone involved with Bullion.Directory will not accept any liability for loss or damage as a result of reliance on the information including data, quotes, charts and buy/sell signals contained within this website. Please be fully informed regarding the risks and costs associated with trading in precious metals. Bullion.Directory advises you to always consult with a qualified and registered specialist advisor before investing in precious metals.