Precious Metals Market Report
Monday 14 August, 2017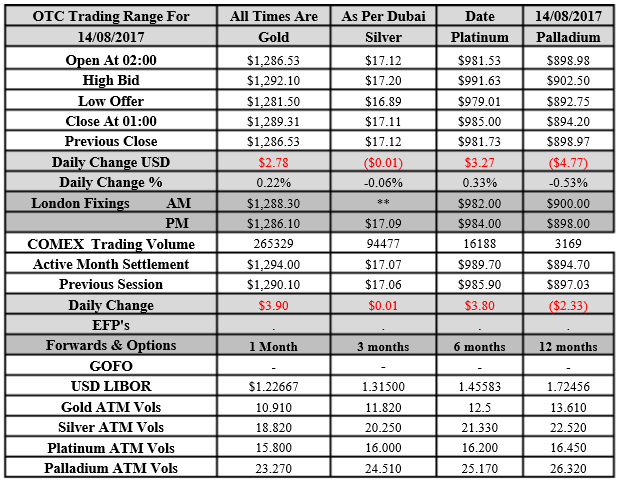 Fundamentals and News*
Polyus Basks in Golden Glow as Banks Recommend Buying Miner
Polyus PJSC has become a favorite of banks from Goldman Sachs Group Inc. to VTB Capital after Russia's largest gold miner returned to the London Stock Exchange.

With low costs backing a promise of high dividend payouts, Polyus is the only major gold miner globally with all buy recommendations, according to data compiled by Bloomberg.
"Polyus, in our view, ticks almost all the boxes to become one of the most interesting investment cases among large-cap global gold miners," Dmitry Glushakov, an analyst at VTB Capital in Moscow, said in a report on Aug. 11. Output may jump 45 percent over the next three years, and the company has "unique" low costs and a long mine life, he said.
Morgan Stanley, Goldman Sachs, JPMorgan Chase & Co. and Sberbank CIB have also initiated coverage of Polyus with buy recommendations this month, spurring the stock to its best week since its London comeback. Its GDRs advanced about 9 percent, while gold rose about 2 percent.
The gold miner, controlled by billionaire Suleiman Kerimov's family, raised more than $800 million in a stock offering in London and Moscow at the end of June, the biggest by a Russian company in a year. In 2015, the family bought up the stock of its parent company, Polyus Gold International Ltd. and delisted it from the British capital in order to redomicile in Russia.
Polyus targets output of 2.7 million ounces of gold in 2020, compared with more than 2 million ounces this year. Growth is concentrated in one mine, the previously delayed Natalka deposit in Russia's Far East, which is a risk, according to Dan Shaw, an analyst at Morgan Stanley. Volatile gold prices could also affect the producer's plans, VTB Capital's Glushakov said.
Still, with cash costs of about $390 per ounce last year — the lowest among the 10 biggest global miners, according to Goldman Sachs, the company is likely to have plenty of cash to back up a promised dividend payout.
"Polyus has one of the most generous dividend policies in the gold space, with a minimum payout implying a yield of 6.3 percent over 2017 to 2019," Morgan Stanley's Shaw said in an Aug. 10 report. He sees the yield going up to 7.5 percent in 2020 and 2021.
(*source Bloomberg)

Data – Forthcoming Release

Technical Outlook and Commentary: Gold
Gold for Spot delivery was closed at $1289.31 an ounce; with gain of $2.78 or 0.22 percent at 1.00 a.m. Dubai time closing, from its previous close of $1286.4
Spot Gold technically seems having resistance levels at 1291.10 and 1300 respectively, while the supports are seen at $1262.3 and 1253.4 respectively.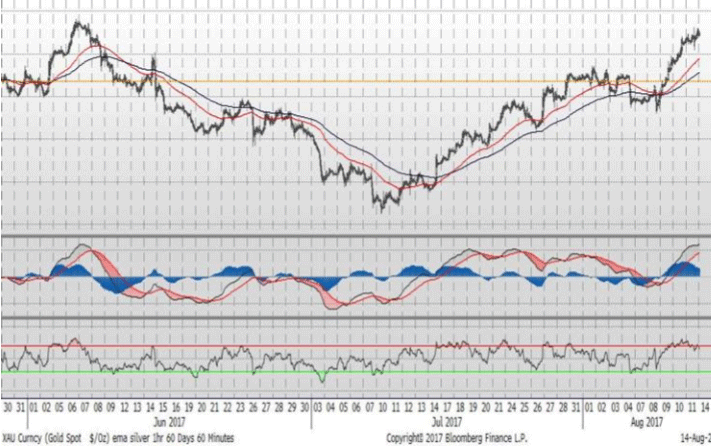 Technical Outlook and Commentary: Silver
Silver for Spot delivery was closed at $17.11 with LOSS of $0.01 or -0.06 percent at 1.00 a.m. Dubai time closing, from its previous close of $17.12
The Fibonacci levels on chart are showing resistance at $17.25 and $17.51 while the supports are seen at $16.40 and $ 16.14 respectively.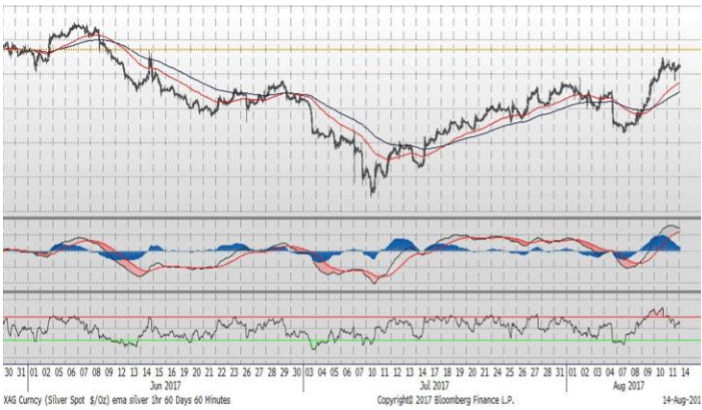 Resistance and Support Levels

Indications only, open & closing prices are bids; data source: Bloomberg; important disclaimer below; Times as per Dubai

This analysis is also available at
Kaloti Precious Metals SG
Bullion.Directory or anyone involved with Bullion.Directory will not accept any liability for loss or damage as a result of reliance on the information including data, quotes, charts and buy/sell signals contained within this website. Please be fully informed regarding the risks and costs associated with trading in precious metals. Bullion.Directory advises you to always consult with a qualified and registered specialist advisor before investing in precious metals.