Precious Metals Market Report
Tuesday 13 June, 2017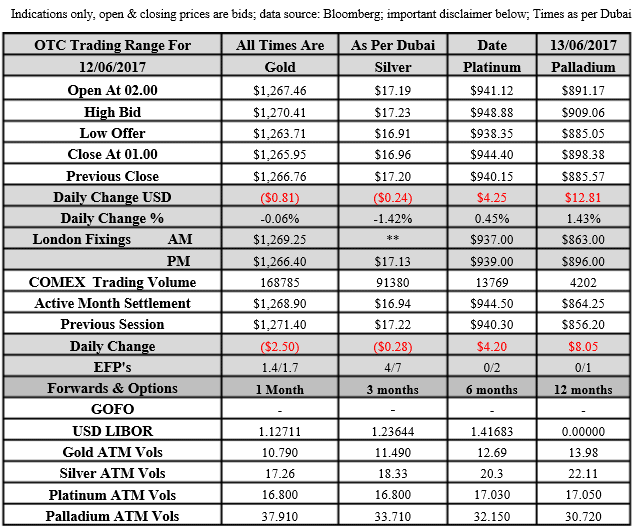 Fundamentals and News*
Gold and Fed Tightening, Good Companions
Gold appears increasingly favored in this Federal Reserve rate-tightening cycle. Neck and neck with stocks and crude oil since the first rate increase, gold should have a tailwind with this week's expected quarter-point hike by the Fed, if history is a guide. Gold opponents may have more headwinds. The CBOE Volatility Index (VIX) has rarely stayed lower for longer. Crude oil, which is rebalancing and due for a recovery from the lower end of the range, should have limited upside with oversupply.

Higher stocks are more likely to increase the Fed's tightening resolve. Since crude futures began trading in 1983, a rate-hike cycle has never been sustained with Treasury bond yields and oil in decline. They're both trending down in 2017, which likely needs to shift for gold to be pressured.
If the trend of the current interest-rate tightening cycle is sustained, gold should bottom within a few days of June 14's FOMC meeting. March 14, the day before the last increase, was when spot gold last marked less than $1,200 an ounce ($1,199). The six-year low of $1,051 was on Dec. 17, 2015 — the day after the first hike this cycle. Gold bottomed six days after the second rate increase (Dec. 14, 2016). What's different this time is that gold isn't at a healthy discount to its 250-day moving average.
"Sell the rumor, buy the fact" mean reversion appears at play in the gold price-to-rate hike relationship. Increasing gold and a declining dollar appear to be anticipating a tightening endgame, or some inflation — both gold-supportive. Gold and stocks may be ripe to shift to a negative correlation.
Gold and crude oil may be set to break from stocks in this interest-rate tightening cycle's spotperformance race.
Since the first rate increase, the S&P 500 Index, spot gold and front crude oil futures are all up about 20% through June 9. Gold will likely have a rate hike in the rearview mirror this week, typically a support factor. Looking ahead, stock-market volatility is near the highest risk of mean reversion since the inception of the CBOE Volatility Index (VIX) in 1990, based on its 26-week moving average.
(*source Bloomberg)

Data – Forthcoming Release

Technical Outlook and Commentary: Gold
Gold for Spot delivery was closed at $1265.95 an ounce; with loss of $0.81 or 0.06 percent at 1.00 a.m. Dubai time closing, from its previous close of $1266.76
Spot Gold technically seems having resistance levels at 1287.7 and 1295.3 respectively, while the supports are seen at $1262.9 and 1255.2 respectively.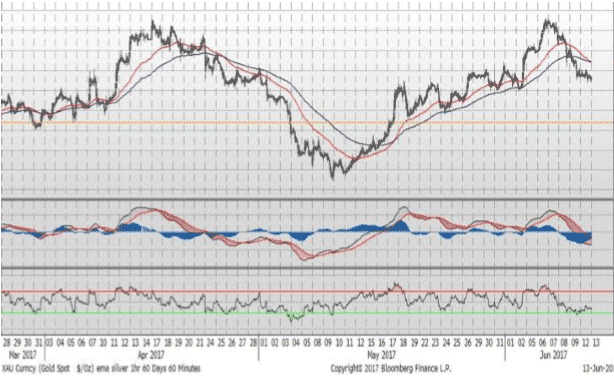 Technical Outlook and Commentary: Silver
Silver for Spot delivery was closed at $16.96 with loss of $0.24 or -1.42 percent at 1.00 a.m. Dubai time closing, from its previous close of $17.20
The Fibonacci levels on chart are showing resistance at $17.53 and $17.73 while the supports are seen at $16.89 and $ 16.69 respectively.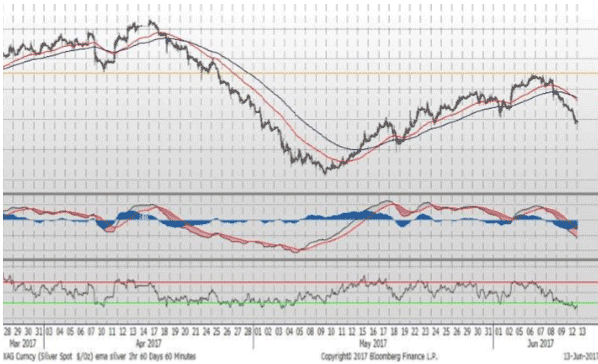 Resistance and Support Levels


Indications only, open & closing prices are bids; data source: Bloomberg; important disclaimer below; Times as per Dubai

This analysis is also available at
Kaloti Precious Metals SG
Bullion.Directory or anyone involved with Bullion.Directory will not accept any liability for loss or damage as a result of reliance on the information including data, quotes, charts and buy/sell signals contained within this website. Please be fully informed regarding the risks and costs associated with trading in precious metals. Bullion.Directory advises you to always consult with a qualified and registered specialist advisor before investing in precious metals.