Precious Metals Market Report
Tuesday 09 May, 2017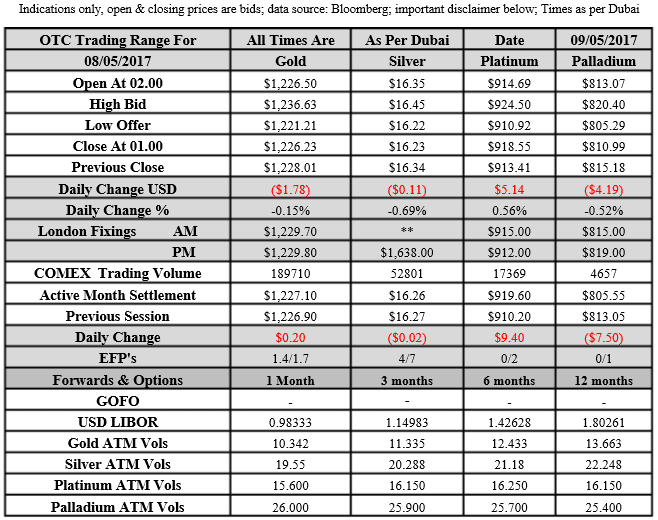 Fundamentals and News*
Gold Proves Less Prone to Turmoil as ETF Cash Eases Price Swings
Volatility near 12-year low as long-only investments increase.

Bullion-backed ETFs now two-thirds of precious-metals holdings.
In times of trouble, gold has long been a popular haven for investors expecting that more volatility will increase the value of the commodity. But lately, it's taking more than threats of war or terrorist attacks to get much of a reaction from the bullion market.
Price swings for the precious metal narrowed last month to the smallest in more than a decade, even with rising tensions between the U.S. and North Korea, political discord in Europe, and trade disputes fueled by Donald Trump's America-first policies. That's a disappointment for investors who remember how gold tripled in value after the 2008 financial crisis or surged more than 50 percent in the months after the Iranian hostage crisis in 1979.
One possible reason for the lack of volatility is the growth of exchange-traded funds backed by gold, which account for about two-thirds of the $113 billion invested in precious metals, compared with almost nothing before 2004, when bullion ETFs were created, according to Chris Louney at RBC Capital Markets.
The birth of bullion-linked ETFs has led to a surge in trading. In March, the daily average value of gold transactions cleared through the London Bullion Market Association was $22.2 billion, compared with $6.4 billion during the same month in 2004. SPDR Gold Shares, the biggest such ETF, began trading in November 2004. Since then, it's amassed $33.7 billion in assets, making it a major holder of traded gold, according to data compiled by Bloomberg.
While there are lots of reasons investors use to justify owning gold, from concern about inflation or economic growth to increasing demand for jewelry or central bank reserves, history shows it's also been a popular go-to asset in times of turmoil.
Bullion has also been muted around North Korea. On May 1, the first trading day after Kim Jong Un's regime weekend test-fire of a ballistic missile, prices fell 0.9 percent. That compares with an intraday gain of 1.3 percent in March 9, 2006, when North Korea launched two short-range missiles.
Bullion-backed ETFs gained popularity because they offered investors access to the metal without the worry of storage or delivery costs. It's also attracted interest from fund managers who find it easier and cheaper than maintaining a portfolio of gold futures, which expire almost every month.
(*source Bloomberg)

Data – Forthcoming Release

Technical Outlook and Commentary: Gold
Gold for Spot delivery was closed at $1226.23 an ounce; with loss of $1.78 or 0.15 percent at 1.00 a.m. Dubai time closing, from its previous close of $1228.01
Spot Gold technically seems having resistance levels at 1249.1 and 1257.8 respectively, while the supports are seen at $1221.1 and 1212.4 respectively.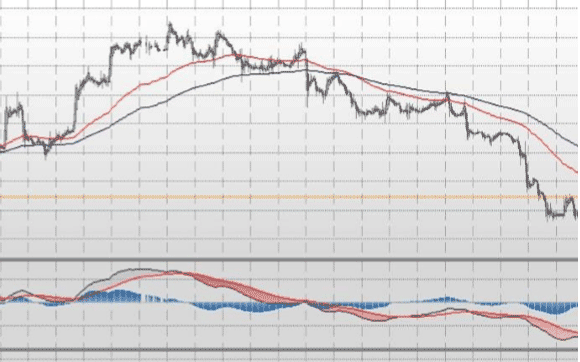 Technical Outlook and Commentary: Silver
Silver for Spot delivery was closed at $16.23 with loss of $0.11 or -0.69 percent at 1.00 a.m. Dubai time closing, from its previous close of $16.34
The Fibonacci levels on chart are showing resistance at $16.79 and $16.97 while the supports are seen at $16.18 and $ 15.99 respectively.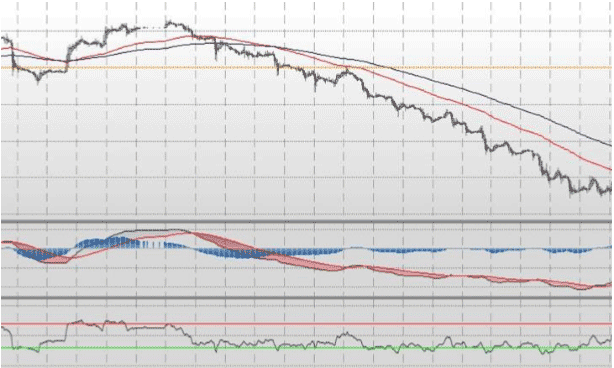 Resistance and Support Levels


Indications only, open & closing prices are bids; data source: Bloomberg; important disclaimer below; Times as per Dubai

This analysis is also available at
Kaloti Precious Metals SG
Bullion.Directory or anyone involved with Bullion.Directory will not accept any liability for loss or damage as a result of reliance on the information including data, quotes, charts and buy/sell signals contained within this website. Please be fully informed regarding the risks and costs associated with trading in precious metals. Bullion.Directory advises you to always consult with a qualified and registered specialist advisor before investing in precious metals.