Precious Metals Market Report
Wednesday 08 March, 2017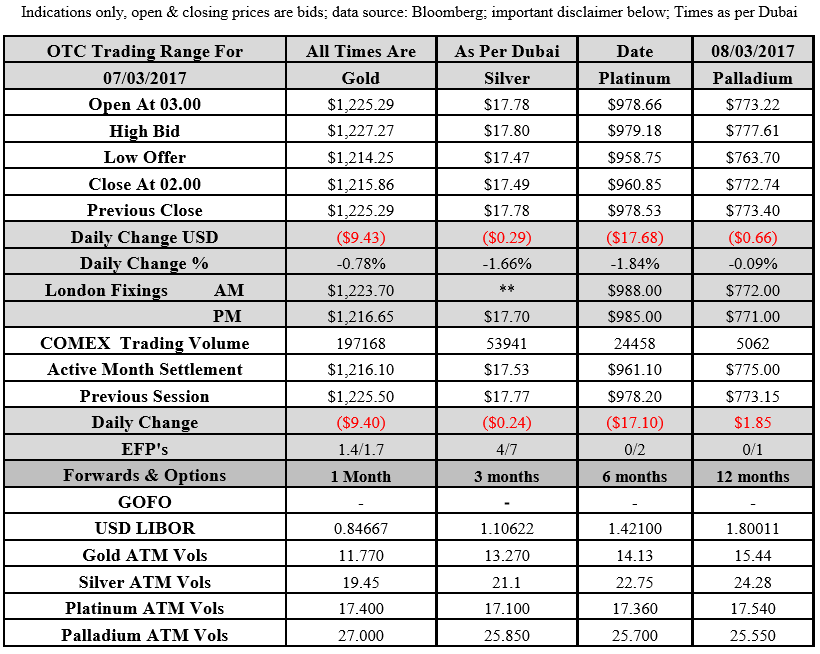 Fundamentals and News
Biggest Gold ETF Sags Most in Seven Weeks on Fed Rates View
Gold futures posted a sixth day of losses, the longest slump since November, as traders wager the U.S. central bank is all but certain to raise interest rates next week. The sentiment is being echoed in exchange-traded funds, with holdings in SPDR Gold Shares, the largest ETF backed by bullion, dropping to the lowest in almost a month. Higher rates curb the appeal of gold, which doesn't pay interest.

The outflows are consistent with moves in other haven assets as 10-year Treasury yields climb for a seventh straight day. Fed Chair Janet Yellen saidlast week a rate hike would "likely be appropriate" should employment and inflation continue to meet policy makers' expectations. Investors have priced in 98 percent odds that the Fed will move this month, kicking off three increases projected for 2017.
"People are getting out because of the rate increase" that's expected, saidBob Haberkorn, a senior market strategist at RJO Futures in Chicago, in a telephone interview. Rate hikes "historically don't bode well for gold."
The market will wait for the language in the Fed's statement after policy makers meet to gauge the direction of the metal, he said.
Holdings in SPDR Gold fell 3.8 metric tons on Monday to 836.8 tons, the lowest since Feb. 10, data compiled by Bloomberg show. The fund's assets slipped 1 percent in the past two sessions, the biggest two-day loss since Jan. 10. The losses come after the ETF in February posted the largest monthly increase since June.
Gold futures for April delivery slipped 0.8 percent to settle at $1,216.10 an ounce at 1:45 p.m. on the Comex in New York.
A gauge of the dollar has risen for seven of the last eight trading days, diminishing demand for bullion as an alternative asset.
"The firmer U.S. dollar and rising U.S. bond yields can be cited as reasons for the continued price correction," Commerzbank analysts including Carsten Fritsch said in a note to clients.
In other metals: Silver fell on the Comex, while palladium rose and platinum declined on the New York Mercantile Exchange.
(*source Bloomberg)

Data – Forthcoming Release

Technical Outlook and Commentary: Gold
Gold for Spot delivery was closed at $1215.86 an ounce; with loss of $9.43 or 0.78 percent at 2.00 a.m. Dubai time closing, from its previous close of $1225.29.
Spot Gold technically seems having resistance levels at 1240.9 and 1249.5 respectively, while the supports are seen at $1213.0 and 1204.4 respectively.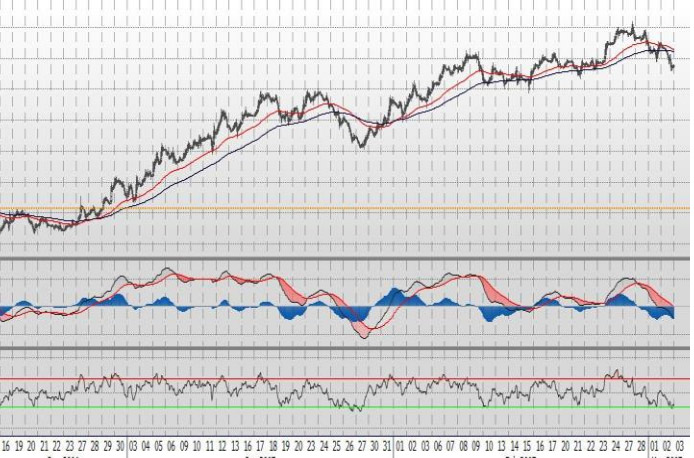 Technical Outlook and Commentary: Silver
Silver for Spot delivery was closed at $17.49 an ounce; with loss of $0.29 or 1.66 percent at 2.00 a.m. Dubai time closing, from its previous close of $17.49.
The Fibonacci levels on chart are showing resistance at $18.18 and $18.42 while the supports are seen at $17.43 and $ 17.19 respectively.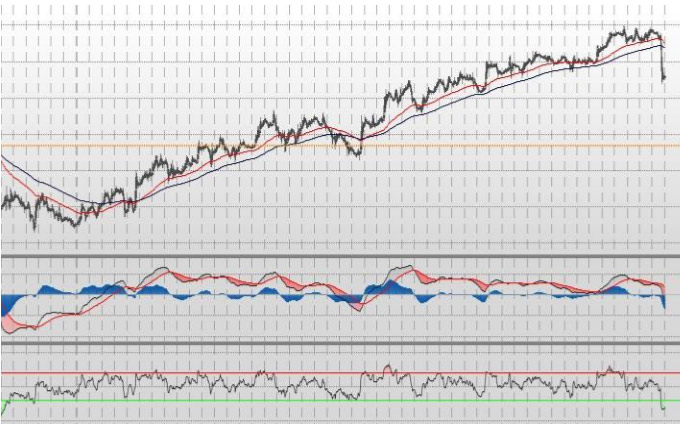 Resistance and Support Levels


Indications only, open & closing prices are bids; data source: Bloomberg; important disclaimer below; Times as per Dubai

This analysis is also available at
Kaloti Precious Metals SG
Bullion.Directory or anyone involved with Bullion.Directory will not accept any liability for loss or damage as a result of reliance on the information including data, quotes, charts and buy/sell signals contained within this website. Please be fully informed regarding the risks and costs associated with trading in precious metals. Bullion.Directory advises you to always consult with a qualified and registered specialist advisor before investing in precious metals.