Gold Price Rallies But Crude Oil at Highest, GLD Smallest in 6 Months

Bullion.Directory precious metals analysis 25 April, 2019
By Adrian Ash
Head of Research at Bullion Vault

GOLD PRICES rallied to 2-week highs for UK and Euro investors in London on Thursday, but held only in line with last week's US Dollar close as oil prices rose and world stock markets struggled.
With major government bond yields edging higher, silver prices also rose but failed to reclaim last week's finish in Dollar terms, reaching $14.92 per ounce as gold traded above $1277.
European equities meantime held flat overall after US stock markets edged back overnight from Tuesday's fresh all-time record highs on the S&P500 and Nasdaq Composite indices.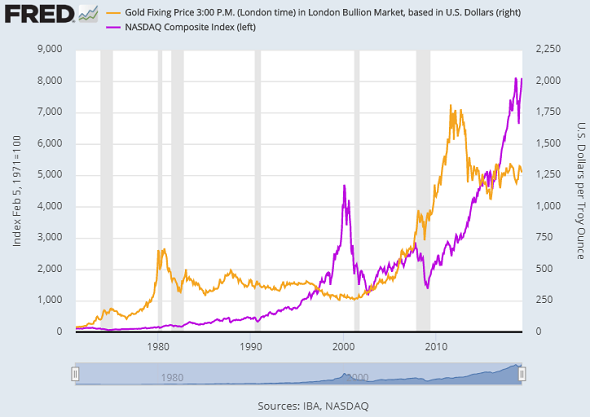 China's main CSI 300 index earlier closed Thursday 2.2% down, "likely due to changes in expectations of monetary policy direction," according to Shanghai analyst Zhang Qi at Haitong Securities.
Trying to calm speculation over the outlook for monetary policy in the world's second-largest economy, People's Bank of China vice-governor Liu Guoqiang said Thursday that the central bank doesn't plan to tighten or ease any time soon.
Shanghai gold prices rose as the Yuan slipped to 2-month lows versus the Dollar, while energy costs rose worldwide on a new 6-month high in crude oil prices.
With less than a week until the United States says it will start sanctions against any country buying oil from Iran – a demand rejected by China and India so far – Europe's key Brent contracts rose above $75 per barrel for the first time since October after global 'swing producer' Saudi Arabia said it sees no need to boost output right now, while Russian flows to Europe are being reduced by concerns over quality.
"All these interconnected geopolitical stories are affording almost no room for error if Trump hopes to achieve his central goal of keeping oil prices in check" ahead of the US summer driving season, says Helima Croft, global head of commodity strategy at RBC Capital Markets.
"It's time for respected leadership on the world stage – and dignified leadership at home," said former US vice-president Joe Biden today,  announcing his candidacy for the Democrat Party's 2020 nomination.
Accused of "inappropriate" and unwanted behavior by at least 4 women, Biden at 76 is 4 years older than Republican President Donald Trump.
Giant gold-backed ETF product the SPDR Gold Trust (NYSEArca: GLD) meantime shrank again yesterday, extending its worst run of shareholder liquidation in more than 2 months and taking the quantity of bullion needed to back its shares down to a new half-year low beneath 748 tonnes.
As crude oil rose Thursday, climate-change activists today glued themselves to the outside of the London Stock Exchange and also blocked the Canary Wharf finance district's DLR station on what they said will be the last day of this week's Extinction Rebellion protests.
Yesterday's revelation that the British Government will allow China's state-connected Huawei tech giant to help build the UK's 5G telecoms infrastructure – a decision rebuked by the UK's partners in the '5 eyes' joint intelligence alliance – was in fact leaked from a National Security Council meeting, a minister said today, and "we cannot exclude the possibility of a criminal investigation" to find the source.
Gold priced in British Pounds today rose above £990 per ounce, a 15-month high when reached in December, while Euro gold touched €1149, also around 2% above last week's new 2019 lows.

This article was originally published
here